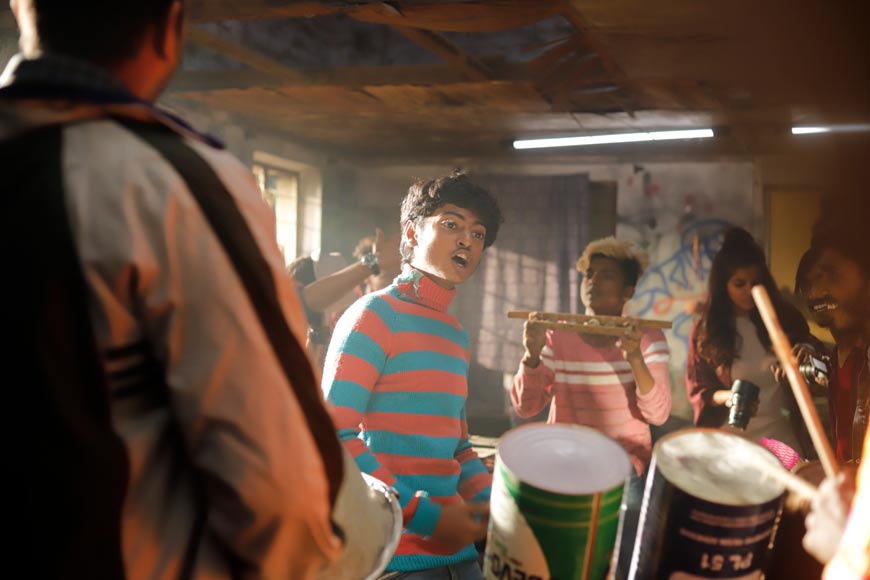 Rapping (also rhyming, spitting, emceeing) is a musical form of vocal delivery that incorporates 'rhyme, rhythmic speech, and street vernacular', performed or chanted in a variety of ways, usually over a backing beat or musical accompaniment. The recent Bollywood film Gully Boy directed by Zoya Akhtar is a living example of a rapper who rises from the slums of Dharavi to become a star rapper with his performance and his compositions that underline the world he belongs to.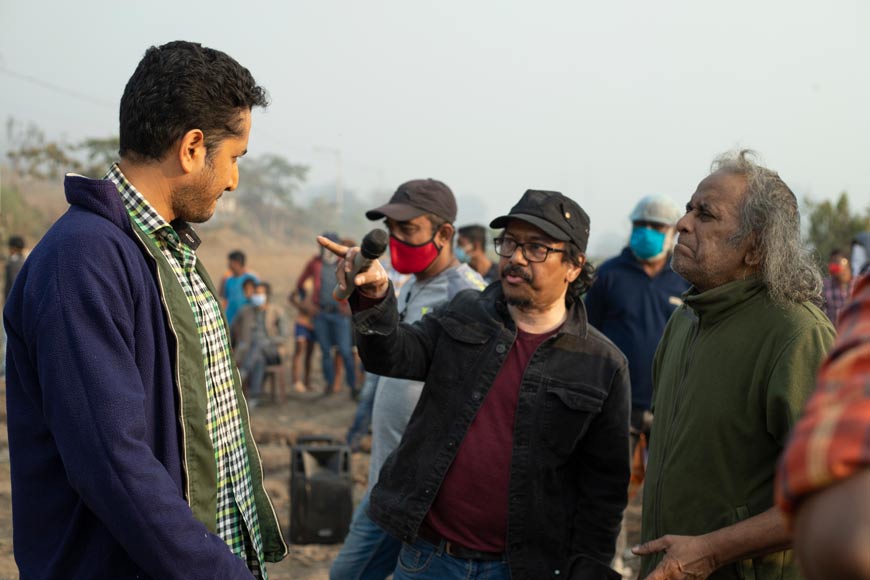 Tangra Blues Parambrato Supriyo Sen and Ranjan Palit working still
Rapping, however, is not commonly known among the Bengali middle class nourished on a heavy diet of Tagore and Nazrul on the one hand, expanding to include Jeebonmukhi Gaan popularised as a fine form of performing art based on music and lyrics by Kabir Suman followed by Anjan Dutt, who, inspired by Suman, evolved onnodharar gaan, all in Bengali, alongside Nachiketa who also writes, composes and sings his own songs focussing on topically relevant socio-topical issues.
In the case of the film under discussion, rap arises from the heap of rubbish and debris and waste that is dumped every day in the slum otherwise called Tangra, in Kolkata. Supriyo Sen, who has won several national awards for his documentary films, was led to direct the first Bengali film on rap and rappers while making a documentary assigned to him by Films Division on Sanjay Mandal and Group, a real-life rap group that rose from the debris of one of the worst waste dumps of Kolkata.
"I actually planned to work on two documentaries on Sanjoy Mandal's rap and group and met him along with his boys way back in 2015. It has been a seven-year journey of moving with these people, living with them, trying to understand them and their lyrics and beats," says Sen. Creative producer-actor Parambrato Chatterjee, who has written the script along with Sen, met him halfway "when he met one of my rap boys who was acting in another film. Together, along with a like-minded friend Aritra Sen, we decided to form our banner, Roadshow Films. When we screened some clips from my Films Division documentary to SVF, they liked it so much that they came in with the funding and their banner," he adds.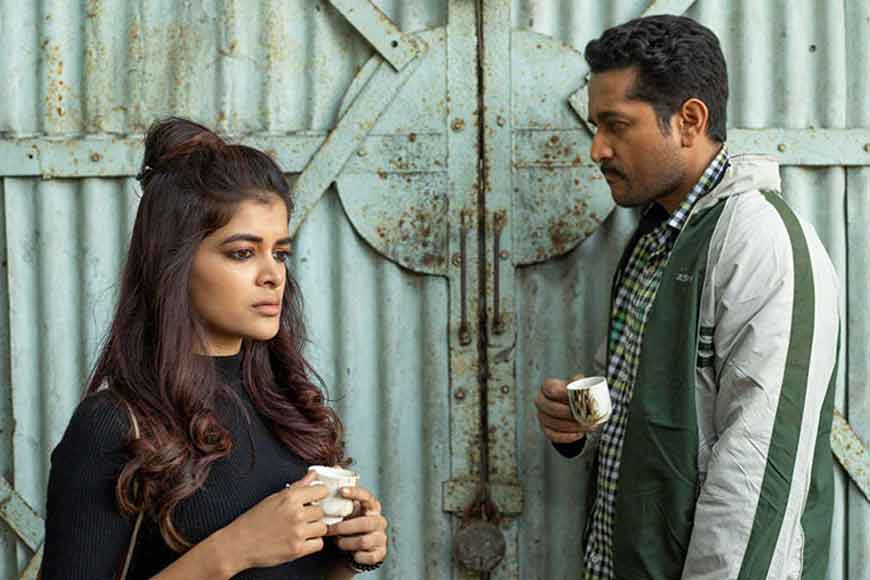 Parambrato portrays the protagonist on whose group and life the screenplay is based. "This is not a biopic," warns Sen. "But is inspired by how rap brings about a healthy and optimistic metamorphosis not only in Mandal, who rose from the gang-filled world of crime and criminals to leave his past behind and redeem himself through his group, bringing about a change in the lives of these urchins too."
Sen opens the film with a thrilling chase that leads to the cold-blooded shooting of a labour leader who protests the throwing out of workers when the Chinese-owned leather tanneries shut shop, opening out the lands vacated by the closed factories to land sharks and promoters and real estate brokers. The scene shifts to a city-bred, sophisticated Joyee (Madhumita Sarkar) a young musician on her way back from Brazil where she worked with slum children with music and shifts from Mumbai to Kolkata to live in one of the flats in the skyscrapers that have come up, looking out through the window of her car. She gets off the cab to walk into a lovely rap performance, interrupted by a sudden bombing.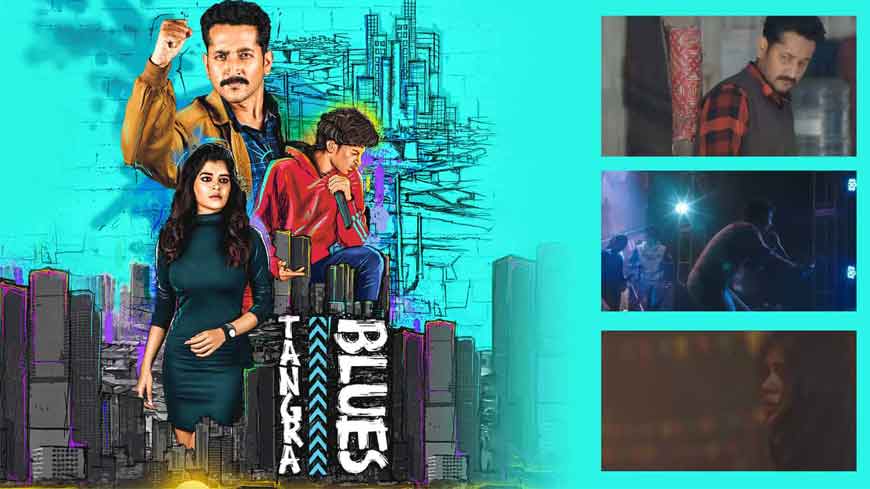 "The original inhabitants of Tangra were tribals who had, sometime along the way, converted to Christianity. Cyril Murmu, the labour leader who is shot in cold blood, was an Adivasi-turned Christian and his son is called Chalu, shortened from the original Charleton Murmu, the main rapper of Mandal's group. The other boys in the group are also Dalits but they are not aware of their caste roots. We chose Samiul Islam to portray the schoolboy raised in the slums because of his very expressive face and large eyes," says Sen.

These boys go to school, collect rubbish and waste from the flats of people who live in the skyscrapers, and practice their rap in an empty workshop which a warring local gang is determined to make them vacate. They are supervised by criminal-turned-rapper Sanjeeb Mandal (Parambrato) who is their strict mentor preventing them from joining the two rival gangs, tempting them with new clothes, beer and other material means.
There is a flashback narration by Sanjeeb who opens up a can of worms unspooling the real story of his original rap group when, ten years ago, the group had reached the finals of a royal talent show. "But the organisers shot two 'finals' with us, one showing that we had won and one showing that we had lost. They placed some conditions for winning to which I could not agree so they screened the episode that showed we had lost," explains Sanjeeb. The original group breaks up as the members suspect Sanjeeb of cutting a big slice of the cake, which was not true. But soon, Chalu and his friends, then quite little, walk in and say they want to join the group.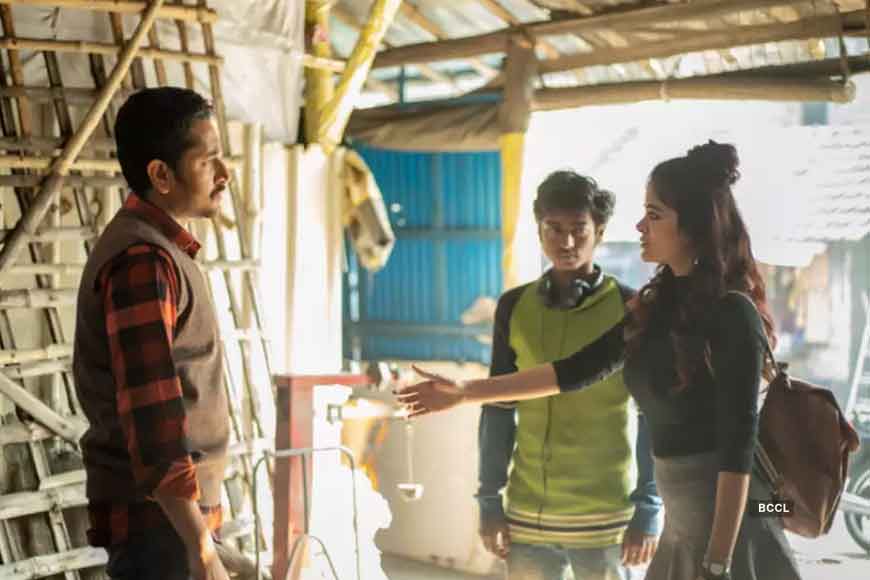 There are a few emotional touches. One shows Pori, the only girl in the group, expressing a wish to take a dip in the pool of the housing complex they collect the rubbish from. It is a lovely touch. But the kids are caught red-handed. Joyee walks in to save them from punishment. Another is the group of 'instruments' the group uses to offer the supporting music with upturned, badly battered gamlas as drums, empty water bottles, sticks collected from the debris. Sanjeeb throwing away the cigarette when Chalu points out that he is making one more mistake is memorable and suggestive of his redemption.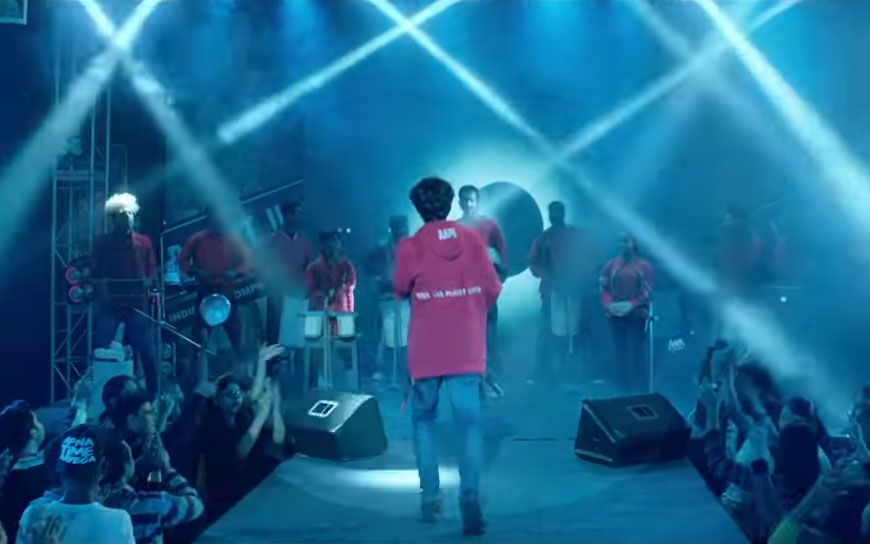 The sub-plot of the two gangs trying to kill each other to gain domination over the area are the 'cuts' that could have been, if clipped entirely except some suggestive shots as they break the narrative rhythm of the film. The title Tangra Blues according to Sen is derived from where 80 percent of the film was shot over 14 days. The cinematography, often with a hand-held camera which happens to be Ranjan Palit's personal favourite now, captures the spirit of the film except for some massive close-ups which tend to take away the physical perspective of the settings. The lighting arrangement, capturing a solid spectrum between darkness and light, is incredible and so is the jet-paced editing. The script jointly done by Parambrato and Supriyo Sen is a little loose at certain points, slowing down the pace of the film and confusing the narrative somewhat.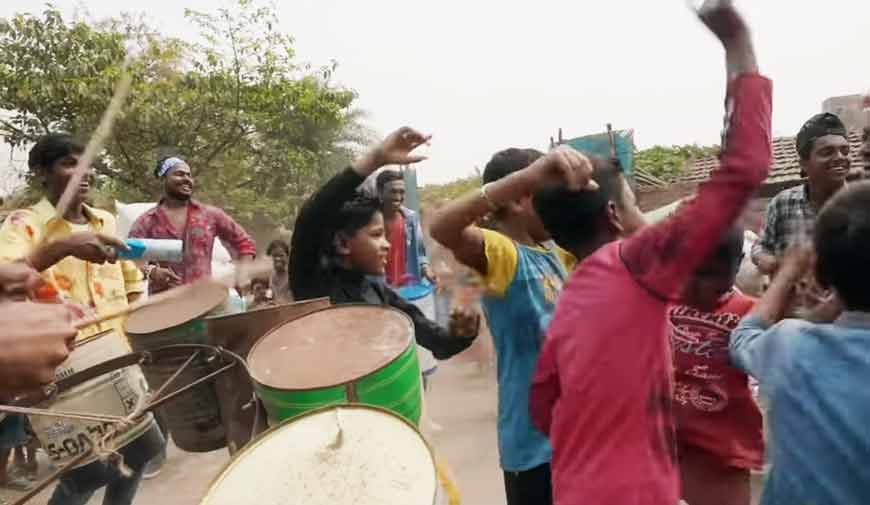 Samiul Islam is soon to be flooded with offers. He has tremendous energy and a wonderfully expressive face. Madumita with her chain smoking and her desperation to do something for these talented underdogs is brought out very well though she initially appears to stick out like a sore thumb among the rest. Oishani as Pori is very spontaneous and natural. The actor who portrays Bapi, one of the gangsters, is very good with his slow drawl and his low IQ portrayal.
The biggest drawback of the film is the choice of Parambrato to portray Sanjeev Mandal because in spite of trying to acquire a slum accent with a stress on he 's' which he does with success, his sophisticated, very urban and educated appearance gives the lie to the history and appearance of the real Sanjoy Mandal who we see in the closing shots of the film beating on a makeshift drum.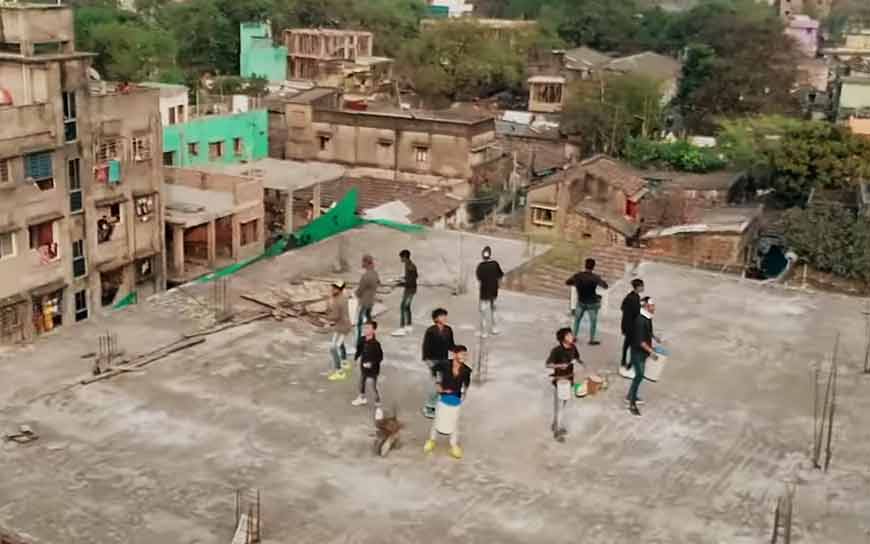 Pranjal's lyrics and Nabarun's music are the features you carry away from the theatre. The final verdict on the film is that it is a remarkably bold debut by a talented director who is exploring the aesthetics and technique of the feature. But it needed a much tighter script to sustain the pace, speed, rhythm, suspense, durability and spirit this film demands.