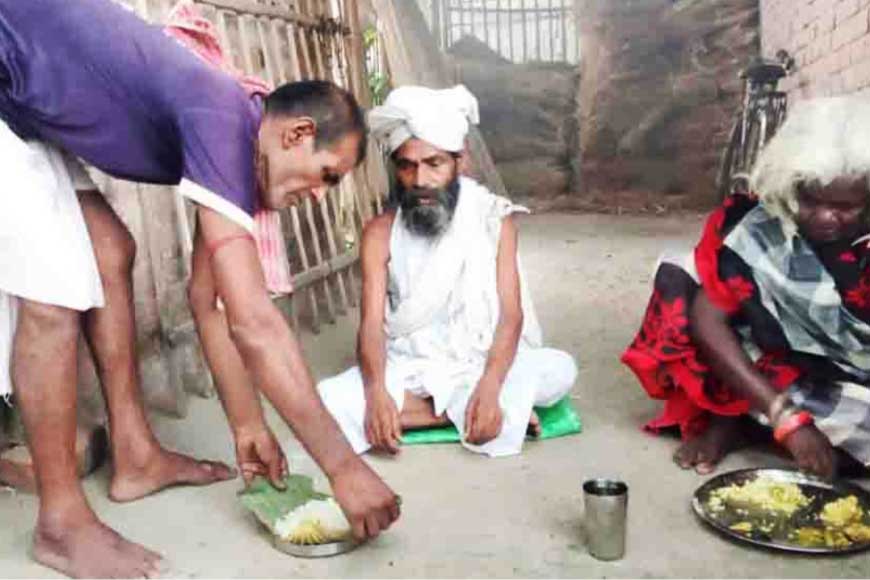 "At the end of life we will not be judged by how many diplomas we have received, how much money we have made, how many great things we have done. We will be judged by I was hungry, and you gave me something to eat, I was naked and you clothed me. I was homeless, and you took me in." – Mother Teresa
Middle-aged Kabita and Swapan Karmakar of Sagarpara village in Jalangi Block of Murshidabad may not have heard of Mother Teresa but their commitment to share their frugal meals with their less fortunate brethren stems from a call they both felt deep within years ago. For more than a decade, they are feeding hundreds of destitute, who walk into their tiny tea stall, helpless with an empty stomach, seeking sustenance. The couple never disappoints anyone. They have been feeding poor people every day with a missionary zeal.
Swapan Karmakar says: "Swami Vivekananda once said, Jibe prem koray jei jon, sei jon sebichhey ishwar (Those who love all on this earth are truly serving the Almighty). We have no time to participate in community or religious festivals because we cannot let any of the visitors leave our tea stall hungry." So, to feed their callers, the devoted couple spends hours preparing lunch and dinner in large quantities and then serves them with a satisfied smile writ large on their countenance. This is their labour of love and devotion.
Karmakar has approximately two bighas of farming land. The couple has three children. The year-long ongoing intermittent lockdown has affected the family's economic condition like all others in the country. Sales at their tea stall has dropped drastically but paucity of funds has never been a deterrent for the couple who continue their life's mission with a dogged determination.

The story of initiating this mission goes back more than a decade. One day, Swapan Karmakar was having his lunch at the tea shop when a vagabond entered his shop and stood right in front of him. Karmakar shared his chapattis and vegetable curry with the poor man. The drifter came to the shop again next day and then he became a regular visitor. Gradually other tramps followed him to the shop for food. Karmakar could not refuse any of those helpless men and women. His entire family has been very supportive of his humanitarian work. His children are proud of their father and believe that if they have enough for themselves, they can very well share their food with others. The condition of these homeless people worsened during the pandemic since all food outlets remain closed. Karmakar is their messiah during the tough times.
Karmakar's wife Kabita enters the kitchen early in the morning and then she spends the rest of the day under extreme heat preparing meals on wooden ovens for her large, extended family of destitute. Initially the chore was laborious and she often felt fatigued to carry on the task every day. Gradually she started enjoying cooking in large quantities for her 'Atithis' (guests) who drop in without prior notice, knowing they will not be turned out by the kind couple. Kabita now believes that's her calling. She feels immense pleasure to see the look of contentment on the faces of her guests after a sumptuous meal.
Swapan has never sought financial help from anyone for his labour of love that's become his life's sole mission now. In fact, he is amazed when he looks back and wonders how he has been able to sustain this mission for so long without any break with his meager means. Kabita has been regularly cooking for 10 heads, thrice daily for the past decade or so. The meal that is cooked for the family members are offered to the guests and the system continues day after day, 24X7. The Karmakars have been silently doing their bit for the lesser fortunate masses without expecting anything in return. They have also set an example for the society that if one is willing to extend a helping hand to someone who needs it, money is not the deciding factor but a willingness to help is all that matters.