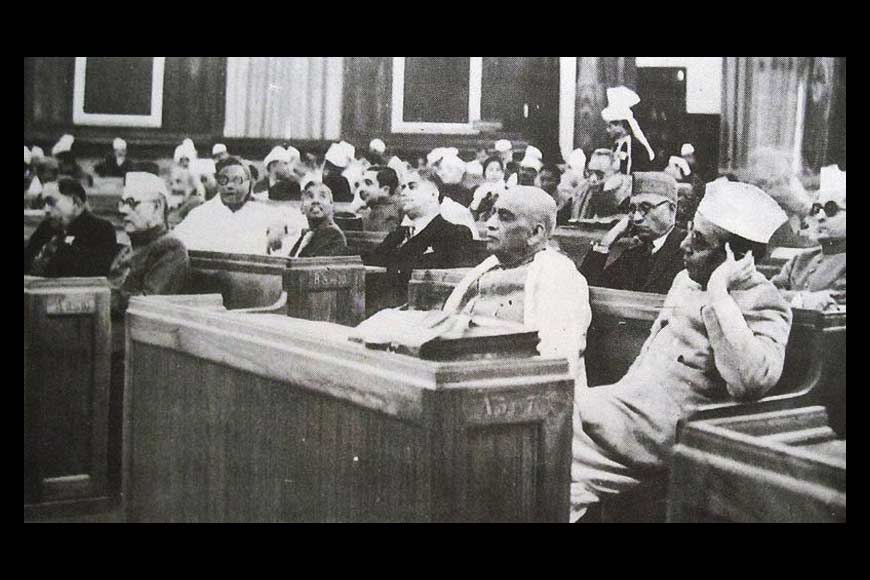 First day of the Constituent Assembly. In the first row (from left), Dr B.R. Ambedkar, B.G. Kher, Vallabhai Patel and K.M. Munshi
Mono Mohan Das, Arun Chandra Guha, Lakshmi Kanta Maitra, Mihir Lal Chattopadhyay, Satish Chandra Samanta, Suresh Chandra Majumdar, Upendranath Barman, Prabhudayal Himatsingka, Basanta Kumar Das, Renuka Ray, H. C. Mookerjee, Surendra Mohan Ghose, Syama Prasad Mookerjee, Ari Bahadur Gurung, R. E. Platel, K. C. Neogy, Raghib Ahsan, Somnath Lahiri, Jasimuddin Ahmad, Naziruddin Ahmad, Abdul Hamid, Abdul Halim Ghaznavi.
This list of 21 men and one woman obviously holds some significance. Why else would we be starting with it today, India's 73rd Republic Day? The reason is that these were the eminent citizens who represented Bengal at the Constituent Assembly, which later became India's Parliament. The task of the assembly was to draft and adopt the Constitution of India, which it did on November 26, 1949. And as we all know, the Constitution came into effect on January 26, 1950, making India an independent republic. The day held special importance for the new nation, since it was on January 26, 1930 that a declaration of Purna Swaraj (complete independence) had been made by the Indian National Congress.
So who were these eminent Bengalis who helped draft the Constitution? Sadly, not all of them have been equally remembered or written about. From what we have gathered, here's a brief description of each member, in no particular order:
Dr. Mono Mohan Das (1910-92): A Congress politician and Union Deputy Minister, born in Nawpara, Purba Bardhaman district, in March 1910. Educated at Central Collegiate School, City College and Calcutta Medical College, he worked for a time as a sanitary officer in Kolkata Corporation. Having begun his political career with the Forward Bloc, he joined Congress in 1936. He was a member of the Constituent Assembly from 1948-50, and the Provisional Parliament from 1950-52. Elected to the first Lok Sabha in 1952 from one of the two seats in Burdwan, he was elected to the second Lok Sabha in 1957 from Asansol and to the third Lok Sabha in 1962 from Ausgram.
Arun Chandra Guha (1892-unrecorded): Born in Barisal (now in Bangladesh) on May 14, he graduated from Braja Mohan College and later ran the publishing house 'Saraswati Library', from where he published his radical writings. Guha also published Swadhinata (Freedom), a weekly journal banned in 1930 with four of its editors convicted for sedition. As a member of Jugantar, the secret revolutionary society which he joined in 1906, he was repeatedly imprisoned for his activities against the British-Indian government.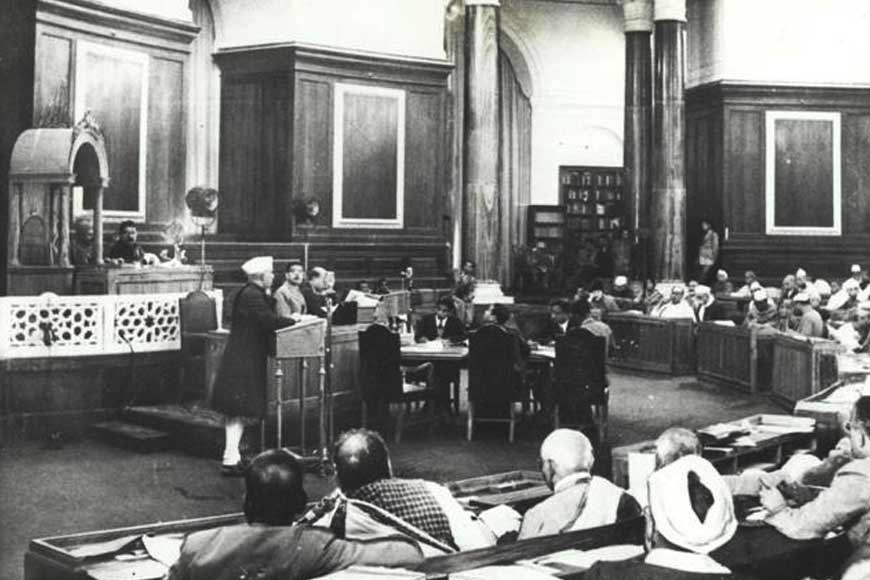 Jawaharlal Nehru addresses the Constituent Assembly in 1946
During his time in prison, he decided to join the non-cooperation movement in 1920, and then the All-India Congress Committee in 1923. He also remained a social activist all his life. Part of the Provisional Parliament from 1950-52, Guha was elected to the first, second and third Lok Sabhas, and served as Minister of State for Finance during his first term.
Pandit Lakshmi Kanta Maitra (1895-1953): Born on July 23 at Narayanganj in present-day Bangladesh, he went to Dacca Government College and then studied law at Calcutta University Law College. In protest against the Communal Award of 1932, Maitra was one of those who broke away from the Congress to form the Congress Nationalist Party, of which he served as secretary from 1934-45. Elected to the Central Legislative Assembly (1934-36), he was re-elected in 1946 from Calcutta and served as a member of the Provisional Parliament.
Back in the Congress in 1945, Maitra was elected to the Constituent Assembly in 1946 on a Congress party ticket, and elected to the first Lok Sabha in 1952 from Nabadwip. Importantly, he was a member of the Special Police Establishment Enquiry Committee (1949-52) formed to review the Prevention of Corruption Act (1947) and to assess the functioning of the Special Police Establishment, later renamed Central Bureau of Investigation or CBI.

Mihirlal Chattopadhay (1902-unrecorded): One of those who voted for the creation of a separate West Bengal on June 20, 1947, we have not found much information on his life and career. He contested the first Lok Sabha polls in 1951-52 from Birbhum, but came in second. Today, his name lives on through the Mihirlal Tilpara Barrage over the river Mayurakshi near district headquarters Suri in Birbhum.
Satish Chandra Samanta (1900-83): A freedom fighter and member of the Lok Sabha from 1952-77 from Medinipur, he was influenced by his guru Swami Prajnanananda Saraswati as a teenager, and adopted a life of brahmacharya (celibacy) and service to society. Quitting his engineering course in the second year, he joined the local branch of the Indian National Congress, and later became president of the Tamluk Congress Committee. During the Quit India Movement, he was instrumental in the formation of a parallel government named Tamralipta Jatiya Sarkar in Tamluk, and looked after its functioning until his arrest in 1943. After Independence, Samanta was elected to the first Lok Sabha from Tamluk in 1952 and repeatedly re-elected until 1971.
Suresh Chandra Majumdar (1888-1954): An associate of some of Bengal's frontline revolutionaries, Majumdar was also a pioneer in the use of linotype with the Bengali font, and one of the principal founders of Anandabazar Patrika. As a youngster in Krishnanagar, Majumdar was inspired by the legendary Bagha Jatin to the extent that he stole a revolver from a family friend and gave it to Jatin. This revolver was later used to assassinate DSP Shamsul Alam in 1910, for which Majumdar went to prison for 16 months.
Moving to Calcutta in search of a job, he invested a small sum of money to set up Gouranga Press, and jointly with his childhood friend Prafulla Kumar Sarkar, brought out the first edition of Anandabazar Patrika in March 1922. This was followed by the publication of literary magazine Desh in 1933 and English daily Hindustan Standard in 1937, launched to counter the British-owned Statesman.
In the 1930s, he developed a close bond with Netaji Subhas Chandra Bose and was among those who helped Netaji escape from house arrest in 1941, for which he was arrested again in 1942. A prominent member of the Indian National Congress, he was nominated to the Rajya Sabha in 1952.
Upendranath Barman (1899-1988) was elected to the Lok Sabha as a member of the Indian National Congress from Cooch Behar in 1952 and 1957. Born into a Rajbanshi family, he graduated from Victoria College in Cooch Behar and earned his LLB degree from University Law College, Calcutta, following which he practised law for a few years in Jalpaiguri. He was elected to the Bengal Legislative Assembly from 1937-45, and also served as a state minister. A vocal proponent of the rights of backward castes, he was the author of two books, History of Rajbanshi Community and History of Rajbanshi Literature.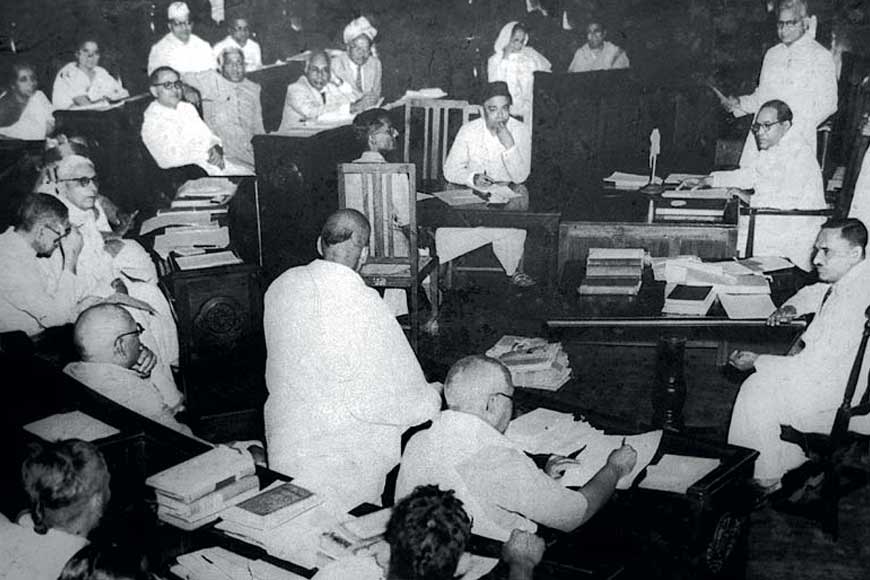 A Constituent Assembly of India meeting in 1950
Prabhu Dayal Himatsingka (1889-1991): Though born in Bihar, Himatsingka had deep ties to Calcutta, where he attended Scottish Church College and Law College, and practised at Calcutta High Court. As a member of the Revolutionary Party of Bengal led by Bipin Chandra Ganguli, he was involved in the sensational Rodda arms heist of 1914 and briefly sent to prison, after which he was externed from Bengal in 1916 and interned in Dumka from 1916-20. A lifelong social reformer and educationist, he was municipal commissioner of Dumka from 1917-20, a Councillor of Calcutta Corporation from 1924-43, a trustee of the Calcutta Improvement Trust from 1927-36, and Alderman of Calcutta Corporation from 1952-56. Following stints in the Bengal Legislative Council, Bengal Legislative Assembly, Assam Legislative Assembly, West Bengal Legislative Assembly, the Constituent Assembly, and the Provisional Parliament, he served in the Rajya Sabha from 1956-62 and the third Lok Sabha from 1962-67 as an MP from Godda, Bihar.
Basanta Kumar Das (1898-1984): Having joined a revolutionary society as a student of Presidency College, Calcutta, Das became a member of the Congress in 1921 and took an active part in the freedom struggle. Between 1916 and 1941, he was arrested as many as six times for his participation in agitations such as the Non-Cooperation, Civil Disobedience and Quit India movements. Having led an agricultural delegation to the erstwhile Soviet Union in 1956, he was also a member of the Provisional Parliament from 1950-52, the first Lok Sabha from 1952-57 and the West Bengal Legislative Council from 1958-62.
Renuka Ray (1904-97): A noted freedom fighter, social activist and politician, she was the daughter of ICS officer Satish Chandra Mukherjee and social worker Charulata Mukherjee. Her brothers were Subroto Mukherjee, the first Air Chief Marshal of the Indian Air Force, and Prasanta Mukherjee, former chairperson of the Indian Railway Board. Greatly influenced by Mahatma Gandhi, she left college in answer to his call to boycott the British-Indian educational system. However, her parents persuaded Gandhiji to ask her to go to London for further studies, and she joined the London School of Economics in 1921.
She was West Bengal's Minister for Relief & Rehabilitation from 1952-57, and was elected to the Lok Sabha from Malda for two terms from 1957-67. In 1988, she was awarded a Padma Bhushan by the Government of India.
Harendra Coomar Mukherjee (1887-1956): Elected Vice-President of the Constituent Assembly, he also became the third Governor of West Bengal once India became a Republic. An educationist and prominent Christian leader, he was also chairman of the Minority Rights Committee and Provincial Constitution Committee. In his early years, he was the first Indian to receive a Doctor of Philosophy (PhD) degree from the University of Calcutta. Returning to the university to teach, he served as lecturer, secretary, Inspector of colleges, professor of English from 1936-40, and head of the English department. He was later nominated to the Bengal Legislative Council and elected to the Bengal Legislative Assembly.
Following the dissolution of the Constituent Assembly, Dr Mookerjee was appointed Governor of West Bengal in 1951, and died in office on August 7, 1956.
Surendra Mohan Ghose (1893-1976): A member of the Jugantar Party at the time of Indian independence, he was a close associate of Sarat Chandra Basu and Maharaj Trailokyanath Chakraborty, and was elected to the first Lok Sabha from Malda on a Congress ticket in 1952.
Syama Prasad Mukherjee (1901-53): Politician, barrister and academician, Mukherjee served as Minister for Industry and Supply in Prime Minister Jawaharlal Nehru's cabinet. After falling out with Nehru, and protesting against the Liaquat-Nehru Pact, Mukherjee resigned from the cabinet and with help from the Rashtriya Swayamsevak Sangh, founded the Bharatiya Jana Sangh, the precursor to the Bharatiya Janata Party, in 1951. He was also president of the Akhil Bharatiya Hindu Mahasabha from 1943-46.
His death in the custody of Jammu and Kashmir Police in 1953 has always remained controversial. Initially diagnosed with a heart attack, he was shifted to hospital, but died a day later.
Ari Bahadur Gurung (1912-80): The only Gorkha signatory of the Indian Constitution, Gurung was born in Kalimpong and was the first barrister in the Darjeeling hills. He became a 'replacement member' of the Constituent Assembly when Damber Singh Gurung, the original Gorkha representative and a lawyer and social worker, died in 1948. Following this unfortunate event, Ari Bahadur took his place.
Kshitish Chandra Neogy (1888-1970): A member of the first Cabinet of independent India and Chairman of the first Finance Commission of India, Neogy was earlier elected to the Central Legislative Assembly four times between 1920 and 1930 on a Congress ticket. He held a number of important posts in the Government of India, including Chairman of the Planning Advisory Board and Indian Railway Enquiry Committee. He was also a member of the United Nations Commission on Human Rights in 1948.
Under Jawaharlal Nehru, he served first as Minister of Relief and Rehabilitation and later as Minister of Commerce. After the resignation of R. K. Shanmukham Chetty, Neogy took charge as the second Finance Minister of India in 1950, but held office for just 35 days before resigning along with Syama Prasad Mukherjee. In 1951, Neogy was appointed as Chairman of the first Finance Commission of India.
Raghib Ahsan (1905-75): A man who had a hand in drafting the Constitutions of both India and Pakistan, Ahsan was born in Bihar, though his family later relocated to Calcutta, where he graduated with a BA and MA from Calcutta University. When he was just 13, Ahsan became involved in the Khilafat movement under the leadership of Maulana Muhammad Ali and Shaukat Ali. He was also introduced to Muhammad Iqbal, known as the 'Spiritual Father of Pakistan', in 1929 and remained close to him until Iqbal's death in 1938.
When the Khilafat movement joined forces with Mahatma Gandhi's Non-Cooperation Movement, Ahsan was arrested in 1922. In 1931, he formed the All India Muslim Youth League. He also helped lay the foundation of Calcutta Muslim League in 1936 and became a member of the All India Muslim League Council in 1937. Post-Partition, Ahsan fled to Dhaka (then capital of East Pakistan) to escape persecution for his political views. But he played a crucial role in drafting Pakistan's Constitution, and joined the Pakistan Democratic Party to oppose the creation of Bangladesh. After the formation of Bangladesh in 1972, he relocated to Karachi, where he died shortly after.
Somnath Lahiri (1909-84): A statesman, writer and a leader of the Communist Party of India, Lahiri also served as a member of the West Bengal Legislative Assembly. Attracted to Marxism under the guidance of Bengali revolutionary Bhupendranath Datta in 1930, he initially worked in the E.B. Railway Workers' Union and played an important role, along with Dr. Ronen Sen and Abdul Halim, in building the Communist Party's Calcutta Committee.
In 1933, he organised the first labour association of Tata Iron & Steel in Jamshedpur, and also led the historical sweepers' strike of Kolkata Municipal Corporation in 1944. Lahiri was the sole Communist member in the Constituent Assembly in 1946, and contributed substantially to the debates regarding the drafting of the Constitution. He was also the editor of Swadhinata, a Leftist political magazine, and wrote regularly for Ganashakti, Aage Cholo, and Kalantar. Kalijuger Golpo, a collection of his short stories, was published in 1967.
Naziruddin Ahmad (1889-not recorded): Born on Christmas Day in Kulia village of Bardhaman district, he graduated with a law degree from Ripon Law College, Calcutta, and quickly rose to become an advocate in Calcutta High Court, going on to become a senior advocate at the Federal Court of India. In 1924, he became the Public Prosecutor for Bardhaman, a post he held until 1928. His first foray into politics was in 1919, when he was elected Vice-Chairman of Bardhaman Municipality. A keen writer, he was the founder-editor of Bardhaman Bani, a Bengali weekly. Some of his writings, including several letters he wrote to British officials, were compiled in Khola Chithi, published in 1921.
A member of the Praja Movement in West Bengal, which fought for labour rights, Ahmad was elected to the Constituent Assembly on a Congress ticket, but became a vocal critic of the work of the Drafting Committee and intervened in the debates on the national language. The text of the draft Constitution which appeared in 1948, he insisted, contained a "number of errors, anomalies, redundancies and repetitions", and squarely blamed the Drafting Committee for it.
Sir Abdul Halim Khan Ghuznavi (1876-1953): A politician, zamindar (landlord), and industrialist, he was a member of the Central Legislative Assembly of British India. Born in Tangail (now in Bangladesh), he graduated from St Xavier's College, Calcutta and began a political career in 1905. Disillusioned with the Congress, he was elected to the Legislative Assembly from the Rural Muslim Constituency of Dhaka in 1927 as an Independent candidate. He presided over the All India Muslim League Conference in Kanpur in 1929, and was again elected to the Central Legislative Assembly from Dhaka-Mymensingh in 1931 and 1935 as an Independent.
In 1936, he became one of the founding members and secretary of the All India Independent Democratic Party, but joined the All India Muslim League soon after. Halim was a Fellow of Calcutta University, member of Dhaka University Court, Aligarh University Court, and Bengal Royal Asiatic Society, as well as the Sheriff of Calcutta in 1935.