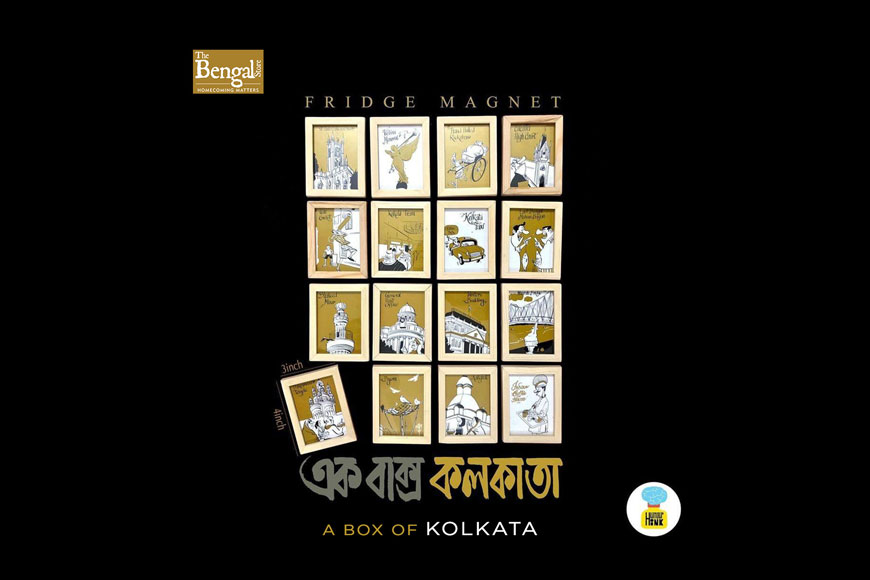 The City of Joy stays forever etched in a person's mind with its unique attributes, be it the famous yellow taxis or the grand Victoria Memorial, or the iconic trams that criss-cross the city on iron tramways, wheels rumbling and bells ringing. It is with all this in mind that well-known cartoonist Uday Deb has created 'Ek Baksho Kolkata' (a box full of Kolkata), complete with all the nostalgic trimmings that the city is so famed for.
What is Ek Baksho Kolkata, and what makes it so special?
Ek Baksho Kolkata is a collection of fridge magnets inspired by the iconic attributes of Kolkata. From the imposing steeple of St Paul's Cathedral to the imperious waiter at the Indian Coffee House, from the angel atop Victoria Memorial to the splendid façade of the GPO (General Post Office), from the chaotic fish markets to Howrah Bridge, the collection effortlessly captures the distinctive spirit of Kolkata, all of it in a nostalgic, sepia tone.
Order your Ek Baksho Kolkata online from The Bengal Store - Click Here
What makes it special is the fact that these are not just fridge magnets, but small miniature paintings done by hand, mounted on small rectangular wooden frames as opposed to plastic or fibre frames. Talking about this merchandise, Deb explains, "I realised that for a lot of people, mementos of Kolkata were not very easy to come by. Nobody has really come up with Kolkata-specific merchandise of the kind that exists in many other cities of the world."

Using his unique creativity, Deb has also designed and handcrafted wooden dolls inspired by the characters of the iconic Bengali film Gupi Gayen Bagha Bayen, directed by the legendary Satyajit Ray. In this combined series of eight popular characters from the film, he has crafted the characters of Gupi, Bagha, the kings of Halla and Shundi, the prime minister of Halla, the king of ghosts (bhooter raja), and Bagha's unforgettable 'dhol'.
So, if you are someone looking for a piece of Kolkata for yourself or for your loved ones, this collection of specially curated memorabilia can be found exclusively at The Bengal Store. We might as well tell you that stocks don't last very long, so get your set today!