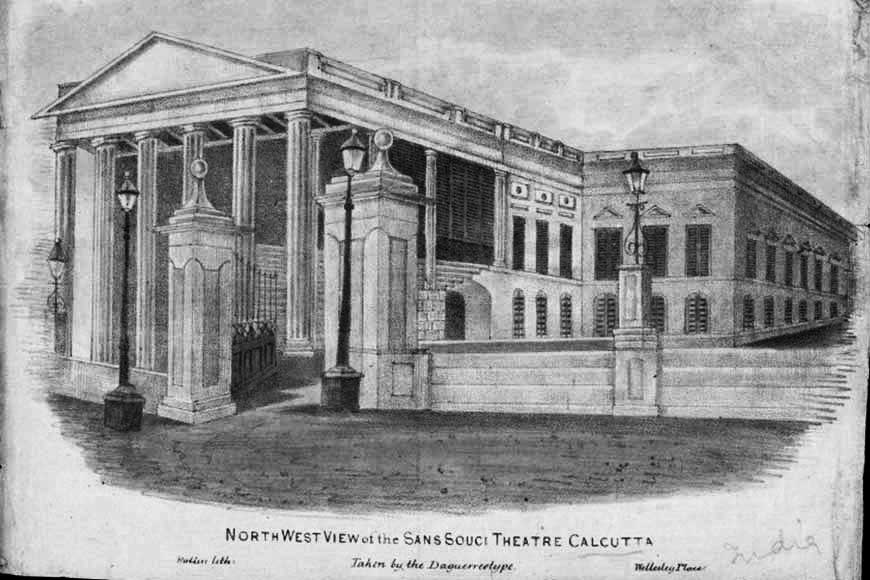 Babu Baisnab Charan Adhya, or 'Bustomchurn Addy' as the British called him, is not a name many Bengalis remember. Or even know. But over the course of August and September 1848, this Calcutta babu pulled off a most remarkable if short-lived achievement, which ought to have granted him a place in the Bengali pantheon of cultural icons. More so given the average Bengali's love for the stage and theatrical performances.
The stage in this case belonged to the renowned Sans Souci Theatre on Park Street. Built primarily with funds collected from local Europeans, the theatre was largely the brainchild of Joachim Hayward Stocqueler, editor of the Englishman, whose highly colourful life makes for a story on its own. The Sans Souci was also boosted by a personal donation of Rs 1,000 from Governor-General Lord Auckland himself, and was opened on March 8, 1841 by famed actress Mrs Esther Leach, with a performance of James Sheridan Knowles' play, The Wife.
Sans Souci theatre gradually earned fame for its Shakespeare performances, but a major tragedy struck on November 2, 1843 when, waiting in the wings for her cue, Mrs Leach sustained fatal injuries as her costume caught fire from an oil lamp, and she died in agony 16 days later. By 1848, the year when Adhya achieved his feat, the Sans Souci had already gone into somewhat of a decline, being leased out to different companies to keep it going.
The Shakespeare performances continued, however, and thus it was that Adhya became the first Bengali to play Othello in an English production of Shakespeare's iconic tragedy, which otherwise comprised British actors and was meant for a primarily British audience. Adhya featured in two performances on August 17 and September 12, with Esther Leach's daughter Mrs Anderson playing his wife Desdemona.
How did this happen? What made the producers opt for an 'actor' not exactly renowned for his contribution to theatre? No clear answer is to be found. If a letter published in Calcutta Star on August 12, 1848 is to be believed, Adhya's performance nearly did not take place. The letter writer disclosed how a previous performance on August 10 had to be cancelled when, for reasons unknown, the military commander of Dumdum Cantonment withdrew the Army amateurs acting in the play. The angry audience almost caused a law and order situation, and the police had to be called in. Adhya was scheduled to play Othello in the cancelled performance as well, though there is nothing to suggest that the Army men were withdrawn in protest against the presence of a 'Black actor' in the cast. Ironically, given Othello's Moorish ethnicity, he has always been played in modern times by actors of colour.
Why only the two performances? Sadly, though we would like to say that Adhya's appearance was a spectacular success, the reality was that he received what may politely be called mixed reviews. In writing about the first performance, the Bengal Harkaru observed: "…all expectations were, of course, centred on the young aspirant for dramatic fame, who has gallantly flung down the gauntlet to the rest of the members of the Native community… Othello's entry was greeted with a hearty welcome, and the first speech… evidenced considerable study and an absence of that timidity so constantly the concomitant of a first appearance. Slim, but symmetrical in person, his delivery was somewhat cramped, but, under the circumstances, his pronunciation of English was for a Native remarkably good…"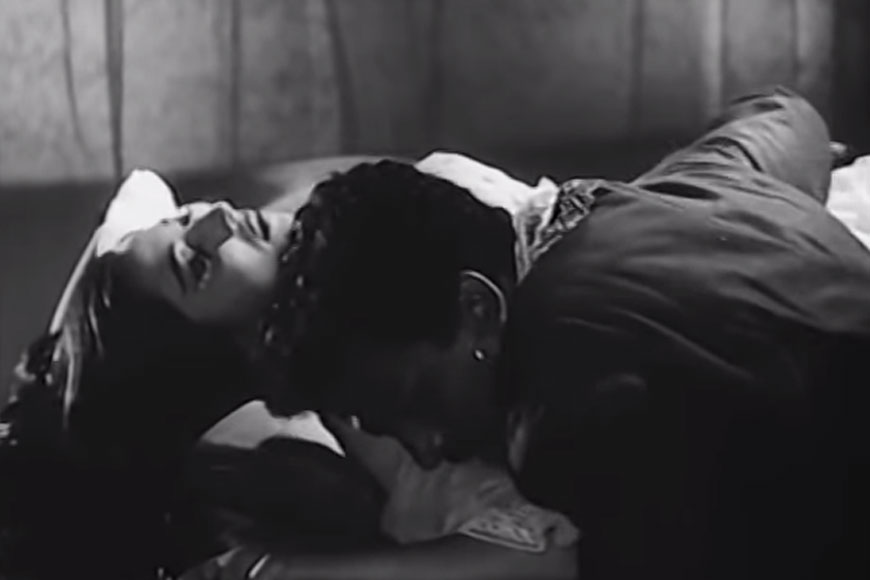 Uttam Kumar and Suchitra Sen in the Othello scene from Saptapadi
Fairly positive yes, but just as an aside, the review pointed out how Adhya delivered Othello's crucial soliloquy in the bedchamber in Act 5, Scene 2 with his back to the audience. It is an interesting speculation that he was directed to do so to avoid the necessity of a 'native' actor kissing the sleeping Desdemona aka Mrs Anderson, the wife of a British Army officer (think back to the passionate recreation of this scene by Uttam Kumar and Suchitra Sen in the 1961 film Saptapadi). The delicate balance of race and caste was thus safely maintained.
The reviews published in the Englishman for both performances, however, roundly criticised Adhya's acting skills. The second review, published on September 14, 1848 was particularly unkind and concluded "that he failed, in every sense of the word, both in conception and execution…"

Not much is known about what happened to Adhya after his remarkable debut, but the trail he blazed was not obliterated. From all accounts, he was the representative of a rising class of affluent, cosmopolitan Bengali youth who, while absorbing the best of Western education, were also keenly aware of their roots. By the 1850s, young Bengali men were regularly producing and participating in Shakespeare performances. In 1853, students of the David Hare Academy staged The Merchant of Venice, which drove the Oriental Seminary to establish The Oriental Theatre and stage their own production on March 2, 1854.
Both groups of students were trained by Mr Clinker, formerly associated with Sans Souci. A few members of Oriental Theatre, such as Keshavchandra Ganguly, Priyanath Dutta, Sitaram De and others, would later become leading lights of Belgachhia Theatre, paving the way for a new language of theatre in Bengal. It can safely be said that Adhya's 1848 performance as Othello, therefore, became part of a chain of developments which led to the birth of modern Bengali theatrical traditions.