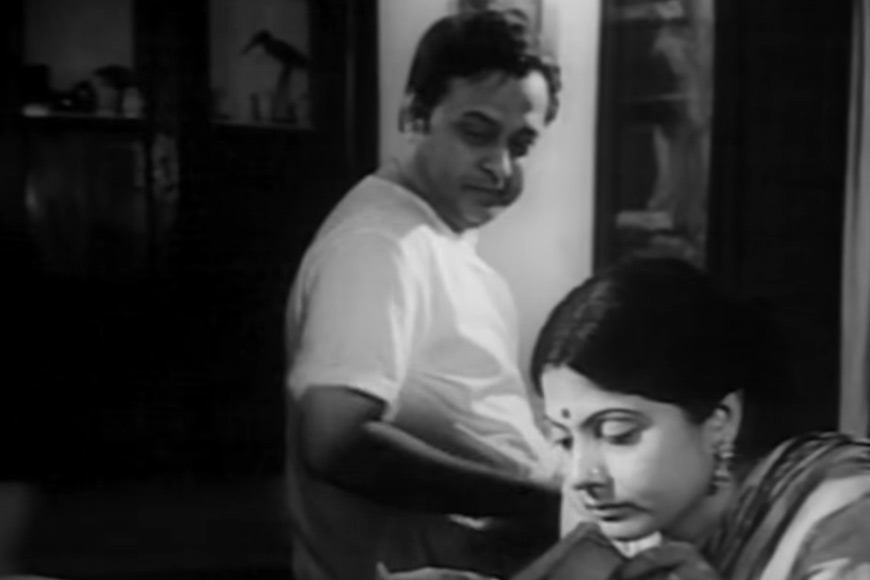 Nirjan Sanlaap
Over the years, very few Bengali and Indian filmmakers have opted for the works of one of the most outstanding authors of post-Tagorean Bengali literature. Notable filmmakers like Mrinal Sen and Nabyendu Chatterjee have adapted his works, but over the nearly 100 years of Bengali cinema, Manik Bandyopadhyay adaptations have been few and far between. Whereas the other Manik (the nickname for Satyajit Ray) has been instrumental in shaping the history of cinema.
Manik's works stand in stark contrast to the writings of Bibhutibhushan Bandyopadhyay, whose pen was gentle and lyrical even when he presented realities like poverty and vulnerability. Manik brought out the brutal truth about life and relationships both in a rural ambience as well as the urban milieu. He shed light on the dark alleys of the human psyche, so in that sense, his writing was more about unmasking the ugly face of humanity, not trying to cushion it with surface beauty.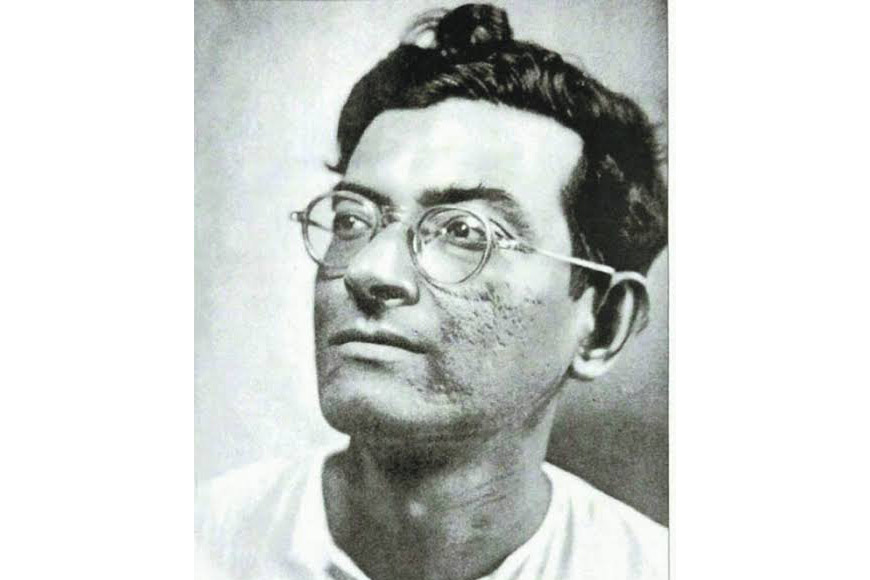 Manik Bandyopadhyay
This year marks the 113th birth anniversary of the great writer. Among the more notable films based on his writings are - Putul Nacher Itikatha (1949), Nirjan Sanlaap (1987), Sarisreep, (1987), Haraner Nat Jamai (1990), Padma Nadir Majhi (1994), and Shilpi (1994).
According to historical data, the first celluloid adaptation of a Manik Bandyopadhyay novel was Putul Nacher Itikatha. The film was directed by Asit Banerjee, who also claimed credit for both story and script. There is no mention of Manik Bandyopadhyay in the credits, and yet this novel is one of his most outstanding works, which has been staged many times over the years. Set within a village, the story is filled with modern concepts and ideas, to the extent that many critics of the time found it too explosive and bold.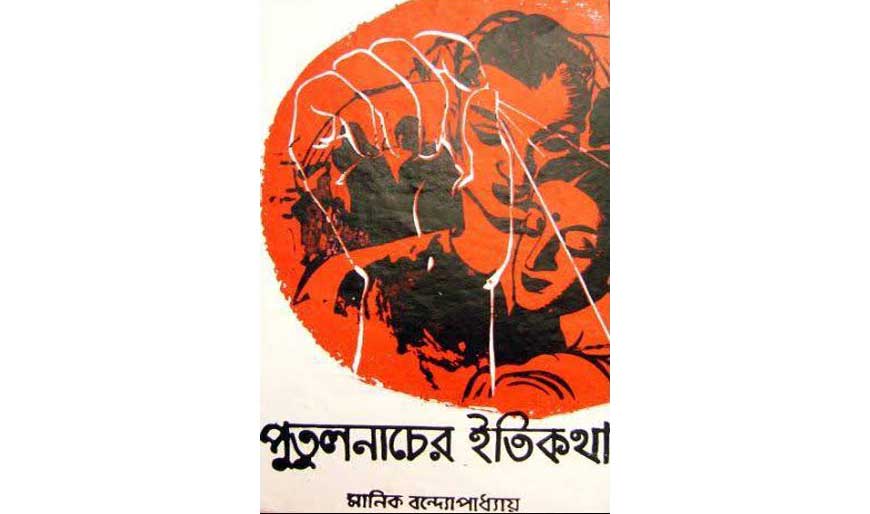 The individual is a puppet of destiny. This universal truth is borne out powerfully and incisively in Putul Nacher Itikatha. The novel is a critique on the hypocrisy – social, religious, filial and economic - that rules the lives of people in a Bengal village around the first quarter of the 20th century. This hypocrisy intensifies their struggles, deprivations and suppressions, instead of bringing harmony and peace. This controversial and highly acclaimed novel was published serially in a magazine called Bharatbarsha in 1935, and widely translated and published as a book in 1936. Its basic philosophy of existentialism within a hypocritical world is relevant to this day and for the first time, we find the leading lady sexually attracted to the educated Shashi, the protagonist and the anchor of this human drama.
Nirjan Sanlaap is the story of brother and sister Pramila and Bimal, and the complexities in their lives. They live with their father and stepmother. Bimal is looking for a job and gets romantically involved with Shanta, a married woman. Pramila also gets involved with Nagen, her boss. The complexities lead to Shanta committing suicide and Pramila going through an abortion. Both are shattered but resolve to move on with life.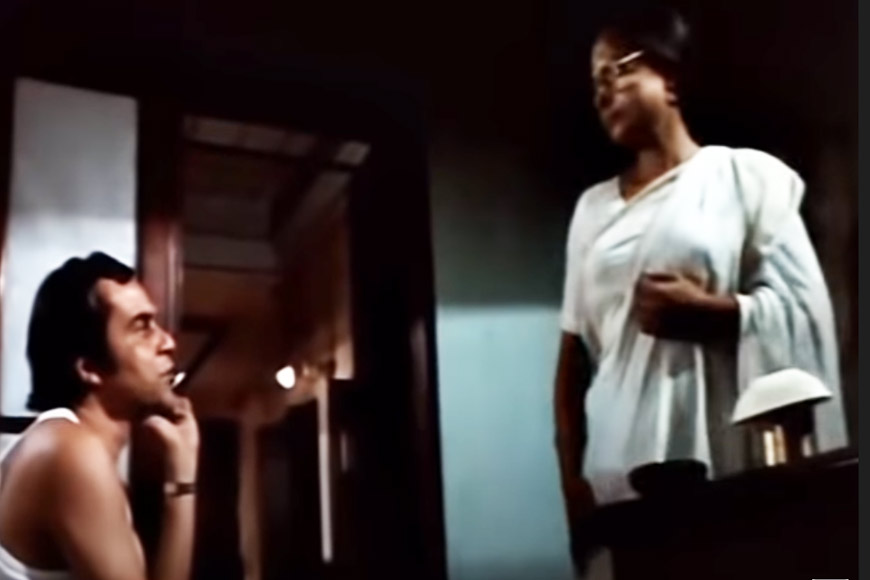 Sarisreep
The shocking and brutal Sarisreep is perhaps director Nabendu Chatterjee's first strong statement on the vulnerable socio-economic position of women in urban and rural Bengal, shocking the audience almost to a point of no return. The film offers no relief from horror, including the sudden death of a woman who dresses up as Kali to feed her small children, when she eats some poisoned prasad from the temple where she goes to beg every day. Sarisreep portrays women in many-hued forms of desperation where, if pushed to extremes, they are capable of killing their own. When he made Sarisreep, which unfolded the decaying of moral principles in the face of survival, critics severely panned Chatterjee for using 'shock tactics' to woo his audience. But he took it all in with his characteristic smile.
Haraner Nat Jamai is set against the backdrop of Bengal's famous 'Tebhaga' movement, Haran's son Abhinash encourages the farmers of Shaliganj village to speak up against their autocratic landlords. He encourages them to protest by making them sing revolutionary songs. Will Abhinash be successful with the uprising?

Shilpi, financed by the National Film Development Corporation, was also directed by Chatterjee, and bagged the BFJA Best Actor Award for Anjan Dutt in the title role. The film fleshes out the difference between a skilled craftsman and an artist, bringing home the point through the character of Madan, a weaver of rich silk Benarasi and other saris, who refuses to bring himself down to weaving lesser fabrics even when weaving itself has become a struggle. With a pregnant wife and the market for expensive weavers on the wane, he remains obstinate. His principle of not accepting threads at high prices to weave gamchas finally leads to his breaking down and losing his sanity temporarily. The next morning, he collects himself and returns the money he had accepted. His conflict with his colleagues fades away and he finds himself leading the union they have formed to fight the merchants. Through this story, Bandyopadhyay tries to establish the truth that suicide is not the only way out of life's dilemmas, and that optimism can surely stand a man like Madan in good stead.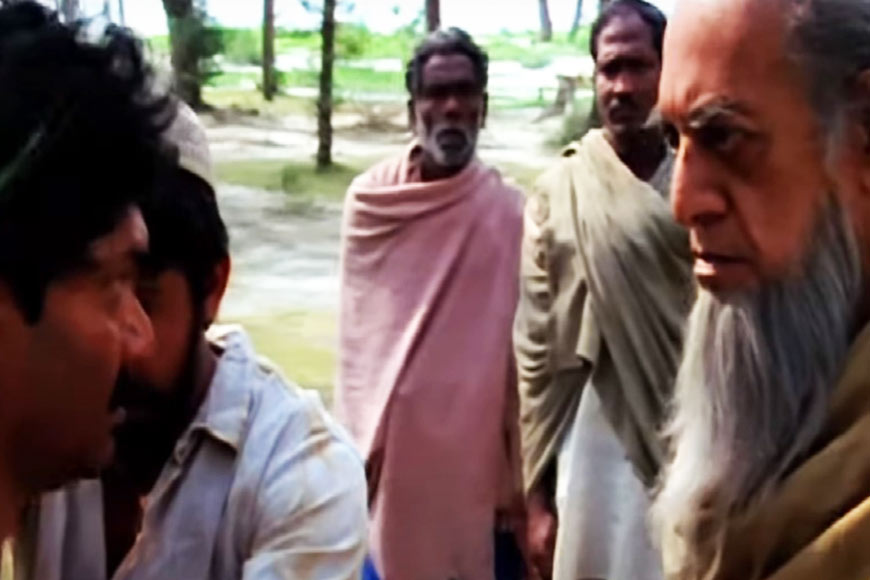 Padma Nadir Majhi
Padma Nadir Majhi, directed by Goutam Ghose, stands out for Utpal Dutt as Hossain Miya. An Indo-Bangladesh joint venture, the story is set in a fishing village on the banks of the river Padma. The residents eke out a survival-level existence depending on the whims, fancies and moods of their lifeline – the Padma.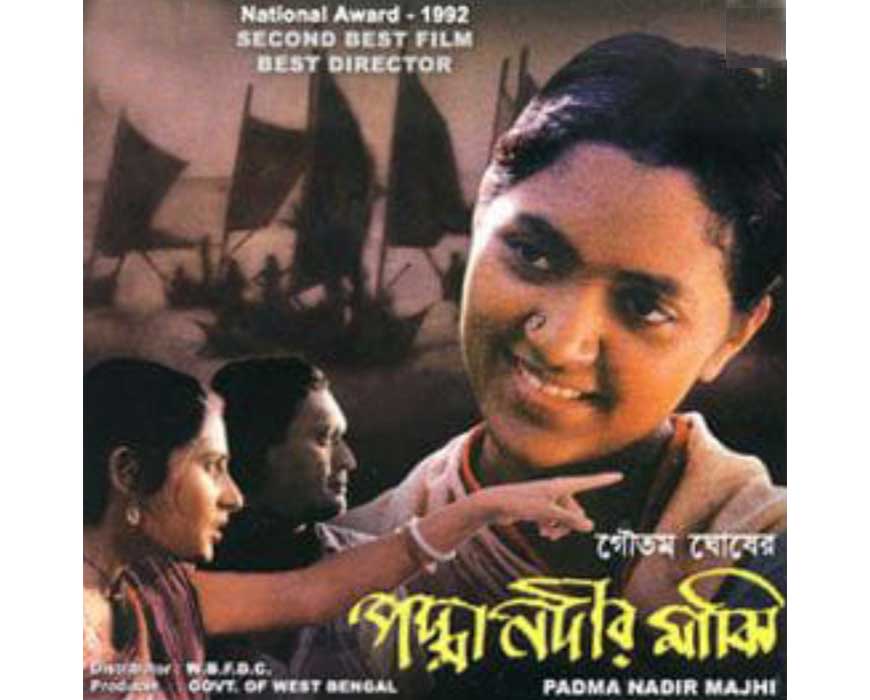 The film was shot both in India and Bangladesh, with music by Ghose himself, and Alauddin Khan. The central character Kubir, played by Asaad, is a tall, strapping fisherman. Initial sequences depict the exploitation of these hapless people, where their hard-earned catches earn a pittance at the market. Even residents from the neighbourhood take away fish from them without paying on several occasions.
When a storm destroys their catch, most of them are forced into penury. Hossain Miya and his assistant offer further exploitation in the guise of help, and Hossain appears like an angel in disguise. The island of Moynadeep, a metaphor and a myth discovered, developed and owned by Hossain, offers succour to the fisherfolk when they are in trouble. He makes no distinction between men and women based on religious identity, but then Rashu and Aminuddin return from Moynadeep shattered and in tatters, narrating a horror story of their experience on the island. Is Hossain the angel he appears to be? Or is he really the devil in disguise?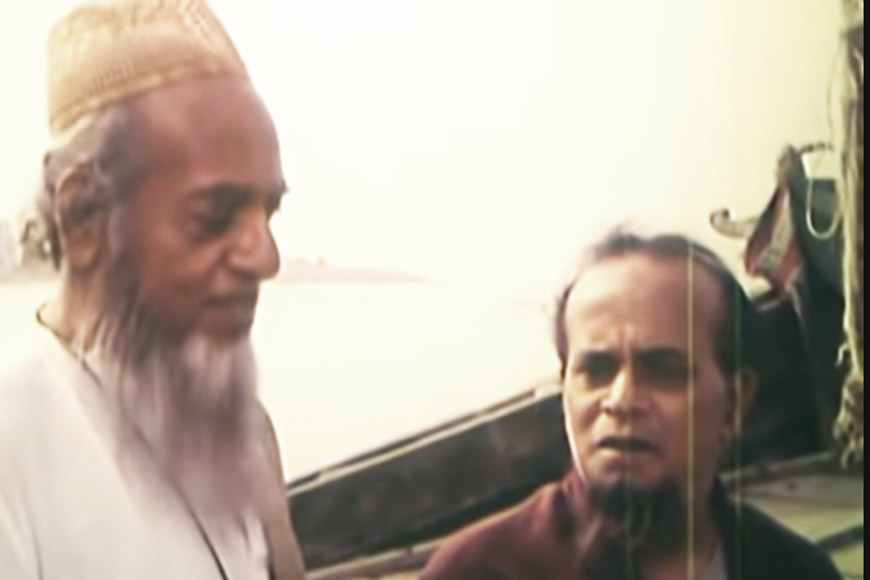 Padma Nadir Majhi
The film bagged a string of awards both in India and Bangladesh. Among these are three National Awards for Best Feature Film in Bengali, National Film Award for Second Best Feature film and the National Film Award for Best Direction for Ghose.
Indranil Roy Chowdhury made a film on two Manik Bandyopadhyay short stories as recently as 2019. The film, Mayar Jonjal, narrates the character-driven stories of marginal characters living on the fringes of civilization, though they all live and work in Kolkata. He has brought a contemporary touch to the film, but makes a strong celluloid statement on the tenacity of these people who live through their struggles, though they do not always come out unscathed.
Bandyopadhyay, by his own admission, claimed that the man beside the stream, on the river bank, the village farmer, the fisherman, the boatman, the weaver's skeletal faces would come up in his mind every day and "these middle class faces, the faces of the poor farmers, would rise within me and desperately let out a cry - 'give us a voice, a language,' and that is what I have tried to give them through stories like Shilpi."
None of these stories have elements to draw the mass audience. They are far too gritty, too tragic and too real for the masses to face. One needs courage to live through these stories and perhaps, that is an emotion we lack today.