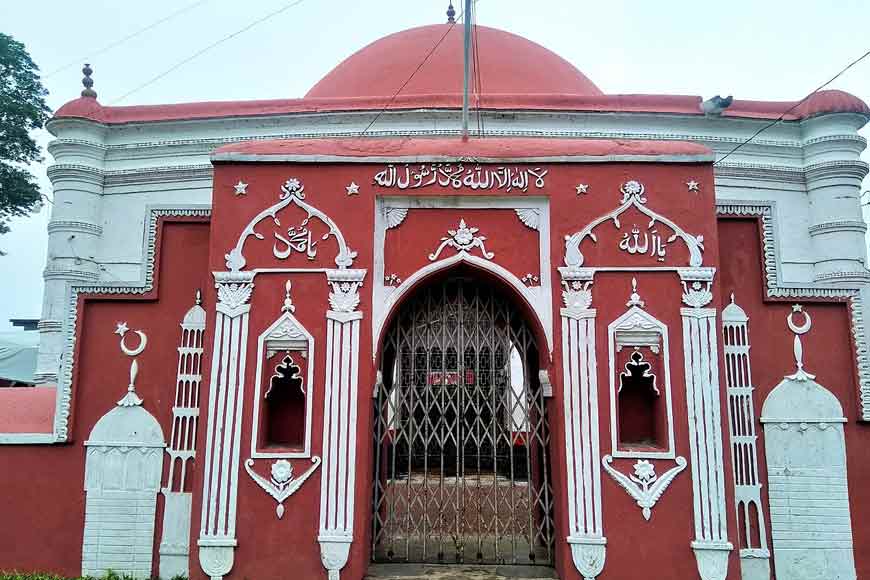 In this 3-part series, GB brings a fascinating tale of Rabindranath Tagore's ancestors, the Pirali Brahmins and how they descended from a converted Muslim of Jessore
The exact year when Khan Jahan Ali's set out for South Bengal is not known but it has been established that when he set out for Banga (Bengal), Alauddin Muhammad Shah was the Sultan of Gour. According to historian Satish Chandra Mitra, Khan Jahan undertook a long voyage to Bagerhat across Nadia along the river Bhairab, by crossing the mighty Ganga River and appeared at Barobazar in the district of Jhenaidah. Barobazar became the first settlement among the four villages established by him in Bengal namely Barobazar, Murali Qashba, Poyogram Qasba and Khalifatabad.
Barobazar was laid out on an earlier Hindu-Buddhist township known as Champanagar. It was named Barobazar after the 12 (Baro) saints who had inhabited the place earlier. It is said, when Khan Jahan appeared there, the saints welcomed him wholeheartedly. The small township of Barobazar (a union of Kaliganj upazila in the present day Jhenaidah district) encompasses an area of about 6.44 km. Gorar Mosque, Golakata Mosque, Jor-Bangla Mosque, Pir Pukur Mosque, Satgachia Mosque, Ghoper Dhipi Graveyard, Namaz Gaon Graveyard, Monohar Mosque, Jahajghata, Damdama protnosthan (archaeological site), Gorar Mosque, Sukkur Mollick Mosque, Nungola Mosque, Khorer Dighi Graveyard, Pathagar Mosque, Badedihi Graveyard, Saudagar Dighi mound, Sanaidar Dighi mound, Adina Mosque, etc. are some of its key monuments. Khan Jahan's involvement in the establishment of these architectural marvels in Barobazar suggests that he stayed there for a number of years.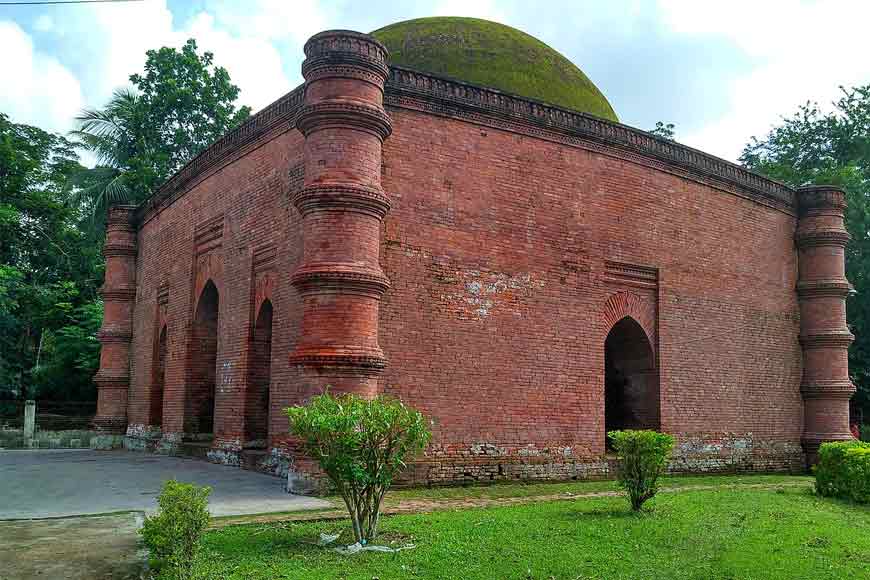 Khan Jahan Ali next moved to set up a place called Murali Qasba (a place in Jessore Sadar upazila in present-day Jessore district) after leaving Barobazar. To continue his missionary work, he left behind two of his dedicated followers named, Garib Shah and Beram Shah. The Mosque of Garib Shah near Jessore Collectorate and the grave of Beram Shah near Christian cemetery reflect the history of that time. Khan Jahan divided his followers into two groups at this point; one group followed him to Bagerhat and the others went to the Sundarbans.
The northern reaches of the present day Jessore town was known as Murali Qasba in the past. There was also a place called Bogchar, by the river Bhairab near this town. The Murali township spread about four km to the north-east of the city with Palpara, Bamun Para and old Qasba. Satish Chandra stated that a large mound on the western side of the Karbala pond is possibly an old Buddhist Stupa. The highway Khan Jahan Ali built to connect these settlements is still known as Khanjalir Jangal.
Furthermore, there is a mosque named Shubharara Mosque, a few kilometers southeast of Abhaynagar thana in Jessore district and about 8 km north of Dhulgram. According to historian AKM Zakaria, this was probably built by Khan Jahan or one of his disciples.
The township of Poyogram Qasba (presently in Khulna) was a new colony established by Khan Jahan; it was located about 32.2 km away from Bagerhat and around 35 km southeast of Jessore. Ruins remain as a testament to the glory of the old days; two of them are as big as the Shat Gombuj mosque in Bagerhat and are said to have survived till a century ago. There are also a few ancient water tanks. This township was roughly divided into two approximately equal halves by a 15.24m wide Khanjali Road, now known as Uttar (North) Dihi and Dakshin (South) Dihi. A grid of other roads and streets sub-divided the town into a rectangular chessboard pattern. Unfortunately, none of the mosques survived, except the remains of a large mosque in the Dakkhin Dihi village. Apart from that, the road (Khanjali Road) still exists.

Khan Jahan Ali adorned his capital city with numerous mosques (approximately 360 in number), bridges, roads, palaces and other public buildings within an astonishingly short span of time. But of these only 50 monuments and ponds still exist in the present-day Bagerhat .There are only two surviving monuments that describe the distinct style of Khan Jahan and its significance -- one is Khan Jahan's tomb and the other is the Shat Gombuj Mosque. The UNESCO recognised the mosque city of Bagerhat as a world heritage site way back in 1985.
Apart from these monuments, UNESCO also included the mosques of Singar, Bibi Begni, Reza Khoda, Zindapir among the unique monuments. The structures built during the era of Khan Jahan resemble the nuances of the architectural style of Delhi's Tughlaq dynasty, which led to the discovery of Khan Jahan's origin. Interestingly, to this day it remains unclear what had brought him to southern Bengal in the first place: one wonders, if it was to establish human settlements in this remote, inhospitable region of Bengal far away from the comforts of Delhi, or was he simply inclined to live in peace in this distant land.
His role as administrator of Khalifatabad did not stop him from also preaching the religion of Islam to the local people which he focused on even more after retiring. His humanitarian work such as establishment of dighis for clean water was a number of reasons why the local Hindus were attracted to Islam. He led a simple life and had a number of disciples; most notably, Shaykh Muhammad Tahir (better known as Pir Ali), who is buried near him. It is unknown how, but Khan died on 25 October 1459 (27 Dhul Hijjah 863 AH).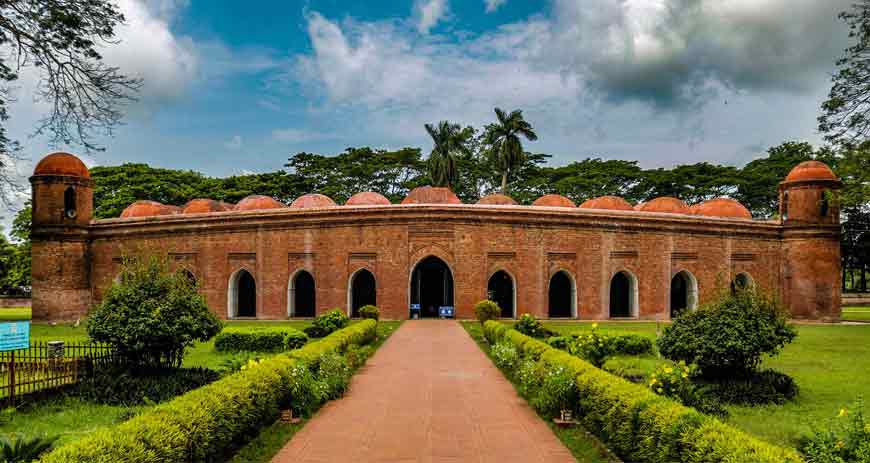 After his death, he was buried in a mazar near one of his mosques and dighis. Khan Jahan Ali's Tank contains crocodiles which are considered to be descended from the two crocodiles which Khan rode on. The great-grandmother of Haji Faqir Humayun Kabir, a guardian of the shrine, is said to have fought with them. Hundreds of visitors visit the shrine every day, and also pet the resident crocodiles.
The structures left behind by Khan Jahan Ali are the extraordinary heritage of a wise commander and a noble man who spent years in southern Bengal and laid out well planned settlements and infrastructures in that area. His distinct architectural taste and preferred method of construction have bestowed these structures with unique characteristics. Khan Jahan introduced a new architectural style in his buildings, which is named after him. The Khan Jahan style architecture is seen throughout modern-day Khulna Division. The Khan Jahan Ali Airport is a proposed airport in Mongla to be named after him.
One of the Bangladesh Navy's auxiliary ships is named after him as "BNS Khan Jahan Ali". The ship was made by Ananda Shipyard & Slipways Limited and handed to the Bangladesh Navy on 6 November 2014. Previously, there was an oil tanker with the name "BNS Khan Jahan Ali". This was an Ex-Soho Maru (T1056) made by Setoda's Naikai Shipbuilding in 1963. It was sold after 1983 and commissioned on 14 July 1987 as a naval tanker. It was decommissioned after 28 years on 5 September 2015.