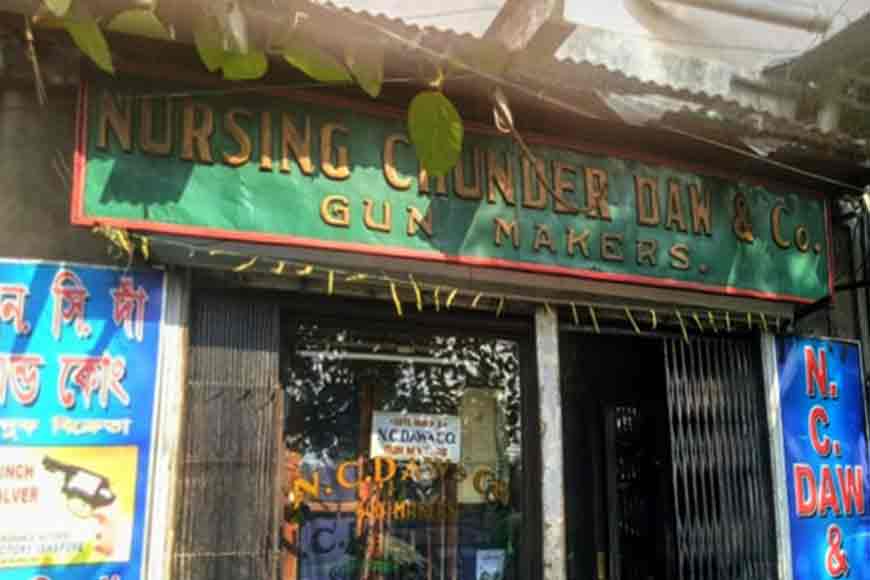 TIf you take a walk around Hemanta Basu Sarani, you might come across an old gem of the city ---'Narasinghachandra Dawn & Co, Gun and Rifle Makers. In 1835 Narasinghachandra Dawn, a resident of Kotulpur, a village of Bankura came to Kolkata and set up a shop of guns and gun powder at 56, 57 Old China Baazar Street. Later, it changed its address to 64/A Hemanta Basu Sarani. This historic shop has completed its long journey of 149 years is one of the oldest gun shops of the country. The best part is unlike many other businesses that have been wound up or ones that left, this shop still exists and is run by the sixth generation of the family.
But what made Dawn babu take up this business of guns? It was the era of zamindars. Hunting happened to be one of the greatest passions of the zamindars. It was also important to protect their properties and hence possession of a gun became essential. During the East India Company's rule, there were several native states across India which were governed by various zamindars. Zamindars or their officials used to come down to Kolkata to buy loads of guns and gun powder for the sake of their own security and the protection of the states. Dawn & Co started off with gun powder, pellets or lead shots and caps. Gradually, single-barrel gun, double-barrel gun and muzzle loading guns came along. Iron pieces, gunpowder and other elements used to be stuffed through the mouths of these guns of the yesteryears.

The business of the shop gradually expanded with time and it received its license. The shop was shifted to Dalhousie Square. The three sons of Narasingha Dawn, Ashutosh, Nilmadhab and Nandalal took up the responsibility of the shop. Keeping the ever-growing demand of guns in mind, Ashutosh came up with another shop near Dharmatala crossing and named it 'A.T Dawn& Co.Then came 'breach loading gun' during Sepoy Mutiny. Gunpowder used to be stuffed in the bullet. The bullet could be shot directly after the cartridge was inserted. Small cannons were also sold here. These cannons made by Winchester Repeating Arms Company were just 17 inches in length. The famous Durga puja of Dawn Bari still begins only after this cannon is shot. This is almost like a ritual which is in practice even today.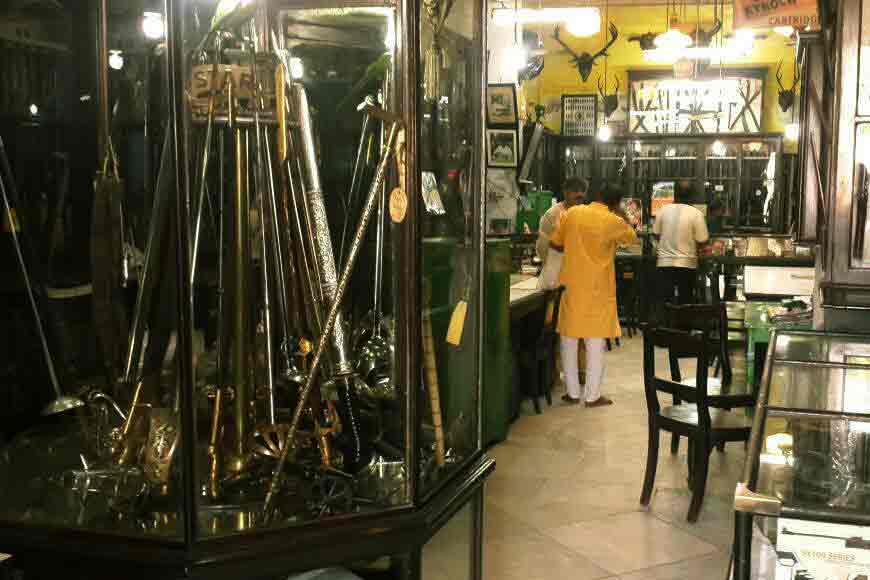 Though the business scenario has changed today and zamindars are no more, demand for guns have not dwindled. Guns are still supplied to various security agencies and other shops. Dawn&Co still happens to be one of the most prominent gun shops of Kolkata. Most