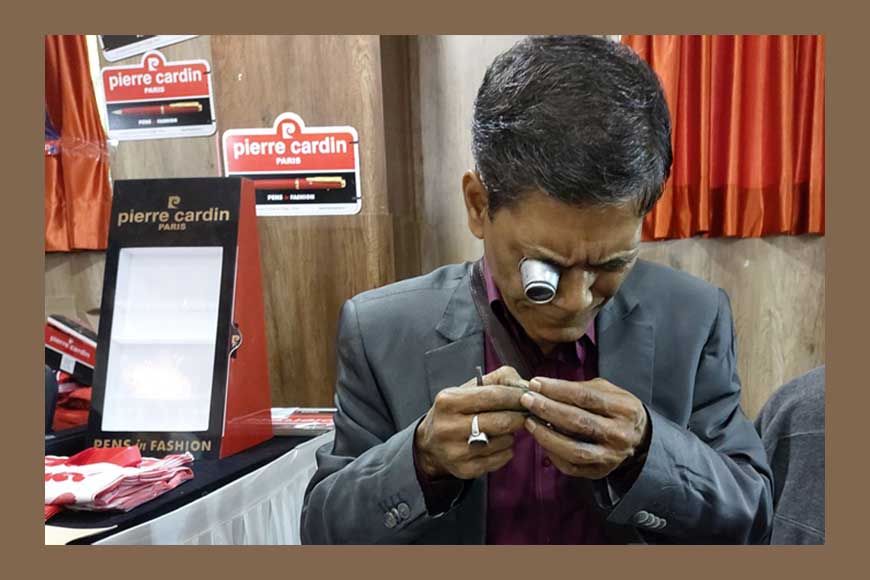 Before computers came along, there were typewriters, but back when a typewriter was a hugely expensive piece of equipment, pens were perhaps the most important piece of technology. But, times have changed and computers, laptops and smart phones have taken control of our lives. Most people do less writing with a pen than they did earlier. Yet, some like Dilip Basak is still trying to retain the market of fountain pens and not let it die like many other industries did, thanks to the overruling of technology.
For connoisseurs of fountain pens, Basak is a name to reckon with. People from all over India and beyond who are passionate about fountain pens are familiar with his miniscule factory (actually a tiny room) crammed between two shops on Devendra Ghosh Street, a narrow lane opposite Jadu Babu Bazar in Bhowanipore. Since late 1980s, the fountain pen market gradually shrunk as ball point pens took over. Basak was introduced to the myriad world of fountain pens in his childhood by his father. His father patiently taught him the fine art of repairing and tuning pens and all his life, he has been doing just that – and now he is a reputed expert in this field.

He has regular clients. Like world-renowned fountain pen collector, Cham Gangopadhyay, who has over 7,000 fountain pens of different periods, in his collection. Basak at times reminds us of Dr Radhikanath Saha who was considered as the 'Father of Indian Fountain Pen.' He pioneered fountain pen production in India and obtained the first fountain pen patent in India in 1900. Within the first three decades of the 20th century, Dr Saha had invented at least 22 types of unique fountain pens and had obtained patents for 14 of them from the UK, Germany and the US. Dr Saha was a physician but his technical bent of mind coupled with his deep interest in fountain pens motivated him to open the first engine turned Stylo and fountain pen factory at Benaras in the beginning of the 20th century. From 1907, commercial production of his patented conventional and stylo type fountain pens started.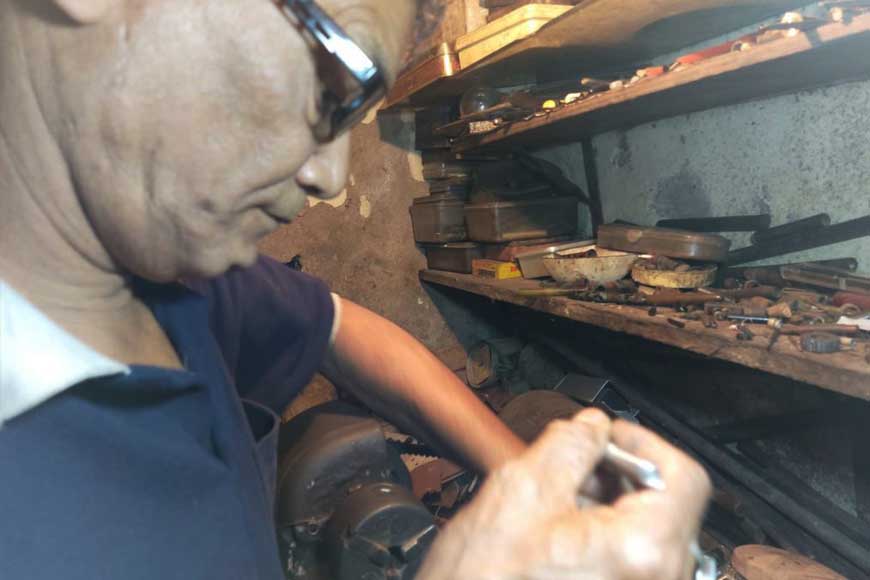 Although we have obliterated a chapter of our glorious history from memory, connoisseurs of fountain pens have not forgotten the immense contribution of Bengali 'Swadeshi' entrepreneurs in the sphere of making indigenous fountain pens, ink, nibs etc like Dr Saha, Fanindra Nath Gooptu (founder of F. N. Gooptu & Co) and the siblings Nanigopal and Sankaracharya Maitra, who started Sulekha Ink Company in 1934. Nationalist leaders including Mahatma Gandhi, Babu Rajendra Prasad and Maulana Abul Kalam Azad always used Lakshmi Pen, manufactured at Dr Saha's factory. British diplomats and officials like Lord Carmichael, the first Governor of Bengal, used fountain pens made by Dr Saha. The specially designed pen had a whooping price tag of Rs 2 and 8 annas in 1917!
Fountain pens are still manufactured in Kolkata but production has dwindled and now it survives as a cottage industry. There is a demand for fountain pens from West and South India. The price of fountain pens can range from Rs 20 to thousands and even lakhs. Fountain pen lovers do not go by brands alone. Sometimes they place specific orders, like the metal they would prefer for the nib (steel or gold), the body of the pen (gold body crusted with diamonds and precious gems etc), the technology to be used for holding ink etc and prices go up according to specifications. People like Basak now wants to explore this market and start his own production line. Repairing pens is no longer a challenging task for him.
Basak has a dedicated clientele base and his reputation for repairing pens has travelled beyond the boundaries of the country and a number of renowned international brands that manufacture niche fountain pens have extended lucrative offers to this gifted craftsman to join their company but Basak has declined politely. He does not want to leave his beloved city. He continues to rule the roost from his tiny shop and dreams of making it big one day.
Image Courtesy : https://www.inkedhappiness.com/