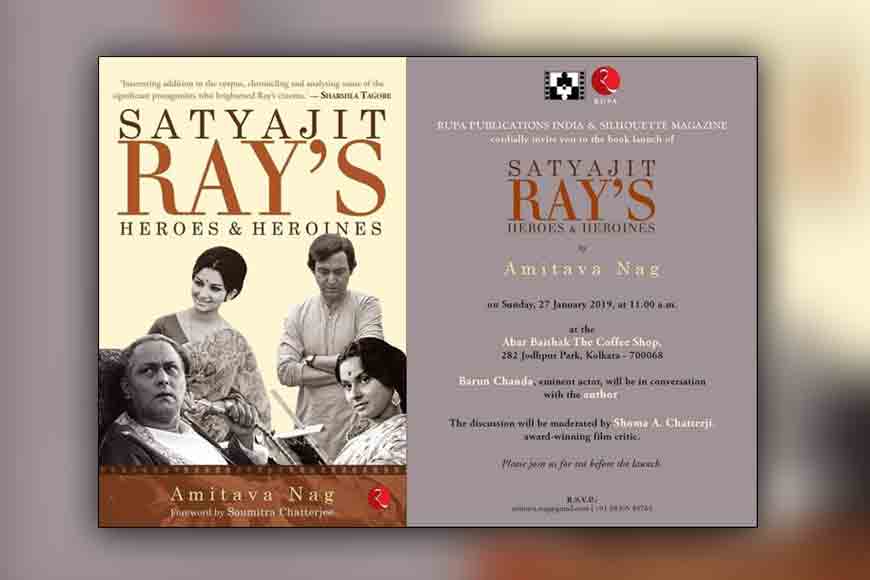 If Charulata's Madhabi Mukhopadhyay had all the curiosity to watch the outside world through window shifts, then Devi's Sharmila Tagore was more of a woman trapped within the lifeless portray of a goddess. Or take for example Barun Chanda in Seemabadhha, portrayed the typical corporate guy trying to scale the ladder. All these characters almost came to life onscreen and every viewer could relate to them, may be because Satyajit Ray knew how to brushstroke a fiction into reality. Ray moved away from conventional storytelling with unique cinematic expressions that dealt with emotion, struggles, conflicts and agonies with a multi-faceted identity.
When these different shades of characters become a part of a book, then a reader not just gets enough matter to enjoy, they also get a food for their thoughts. That's exactly what happens in Amitava Nag's interesting book 'Satyajit Ray's Heroes and Heroines'. The book meticulously talks about Ray's style of filmmaking, where actors spoke louder than stories or themes.
The book takes you on a visual journey through words, with characters sketched spectacularly, subtly and sensitively. Ray brought out the best from his actors, be it Madhabi in Charulata or Mahanagar, Pahari Sanyal in Kanchunjungha, Sharmila Tagore in Devi, Barun Chanda in Seemabaddha, Pradip Mukherjee in Jono Aranya or even Uttam Kumar in Nayak. The examples are countless. All these characters come to life again in Nag's book.
His previous book 'Beyond Apu' was also a runaway hit. In this book, he portrays Satyajit Ray as an umbrella under which actors bloomed to their best. Ray had truly used interesting character profiles in films, be it that of a patriarchal father, a classical woman or the city hero or the characters with negative shades. The book also touches upon minor characters which were highly significant and enhanced the narrative flow of films. There also lies a separate chapter in his film which talks about how Ray approached the negative characters while another chapter talks about how he used humour in his films.
But why did Nag choose Satyajit Ray? In his words: "Satyajit Ray is of course one of my favourite directors. Apart from this, Ray's character development is highly powerful. The characters, in their own way express themselves and validate the whole plot of a film in their unique ways. If you go through the content of the book, you will find comments of Anil Chattopadhyay and Madhabi Mukhopadhyay dealing with different perspectives of handling characters by Ray and how it differed from his contemporaries, Rittwik Ghatak and Mrinal Sen."
He had got inputs from Soumitro Chatterjee, apart from a huge collection of writings that were published in various newspapers and magazines. The book also delves into Ray's world of child artists and characters. When asked which of Ray's hero or heroines fascinated him the most, he added: "Difficult to say. Throughout Ray's career, he gifted us stories with characters which are extremely varied, well-rounded and powerful. I found many of the profiles extremely interesting including the minor roles who added a lot to the scope of the iconic films."