The uniquely intricate Bengal Nakshi Pakha was popular in British India - GetBengal story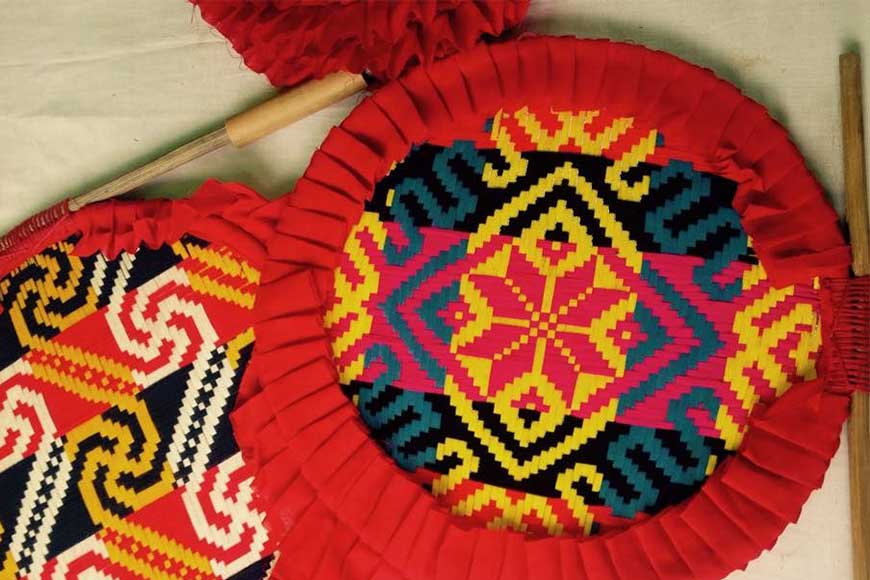 Nakshi Pakha is a handcrafted embroidered fan from Bengal
When the British first arrived in India, they had to adapt themselves to a lot of unfamiliar things, such as the climate, the blood sucking mosquitos, the spicy food, the language. But the one thing they couldn't get used to was the stifling heat. Summer in India begins from March and lasts until late October. In eastern India and in the coastal regions, heat begins to build up in summer which is exacerbated by the humidity from the sea creating a very suffocating experience.
Before the arrival of electricity, it was quite common for people to sleep outside their homes under the shade of a tree, where it was cooler, or in the verandah with a handheld fan or 'Tal pakha.' These eco-friendly hand fans are made from natural palm leaves which are collected directly from palm trees. The palm leaf hand fans are still widely used in the rural areas, but they have lost their importance in urban homes where they used to be an integral part of any middle-class house even a few years ago.
From being used as a common tool to fan oneself to sleep in hot summer afternoons, to being used in royal courts and temples, 'Pankha', a hand fan, over the centuries, has assumed important roles in wedding and religious ceremonies. Taal patar haat pakha (hand fans) were sold at fairs and travelling salesmen were frequently spotted on narrow lanes and alleys in the summer, hawking their vast array of multi-coloured, multi-dimensional hand fans. These fans provided the much-needed relief during the suffocating never-ending summer months and were in great demand in both urban and rural homes and even offices. During prolonged power cuts in summer (which was a normal occurrence even a decade ago), or a sudden electrical failure, the hand fans were in great demand to reduce the discomfort. During monsoon, ordinary hand fans were used to flame the musty coal for cooking flame.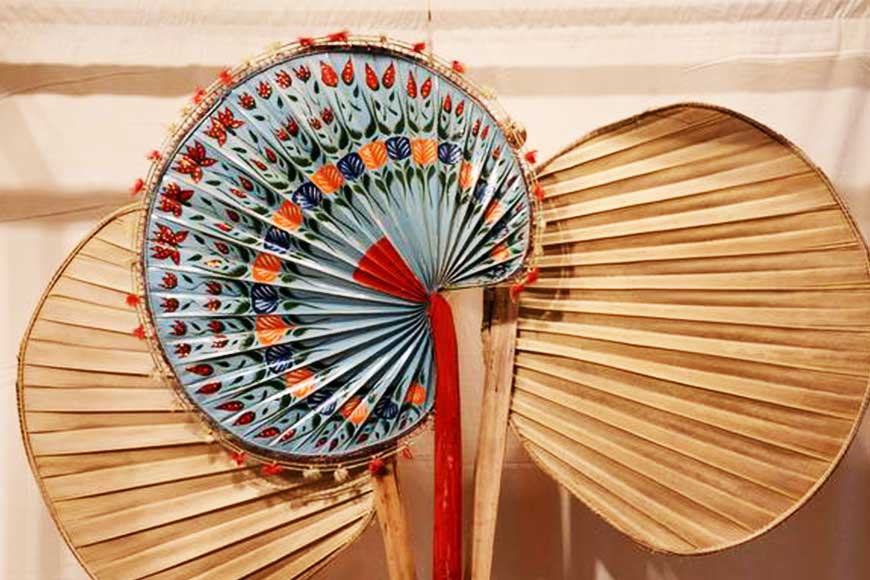 Hand fans made of palm leaves
The process of making a 'taal patar haath-pakha' is quite intricate and artisans start the preliminary preparations in winter. Large-sized leaves are collected and then drowned in water and left for hours to straighten the leaves. A maximum of two fans can be made from a large palm leaf. After the leaves are straightened, they are then carved with the help of sharp blades to a peculiar circular shape. The boundaries of these leaves are then fitted with pieces of sliced and narrow leaves, which in turn, equip the desired thickness and shape to the product. The ends of the boundaries are stitched with colourful cloth and they are often hand-painted or embellished with intricate hand-crafted designs, beads or sequins to give a stylish finish and a swanky look to the utility product. After the hand fans are made, preparations are taken for marketing the finished products. Villages close to Kolaghat in East Midnapore district and Pakuriya village under Tamluk police station is known as 'Pakha-Gram' (Fan-village). There are many such 'Pakha Gram' scattered in different parts of the state where all members of the family are involved in the making of the hand fan. These hand fans come in myriad shapes and designs. The handle of revolving fans are fitted with a narrow bamboo cylinder and it moves and rotates in 360 degrees when the user uses it. There are 'Nakshi pakha' (fans with intricate designs stitched on them), 'Chandan kather pakha' (fans made of sandalwood), sutor pakha (fans made of threads), fans made of peacock feathers and fans made of ivory. Ceremonial fans were used in temples, decorated pankhas were an important part of a bride's dowry, large fans were a crucial element of the social gatherings of aristocrats and nobles.
Among the different types of hand fans, the 'Nakshi Pakha' has a special significance. Nakshi Pakha is decorated hand-fan traditionally made by housewives and artisans. Yarn, bamboo, cane, date palm leaves, shola (sponge wood), palm leaves and flax are required for making nakshi pakha. A variety of motifs are used to decorate nakshi pakha and the fan is named in accordance with the predominant motif: for instance, bhalobasa (love), kankair jala (comb's hassle), guyapata (betel leaves), palangposh (bedspread), kanchanmala, chhitaphul, taraphul, shujaniphul (different flower motifs), balader chokh (eyes of a bull), shabkhalata (conchshell creeper), manbilasi (mind's delight), man-bahar (glamorous), bagh-bandi (the caged tiger), solakudir ghar (house of sixteen scores), man-sundari (most desired beauty), lekha (written message), sagardighi (large lake), hati-phul-manush (elephant-flower-man), gambuj tola (dome), pashar dan (game of chess), jugal hans (pair of ducks), and jugal mayur (pair of peacocks).
Designs may be embroidered or woven. Usually a round bamboo frame is attached to a bamboo handle. Coloured yarn, drawn from sari borders, is then drawn tightly across the round bamboo frame. With the help of a needle, coloured threads are woven in geometric patterns across the fixed strands. Occasionally, words or phrases are worked across the fan.
To make embroidered nakshi pakha, white cloth is attached to the round bamboo frame and then different motifs are embroidered. The finishing touch is given with a narrow strip of red cloth stitched around the edges of the frame to make a frill. Such fans are very popular in villages.