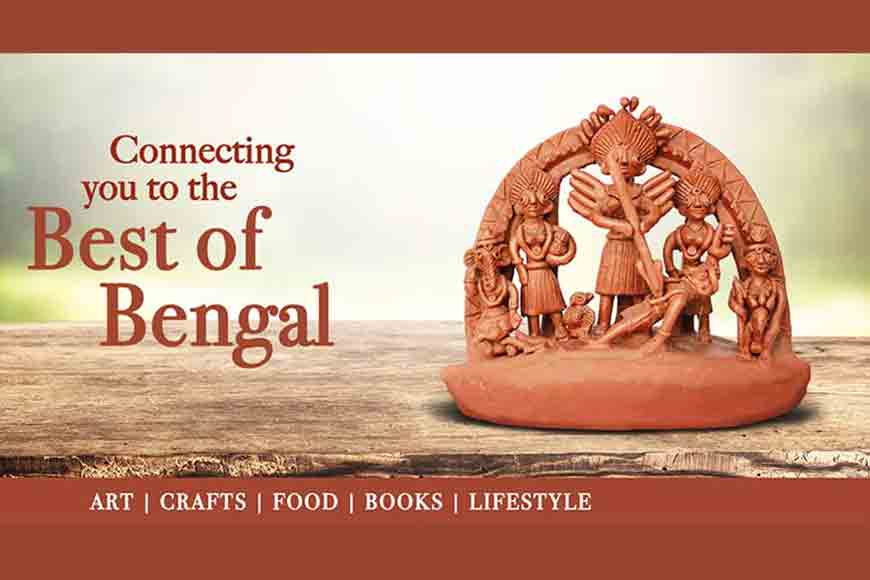 You cannot sense the beauty of a product if you do not touch it with all your senses. Remember, how Anne Sullivan, teacher of Helen Keller, had taught her blind student the first words, with the science of touch? Yes, by writing the letters on her hands and letting her touch the flowing water to know what water feels like. The newly launched e-commerce venture, The Bengal Store a harbinger of lost and forgotten products of Bengal will pamper you to touch, feel and watch the richness of this land at an exhibition that starts today. Drop in at MAYA Art Space (address below) anytime between 1pm-8pm, any day till Saturday to experience the call of your motherland.
Do not mix up this exhibition with just another Pre-Puja sale. On the contrary it is an experience. We shall encourage you to fall in love with Bengal, transcending from a platform of virtual reality (www.bengalstore.com) to an exhibition of real reality. Did you ever yearn to possess a basket full of colourful clay fruits that someday your mother bought from the Rather Mela? Buy them if you wish, big or small, sizes you choose. And yes, not before watching the fruit baskets and making up your mind as to where to keep them in your sitting room.
Bring your child in tow, as the exhibition has a range of Heem Putul and terracotta dolls of Krishnanagar that is bound to attract even your millennial kid. She will shun the Western Barbie and force you to buy these dolls of Bengal. Adorn your homes in the festive pre-pujo fervour with some exquisite art on your walls, be it the 19th century woodcut work of Battola Kalighat to modern art created exclusively for The Bengal Store by young artists of Bengal. Refurbish your kitchen with ceramic pots and pans, they are colourful and we are sure you will just die to have some on your tables. Pick and choose from a huge range. Gift your friends our eco-friendly bags and totes made by impoverished weavers of Bengal. We pay them their dues, help them to hold on to their dying art and you get to display the trendy bags from Bengal.
The exhibition also has a rich food section. If a Farmer's Market of Europe has been your dream destination, The Bengal Store Exhibition will be then your real hotspot to smell and taste lost varieties of paddy. They have recipes attached and nutritional history as tags. The aroma of the organic ghee, why not just smell that heavenly fragrance in person? Or taste the honey brought from honey gatherers of Sunderbans. You also get a chance to browse through rare books, and exclusive publications of Visva Bharati. So why wait? Be at:
MAYA Art Space
Mohona: 329 Shanti Pally, Rajdanga
Kolkata: 700107 (Beside Delhi Public School, Ruby Park)