WB Govt. to install Health ATMs: Machines set to revolutionize healthcare - GetBengal story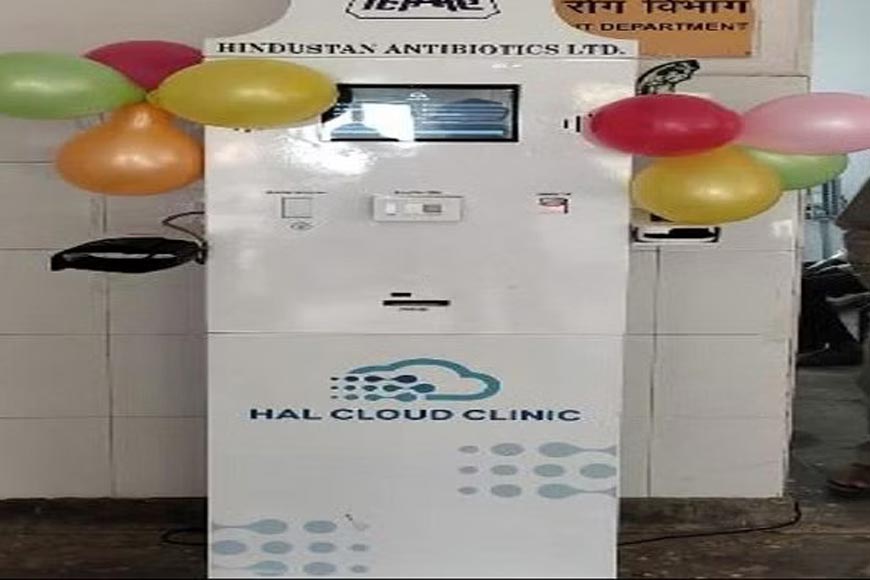 The dynamics of the healthcare industry are changing with the advent of technology in healthcare. Today everybody wants health services delivery at their doorstep. In West Bengal, the state government has been taking various measures to empower society for a healthier tomorrow and make preventive healthcare more affordable, advanced and accessible. In its latest move, the state, under the aegis of Chief Minister Mamata Banerjee, who is also the Health and Family Welfare Minister, is gearing up to introduce health ATM facilities or cloud clinics for government employees soon. This will enable them to avail free health diagnostic facilities at their workplace. The state Health department, in collaboration with Hindustan Antibiotic Limited (HAL), is going to set up the Health ATM kiosks in the state secretariat for government employees at Nabanna, Swasthya Bhavan, Bikash Bhavan, Vidyut Bhavan and Kolkata Municipal Corporation. This facility will be later rolled out for all residents of the state. The Health ATMs could be a game changer in West Bengal in the days to come.
Like an Automated Teller Machine (ATM) in a bank, Health ATM is a one-stop digital touch-screen kiosk hardware designed for managing health-related information, which allows individuals to access their personal health information through any Internet-connected web browser. Health ATM is built-in with the latest diagnostic equipment for the diagnosis of basic vitals, cardiology, neurology, pulmonary testing, gynecology, clinical diagnostic and life-saving equipment and emergency facilities. It is a combination of FDA and CE-approved medical diagnostic devices that allow patients to be more empowered, and actively participate in managing their health needs with access to excellent medical facilities. It is a sophisticated, simplified, accurate and automated healthcare kiosk.
Based on artificial intelligence, the Health ATMs to be installed in the state will conduct 55 types of diagnostic tests that include blood sugar, blood pressure, ECG, Lipid Profile parameters (HDL, LDL, Triglyceride, total cholesterol, TC/HDL ratio), HBA1C, hemoglobin, BMI, Rapid Tests (Covid, Malaria, Typhoid, Chikungunya, Hep B. Hep C, blood grouping, pregnancy, HIV I & II, Covid Antigen) and Rapid Urine Tests (including microalbumin and Creatinine). The kiosks will also be equipped with a Spirometer (a diagnostic device that measures the amount of air one can breathe in and out), Dermascope (a hand-held imaging device used to examine a person's skin, hair, or nails.), digital stethoscope, ECG and telemedicine. The Health ATMs facilitate doctors to send prescriptions and reports via WhatsApp, email and printouts. Additionally, a free-of-cost AI-based meal plan helps patients control their health through cuisine-specific 7-day meal plans.
Health ATMs designed with artificial intelligence will store all the recorded information of the user on a cloud-based mechanism. When a person will undergo the tests for the second time, he/she will get to see the previous reports as well. It will help get a comparative figure at the same time. All the reports will be sent to the user through E-mails or Whatsapp. The machine will generate a QR code and a personalized health card will also be created for future reference.

Indian Railways installed two Health ATMs at the Charbagh railway station in Lucknow for the first time in the Indian subcontinent. On April 6, 2023, 6 Health ATMs and 40 True Net machines were installed in the state of Uttarakhand. A "Health ATM" kiosk was set up at the second G20 Health Working Group meeting held in Goa in April this year. Currently, a substantial number of Health ATMs have been initiated in some states in India – 20 in Punjab, 15 in Rajasthan, 250 in Uttar Pradesh, and 100 in Arunachal Pradesh. West Bengal is soon to join the league. Hindustan Antibiotic Limited (HAL) created the Health ATMs with a vision to provide "Health for all" and make preventive diagnostics accessible to everyone. Within the next couple of weeks, the company will be dispatching the machines as well as antigens worth Rs 75 lakhs to the state government free of cost. After this, the expenses of the tests will be borne entirely by the state government.
Half the world lacks access to essential health services and 100 million people are pushed into extreme poverty because of health expenses. To add to this, low-quality healthcare diagnosis is increasing the burden of illness and health costs globally. Health ATM resolves the problems of primary health services in rural and remote areas and creates electronic personal health records for everyone at primary and community health centers. The multifaceted kiosk helps in the easy diagnosis of the medical problem for people in remote locations, where hospitals are not within reach. It also provides a central platform for the patients to interact with the specialist in the fields through Telemedicine (video conferencing).