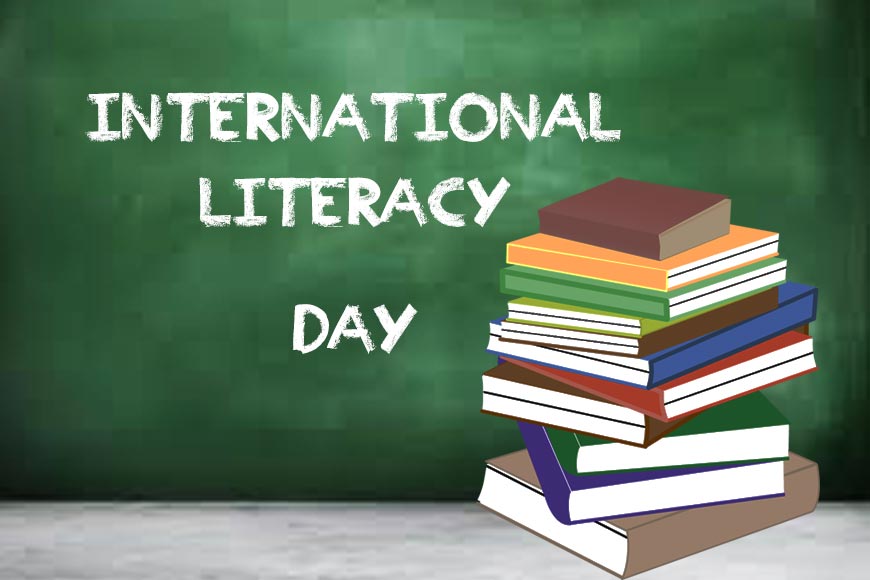 The education sector in West Bengal shines bright. It did so forever as we have always given priority to education. The age-old limerick – 'Lekha-pora koray je/ Gari-ghora choray shay' (One who studies, rises in society and enjoys financial privileges like riding cars) is a testimony of the Bangali attitude towards education. According to 2011 census, West Bengal has a literacy rate of 77.08 per cent. The literacy rate of the male population in the state is 81.69 per cent and that of females is 70.54 per cent. The state has more than 8,000 schools for primary, secondary and senior secondary education. More than 500-degree colleges and 33 universities are a part of higher education. The Government of West Bengal has introduced several schemes for educational development including National Programme of Nutritional Support to Primary Education, The National Programme for Education of Girls at Elementary Level and Sarva Shiksha Abhiyan.
In 1966, UNESCO proclaimed September 8 as International Literacy Day to remind the world community of the importance of literacy for individuals, communities and societies, and the need for intensified efforts towards more literate societies. But long before that, Swami Vivekananda had said, "Education is the manifestation of the perfection already in man," or in other words, education underlines and etches out a person's inherent talent and learning. Apart from the intrinsic value of education as an individual asset for fulfilling one's life, the functionality developed through education is very important from the point of view of receiving gainful employment, including self-employment. In August 2009, the landmark Right to Education Act was passed by the Indian Parliament. It made education free and compulsory for children between the ages 6 and 14.
According to a report released by the Unified District Information System for Education Plus (UDISE+), West Bengal is the only major state in India where girl students have exceeded the number of boy students. Only three other states --- Arunachal Pradesh, Assam and Meghalaya have enrolled more girl students than boys. The UDISE+ survey shows 18,74,87,792 students enrolled from pre-primary to class XII in the academic session of 2019-20, with 2,32,012 more girls than boys. The number of female students is 94,89,902, while that of male students is 92,57,890.
The success of West Bengal's female education got a further boost due to the proactive initiatives undertaken by the state government. Hon'ble Chief Minister Mamata Banerjee has reiterated time and again that girls are the assets of the nation, and they make everybody proud. In fact, she has been instrumental in implementing several schemes to empower girls. One such successful venture is Kanyashree, which was honoured with the highest public service award by the United Nations in June 2017. Kanyashree was ranked the best among 552 such social sector schemes from across 62 countries that were nominated for the coveted award. Nearly 67 lakh girls have been emancipated through Kanyashree scheme as well as the Sabuj Sathi Bicycle scheme, both introduced by the Chief Minister.
This is a great landmark for any state in India where the most pressing reason why girls are unable to go to school is housework. There is no provision for banning housework or agricultural work for children. As their mothers step out to work — in the informal sector or as farmers or agricultural labourers — to substantiate the family income, underprivileged girls are compelled to shoulder the burden of care and housework. In a report published by the National Commission for Protection of Child Rights said around 40 per cent of 15 to 18-year-old-girls are out of school and among them almost 65 per cent are engaged in household work or are married off.
But in West Bengal, Kanyashree stopped this practice. It is a conditional cash transfer scheme aimed at providing incentives to ensure girls stay in school, thereby delaying their marriage till the age of 18 years. The flagship project, launched in 2013, offers two cash transfer components for unmarried girls. The first is an annual scholarship of Rs 1,000 for girls between 13 and 18 years of age, and the second is a one-time grant of 25,000 after they attain the age of 18, provided they are engaged in an academic or occupational pursuit.

While most states in India, including the Union government have similar projects to educate and empower girls, West Bengal's success lies in the implementing mechanism. When the other states tried to reach the grassroots level through Panchayats, West Bengal utilized administrative mechanisms to implement Kanyashree. The Block development offices (BDO) and SDOs have been actively involved in the implementation of the project. They have counselled parents to enrol their girl child in schools. This social and administrative compulsion has allowed the girl students a better access to school and education. People have recognized the importance of female literacy and education. People from lower income strata have been sensitized about the evil consequences of marrying their daughters off without imparting them basic education. Many young girls are also volunteering and asserting their right to education for a better and independent life and can be the bread-earner for the family.
Interestingly, a statisctical record from the year 2021 reveals the number of male dropouts are higher than that of female students in the state. The state has not only fared better in respect to the national average, but girl students have stood out defeating their male counterparts. In the primary section between Class I and Class IV, the dropout rate is 1.5 per cent overall nationally, but in West Bengal, the dropout rate is only 0.6 per cent. In the upper primary section, that is between Class V -VII, the dropout rate in the state is nil compared to the national dropout rate, which is as high as 2.6 per cent. In the secondary level, the national dropout rate is 16.1 per cent, whereas in West Bengal, it is 13.8 per cent.
The educational schemes of the state government have benefited the minority communities as well. In fact, the state depicts a better average than the national standard. In 2019-20, an overall 30.9 per cent Muslim students enrolled in different state education facilities of which 32.4 per cent were girls and 29.4 per cent were boys. This is much better than the progress rate in the national level. American social reformer, abolitionist, orator, writer and statesman, Frederick Douglass had once said, "Once you learn to read, you will be forever free." The state government is providing opportunities to youngsters to break the shackles of ignorance and learn through education to soar high and achieve all dreams. And West Bengal is striding towards that successfully with a girl student topping the Plus 2 examination this year!