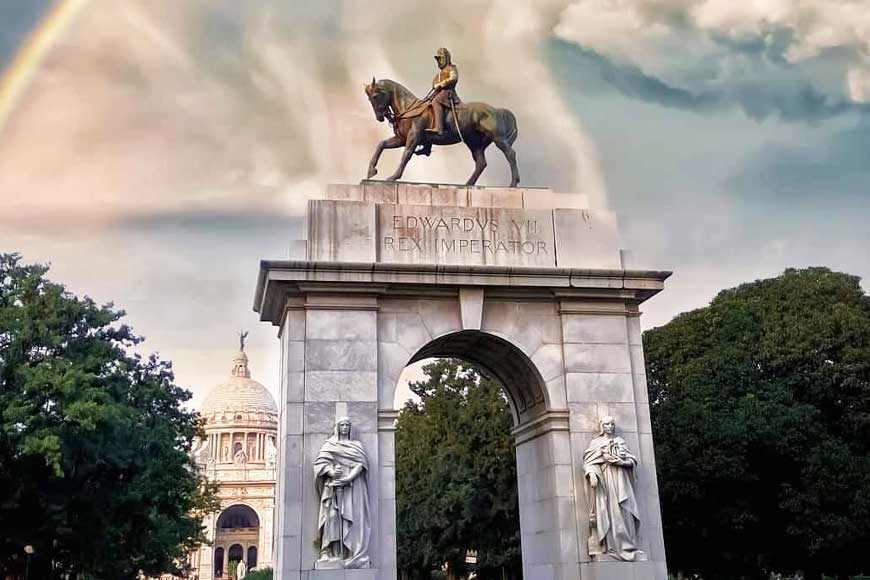 Edward VII, Victoria Memorial Entrance Gate
Indranil Halder is an entrepreneur living in Australia who is enthusiastic about preserving the heritage of Bengal
If you walk down the southwest corner of Dalhousie Square you will come across the beautifully sculpted statue of the Maharajah of Darbhanga, the details in the sculpture has been brilliantly done, a real masterpiece carved out of white marble by a relatively unknown British Sculptor named Edward Onslow Ford. Side by side strewn in different parts of Bengal, in its parks and squares, one tumbles upon colonial statues that are architectural wonders, though they speak of an era of British terror and subjugation. Be they the statues of Governor Generals or even notorious British Army heads.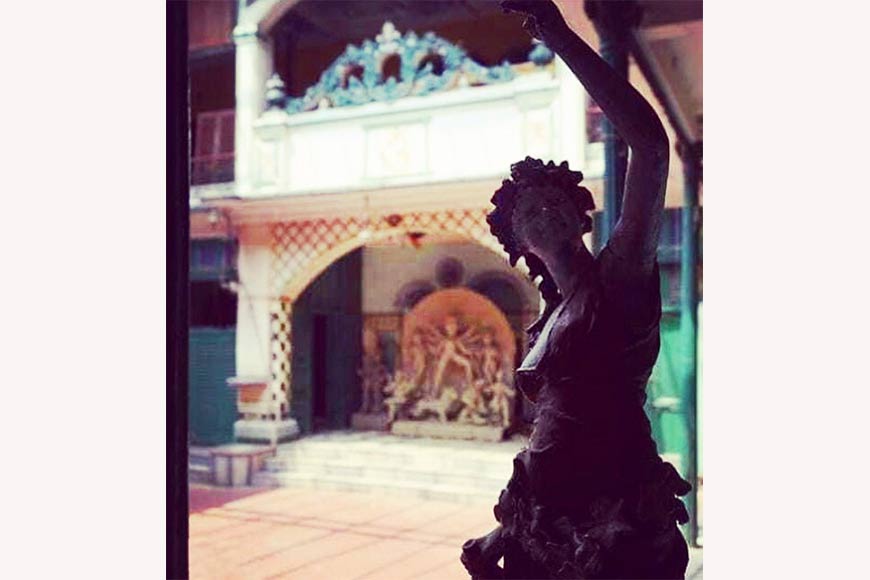 Italian Marble figure side by side with Durga idol in Thakur Dalan, North Kolkata Bengali Bonedi Bari
Kolkata is often referred to as the 'Crucible of Modern India.' As a 322 year-old-city, Kolkata still throws up European statues alongside those of locals. Some of these statues are in the middle of the majestic lush gardens of Victoria Memorial, while the rest remained scattered at other sites in and around the city. Another place having more than ten statues is Flagstaff House of Barrackpore. Some of the famous statues that now exist in varying conditions of health are that of Lord Canning, Ripon, Andrew Fraser, Lord Mayo, Bentinck, Outram, Lord Napier, Sir Lawrence, Northbrooke, Minto, Lord Curzon, John Woodburn, King George V, among others, all reminding us of the colonial influence in Bengal and how they had robbed us of our independence for centuries. May be such show of British opulence and oppression had helped to some extent build up our own freedom movement, as our forefathers united to throw the oppressors out of India.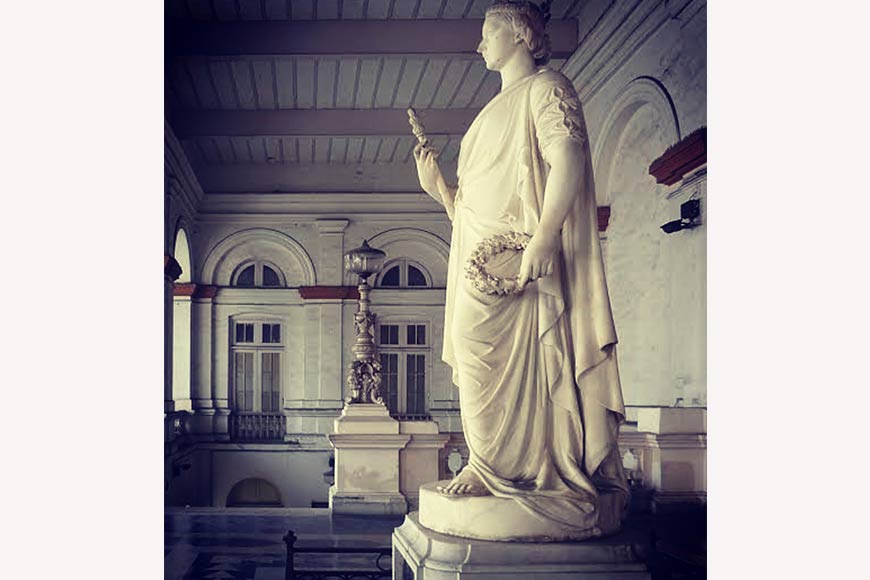 Queen Victoria, Indian Museum, Kolkata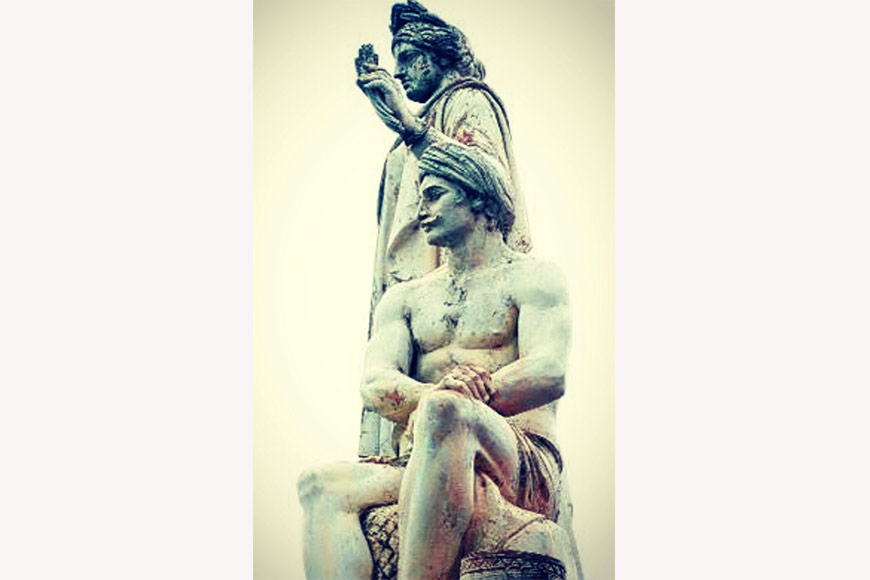 Decorative statues of Indian man and Western Woman, Government Building, Dalhousie, Central Kolkata
There are still 12 British Raj statues in the manicured gardens which are part of the Barrackpore heritage with the eternal love story of Lord and Lady Canning, the unknown tales of the Honeymoon House and even the elusive stories of Mangal Pandey who led the Sepoy Mutiny. These statues were built between 1600 -1947. And who can ever forget staring into the eyes of King George V, Captain Sir William Peel VC KCB (1824 -1858), Robert Cornelius Napier, 1st Baron Napier of Magdala (1810-1890), Charles John Viscount and Earl of Canning, Governor General (1856 -1862), John Lawrence, Viceroy and Governor General (1864 – 1869), Richard Southwell, the VI th Earl of Mayo, Governor General (1869 – 1872), Lord Northbrook, Viceroy and Governor General (1872 – 1876), The 5th Marquis of Lansdowne, Governor General (1888 – 1894), Lord George Nathaniel Curzon, Viceroy and Governor General (1899 – 1905), Sir John Woodburn, Lieutenant Governor of Bengal (7 April 1898 – 23 November 1902), Lord Minto, The Rt. Hon'ble Gilbert John Elliot Murray Kynynmound, Earl of Minto, Viceroy and Governor General (1905 – 1910), Edwin Samuel Montagu, Secretary of State for India (1917 – 1922), Earl of Ronaldshay, Laurence John Lumley Dundas, Governor of Bengal (1917 – 1922).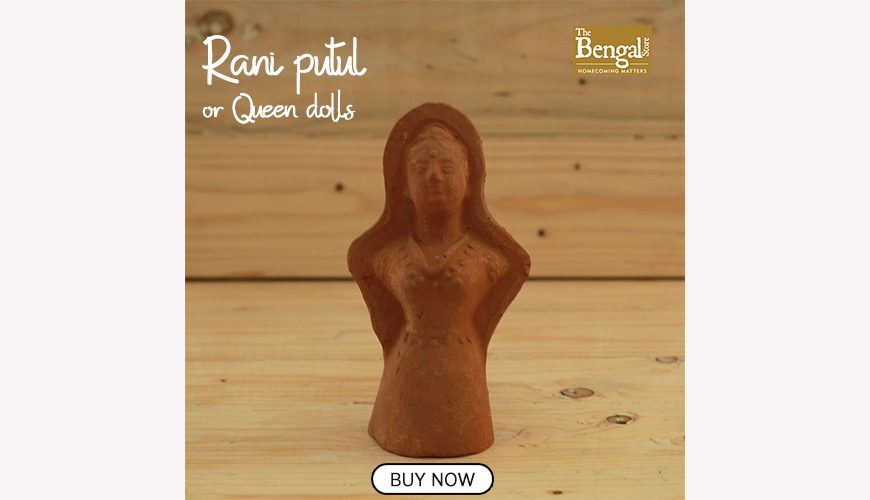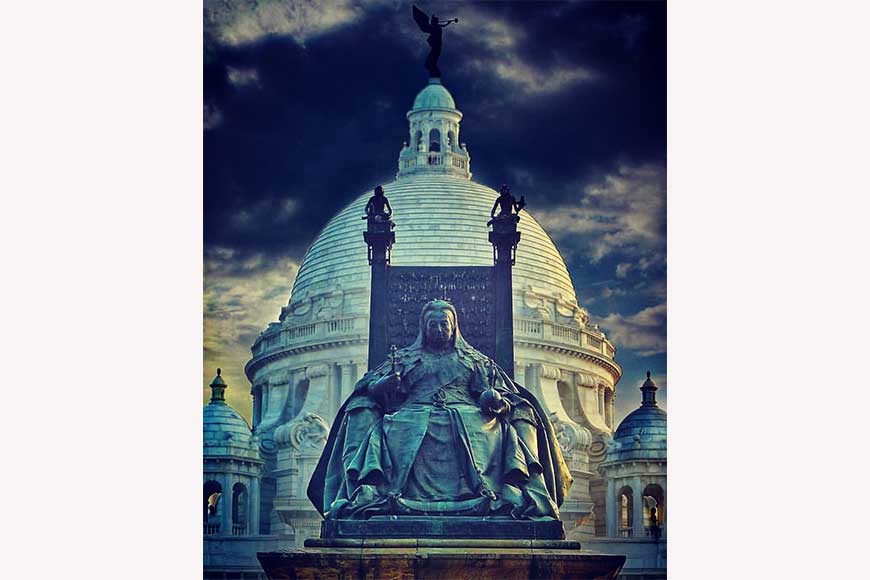 Queen Victoria, Victoria Memorial
Traditional houses, stately homes and government buildings in Kolkata are treasure trove of European statues too. Today, they are part of Bengal's heritage. They dwell side by side with Indian idols commanding equality of status. These statues are of characters who shaped the history of the world and the idea of colonialism and later the British Empire in India. Kolkata was once the lynchpin of the British Empire, its second city, from where it controlled the highly unequal trade and governance of its other colonies, including Australia.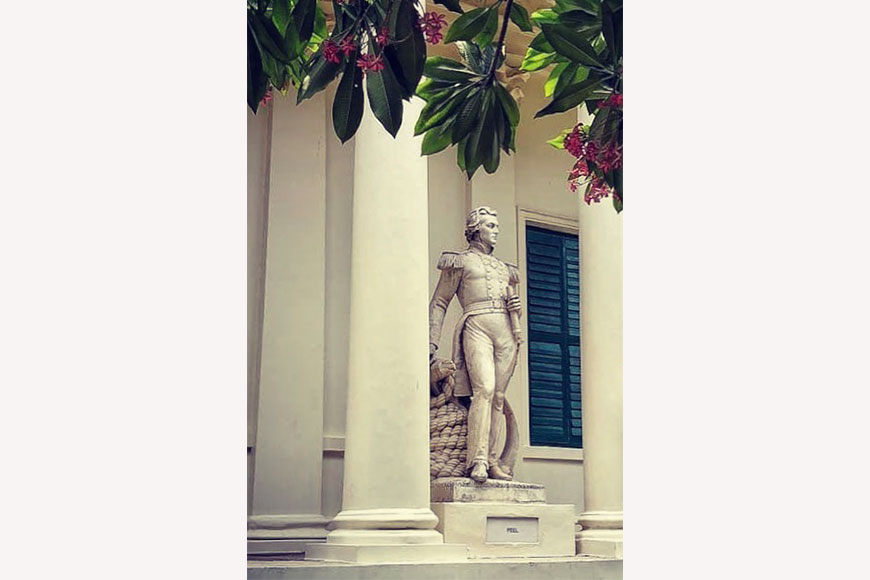 Captain Sir William Peel VIC KCB ( 1824- 1858), Cenotaph in Barrackpore
The city also had connections with the French, Dutch, Portuguese and Danish and statues of Danish Governor Colonel Ole Bie or Portuguese Martim Affonso de Mello or French Governor of Chandannagar, Joseph Francois Duplex are a testimony to the same. European statues are not just part of Victoria Memorial, Barrackpore Flagstaff Hall but also elite homes of North Kolkata such as Ghosals, Seals and Mullicks reminding generations to come how Bengal was honoured and its importance recognized even by our colonial powers.