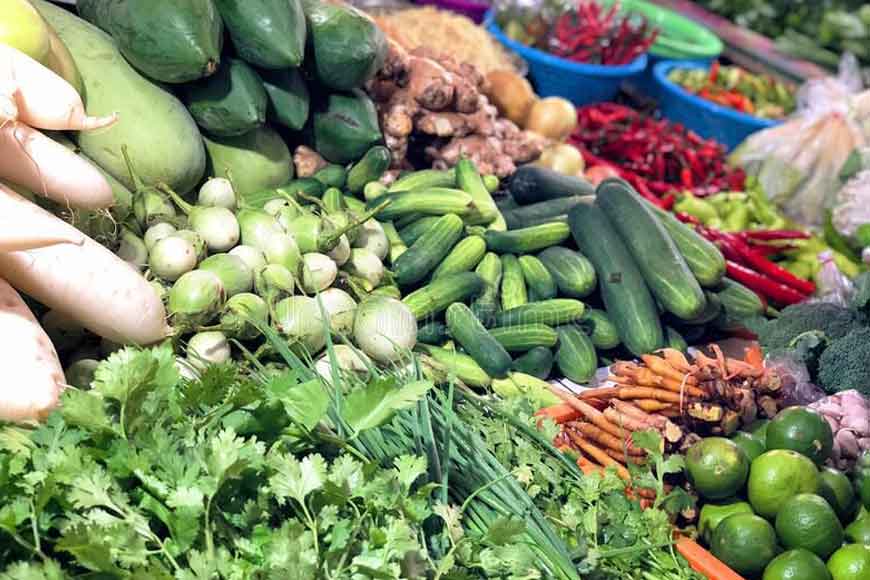 Looking for some really good quality fresh fish at a reasonable price? Or, scouting for fresh vegetables at a relatively cheap rate? Or perhaps looking for that quaint little well-stocked grocery (Dashakarma) shop? If you are in South Kolkata, rest assured, all your quarries will be met with unanimous reply from fellow citizens and the answer will be undoubtedly, 'Jadubabu Bazar,' often colloquially referred as 'Jagubabur Bazar.' This long-established market is not only popular with locals but is a well-liked haunt for Calcuttans from all corners of the city.
But why is this market called Jadu Babu's Bazar? Who was he? To find out more about the backdrop of this market, one needs to go back to the colonial times. In 1717, the East India Company obtained the right to rent from 38 villages surrounding their settlement from the Mughal Emperor, Farrukhsiyar. Of these, five lay across the Hooghly in what is now Howrah district and the remaining 33 villages were on the Calcutta side. After the fall of Siraj-ud-daulah, the last independent Nawab of Bengal, the British company purchased these villages in 1758 from Mir Jafar and reorganised them. These villages were known en-bloc as Dihi Panchannagram and Bhowanipore was one of them. It was considered to be a suburb beyond the limits of the Maratha Ditch.

Bhowanipore was a 'Dihi' (a suburb) in 1765 that included a large part of Dihi Chakraberia. In 1773, the Regulating Act legislation was passed by the British Parliament for the regulation of the British East India Company's Indian territories, mainly in Bengal. The main provisions of the Act were appointment of a Governor-General of Fort William in Bengal and setting up of the Supreme Court of Judicature in 1774. Four English judges, namely Sir Elijah Impey (Chief justice), Stephen Caesar Le Maistre, (Puisne judge), John Hyde (Puisne judge) and Robert Chambers (Puisne judge from 1774 to 1783, Acting Chief Justice from 1783 to 1791 and Chief Justice from 1791-1798, on his resignation) were appointed. There was a sprawling garden house in Bhowanipore and Justice Robert Chambers lived in this enormous mansion during his tenure at the Supreme Court. There is no specific information about the actual owner who built the mansion. One Joggeswar Laha bought the property and set up a bazaar. Later, Rani Rashmoni purchased the mansion and its adjoining area and gifted the entire property to her beloved grandson, Jadunath Chaudhuri and the market thus came to be known as Jadu Babur Bazar.
Jadunath was the son of Rani Rashmoni's second daughter, Kumari Dasi, who was married to Parimohan Chowdhury. The market that Babu Jadunath Chowdhury inherited is today the familiar Jadu Babur Bazar. In its nascent days, villagers from the hinterland came and settled along the Adi Ganga, the reason being primarily the ease of transport and trade. Among the first settlers were kansa baniks or brass merchants, sankha baniks or conch shell merchants, telis or oil merchants and patas or artists. Maps from 1833 onwards show localities named Kasaripara, Teliapara, Sankharipara, Patuapara. The easy connectivity and ghettos of artisans and traders attracted people to settle down in Bhowanipore in large numbers. A map from the early 20th century shows a gaggle of ghats — Babu Madhab's Ghat, Madan Mohan Pal's Ghat, Rani Rashmoni's Ghat. By 1825, a number of markets had started operating in Bhowanipore area including Setaram Ghose Bazar, Gangaram Sircar Bazar, Sultan Mistry's Bazar and Jadu Babur Bazar.
Jadu Babur Bazar is renowned for a wide variety of fresh fish, meat and poultry as well as choicest seasonal vegetables and fruits at a reasonable rate. The market is spread over a wide area adjacent to Ashutosh Mukherjee Road. A large number of makeshift shops spring up daily and some sellers sit under the open sky. From dawn till late in the evening, the ancient market throbs with life and the sellers scurry around fulfilling customers' demands. For them, it is business as usual.