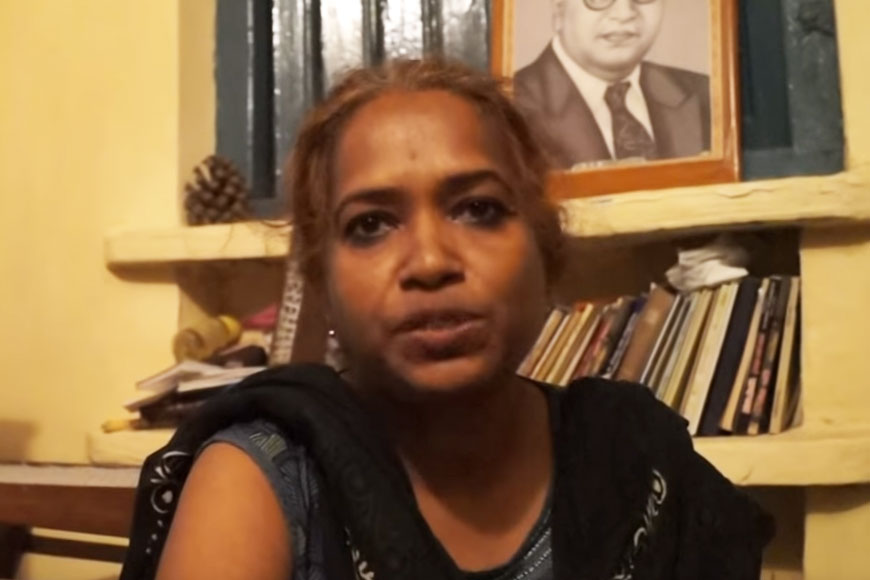 Dalits in West Bengal? Well, we always thought Bengal was far more advanced than any North or West Indian states of the country where casteism is still practised. However, Bengal also produced one of the most prominent Dalit feminist writer, who brought to light the plight of her community and made the voice of Dalit women heard across the world. She is none other than Kalyani Thakur, the woman who gave a different meaning to the word 'Charal' usually used in Bengali to put people down, comparing them with the so-called downtrodden. She took it as her surname, to show how proud she is to be a Dalit.
Kalyani's sharp protests through her writings, brings out how she herself was once treated like an untouchable. In her magazine 'Nir' she dedicates columns and poems to the plight faced by Dalit women and through documented data clearly shows how caste trouble and Dalit oppression still continues. In her own words: "My poems address social issues. They are the reflection of age-old oppression against the Dalits." Her poems indeed carves a path of liberation against all kinds of discrimination against her community.
Born in Bagula in the district of Nadia, Kalyani Thakur was the youngest of her family and was raised like a boy. Her ancestors were migrants from East Bengal. In her childhood, poverty compelled her to sell homegrown vegetables and fruits at the nearest railway station with her siblings. Though her parents did not have the privilege of educating her, they encouraged Kalyani to follow her dreams. Since childhood Kalyani was treated as an untouchable. Back then, Dalits were not allowed to enter schools and colleges and sit with the rest. In school, Kalyani had to carry her own seating sheets and sit in the balcony outside the class and had no uniform. But this humiliation gave birth to a new Dalit fighter from Bengal.
In her columns Kalyani writes: "My grandfather was not allowed to enter the boundaries of the school. My father with extreme difficulty learnt to write his name on palm leaves with ink made of ash powder. My mother carried dung with her left hand. Grandfather had to bring the offerings for Durga puja and even the spot on which my mother stood with her dung-filled left hand had to be covered. Oh! Compared to the touch of the Dalit's feet, the dung of a cow is holier."
Humiliation and discrimination became an integral part of her everyday life and even followed her when she joined a traditional government office. She was denied a chair and asked to sit on a bench in one corner of the office. Kalyani was even ridiculed for her complexion. At an event on Dr. Ambedkar's birthday, her name was not called out on stage just because she was a 'charal.' This incident changed her life forever. She changed her surname to Charal. Even when she tried to publish the tales of Dalits, and their struggles, no publishing house was ready to. So, with her own money, she published her autobiography, four books of poetry, a collection of short essays and stories. 'Dhorlei Juddho Nishchit' was her first poetry book that created ripples in the literary world. Then came her autobiography, 'Aami keno Charal Likhi' was an eye-opener for Dalit women. Kalyani Thakur indeed is a Dalit woman who has touched many a heart in her quest for dignity for Dalits.
Story Tag:
Poets of Bengal, Dalit poet Kalyani Thakur