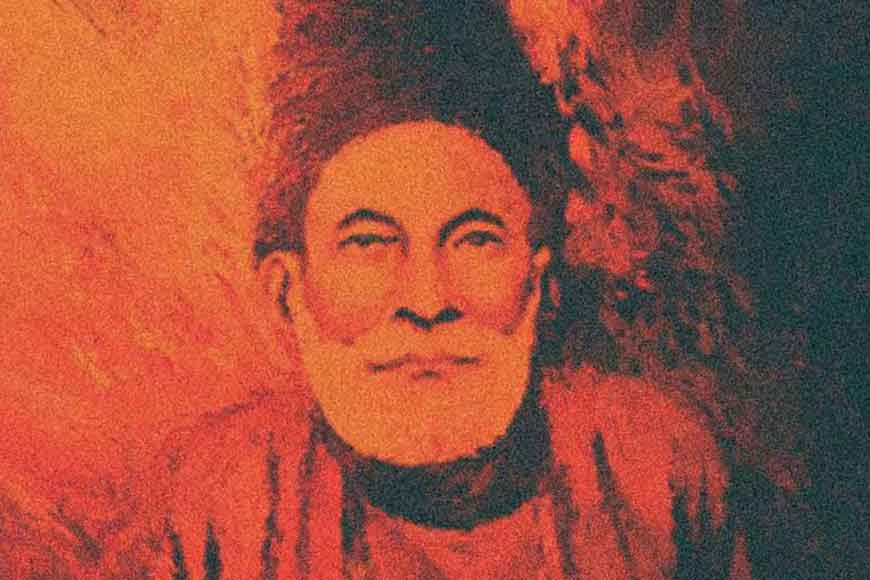 Behind Bethune School on Beadon Street, lies a narrow lane called Bethune Row which connects Ramdulal Sarkar Street. This area is referred to as SimlaPara, a name derived from a local market. The sad tale of a great Mughal era poet is etched in the stone and mortar of its lanes. Long forgotten, his tale can be read in Safar-e-Kalkattah where he writes about his stay at Haveli No 133 in Simla Bazar and nearby Chitpur Bazar. He praises the city and says no place on earth can win his heart like Calcutta did. This poet was none other than Mirza Asadullah Baig Khan. His brilliant Shayarimoved the last Mughal Badshah of Delhi, Bahadur Shah Zaffar, who honoured him with titles Dabeer-Ul-Mulkand Nazm-Ud-Daullah. Khan was a trendsetter Urdu and Persian poet. His verses expressed philosophy, travails and mysteries of life and pining of a tortuous soul. Mughal Emperor Bahadur Shah Zaffarwho himself was a renowned poet, often discussed literature with Khan while flying kites.
Asadullah Baig Khan was a witness to the rapiddecline of the Mughal Era and rise of British Raj. The Badshah himself was a British pensioner and his empire restricted to Delhi alone. The British were suspicious of him and kept a strict vigil on his visitors along with his royal poet Khan, who they thought was anti-British. Even his pension was suspended.In 1826, Khan took the arduous journey to Calcutta to impress the Governor General to restore his pension.He took residence in the Simla market area at Haveli No. 133. The house number still remains intact, though it has transformed completely. The poet describedthis house along with a pond and the Simla market in front. This pond was Azad Hind Bag's swimming pool at Heduah.
Khan's financial crisis deepened, as his plea to the Governor General to restore his pension was declined. He refused to relocate to an area close to Nakhoda Mosque because he was deeply swayed by Hindu philosophy and loved staying amid Hindu neighbours, who respected him and called him "Baba." Their lives were touched by the very presence of the Badshah of Shayarand his verses. The great poet is still lost in the annals of history and none in Simlaparaknow or remember him. But his verses are a testimony of his love for the area. Later,he returned to Delhi empty-handed, with fond memories of his neighbours and their unconditional love. This poet is known to the world as Mirza Ghalib.
Original Article written by Debdutta Gupta
on
www.bongodroshon.com
Translated by