Will Pyari Pandit's historic pathshala where Sarat Chandra studied be restored? - GetBengal story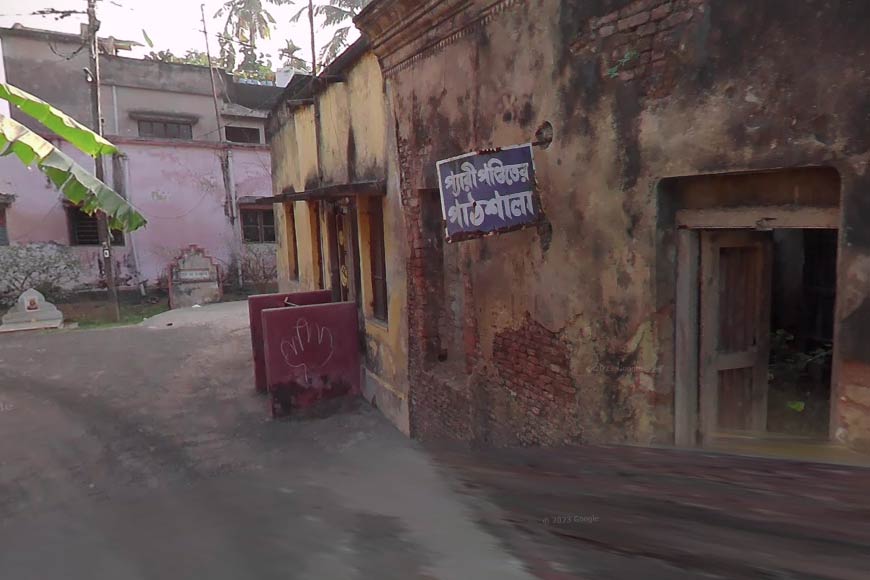 Sarat Chandra Chattopadhyay (1876-1938) was one of Bengal's most prolific and popular novelists and short story writers of the early 20th century. He wrote over 30 novels, novellas, and stories. Born in a poor family, Sarat Chandra based many of his novels on his own experiences. He picked many revolutionary topics that included social consciousness and turbulent societal traditions and reiterated those stories in a unique style which often turned into interesting tales. He was the child of Motilal Chattopadhyay and Bhubanmohini Debi. He engaged himself in writing at a tender age.
Sarat Chandra Chattopadhyay built a house called 'Sarat Kuthi' in the small village of Samta adjoining Deulti, which he himself renamed Samtaber, having bought the plot of land for the house in 1919. This "Sarat Kuthi" is already a major tourist attraction along with the entire village of Deulti. But his birthplace, Debanandapur in Hooghly, lies in a very bad shape. According to scholars, Sarat Chandra's school started in Mohan Munshi's Dalan, a large space often seen inside the houses of old Kolkata. After that, he studied at "Pyari Pandit's Pathshala", the school of Pyaricharan Bandopadhyay. Mohan Munshi's dalan is no more to be seen in the village and has been reduced to rubble due to lack of maintenance. Pyari Pandit's pathshala still stands but heading towards the same path probably as there is none to understand how important this place was in Sarat Chandra's various novels and the description one gets in his novel Srikanto about this very place. The literary nostalgia is still palpable.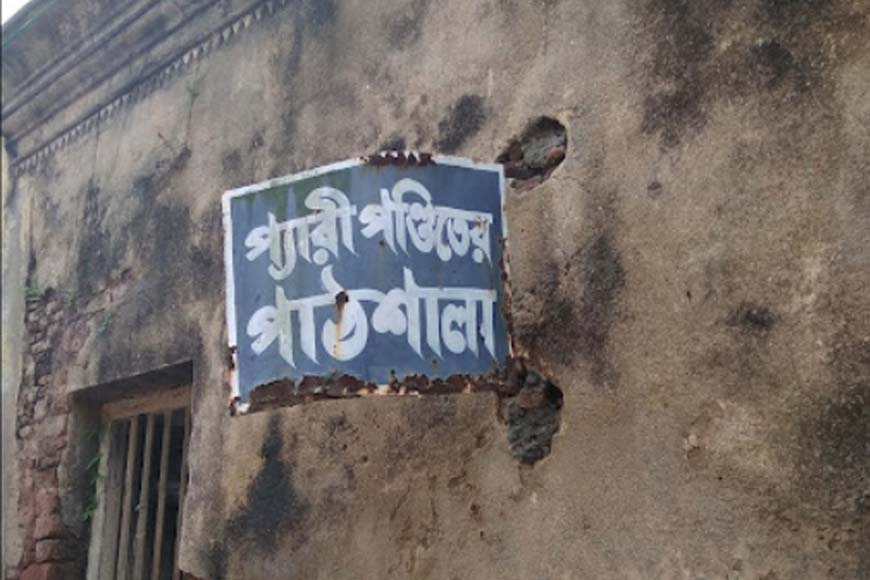 Pyari Pandit's Pathshala, where Sarat Chandra studied
Pyari Pandit's pathshala is in shambles as its condition deteriorates with time. Just beside the road, there are battered walls, and attached to it is a broken door. The writing on the board indicates that it was the house where the storyteller used to take lessons. The carcass of a room with its broken terrace is visible. The house is surrounded by weeds and creepy crawling plants which restrict the vision of the outsiders and have built a safe haven for the snakes and other such animals. The followers of Sarat Chandra Chattopadhyay want the building to be restored and preserved. Local historian and researcher, Partha Chattopadhyay, has informed that the teacher used to respect Sarat Chandra Chattopadhyay. The mischievous Sarat Chandra had a close friend in the pathshala, the son of his teacher whose name was Kashinath. Later in the works of Sarat Chandra, we come across a character named Kashinath, it turns out that character might be this childhood friend.
He was also friends with a girl who studied in the same pathshala. They used to roam around on the Saraswati River on a canoe, make garlands of flowers, often steal fruits from the gardens, fly kites, and so on. Many assume that she is the one on whom the character of "Parvati" is based, in his novel "Devdas". In his story "Srikanto", she came back as the childhood of another character, "Rajlakshmi".
Sarat Chandra Chattopadhyay's memories of Pyari Pandit's pathshala are still alive through his writings in his works like Srikanto, Devdas and Kashinath. These stories took shape in that pathshala where he made friends, lived his childhood days, made memories and later on used the bittersweet memories to reiterate them in his beautiful stories and novels. But today, the place where these memories were made is in a dilapidated state. According to some of the locals, the house could not be preserved because of issues with its ownership. There were many who tried to find the owner but in vain. If the house is not restored and preserved then his birthplace will lose its significance.

Earlier as well there were many requests made by the locals to turn the house into a tourist attraction so that its maintenance was assured. In the year 2026, it will be Sarat Chandra Chattopadhyay's 150th birth anniversary. Hence, the demand to restore the building and turn it into a tourist spot is growing stronger. The demands include a children's park, a decorative gate in the name of the storyteller, protecting river banks and a guest house. The birthplace of Sarat Chandra Chattopadhyay is still devoid of electricity. As the day ends, darkness covers the whole area. The pathshala has almost no employees. Other than the librarian there are no stable employees. The librarian is responsible for two other libraries in the district which is why he only gets one day a week to sit in the Debanandapur library. If a tourist visits on any other day and the librarian is not available then they have to go back because there is no caretaker. Some locals have regretted that in spite of many written petitions and many programs there has not been any response regarding the restoration of the house. Hope this piece of literary history will be preserved at last!