Comedy is one genre which exists in every form of art and every kind of culture. The specifics of comedy in each culture are different. In literature too, comedy has always existed as a unique form of story telling. In Bengali literature, the history of humorous writings is an old one. From 19thcentury, when Ishwarchandra Vidyasagar wrote 'Bhranti Bilash' till the contemporary era, when Chandril Bhattacharya's literary witty stings thoroughly mesmerize many readers, comedy has always strongly existed in Bengal's literature. But with time, the humorous designs have undergone a noteworthy change. This transition was beautifully captured by Purono Kolkatar Golpo at a Jorasanko Thakurbari event known as 'Hasyarasher Jibon Kahini.'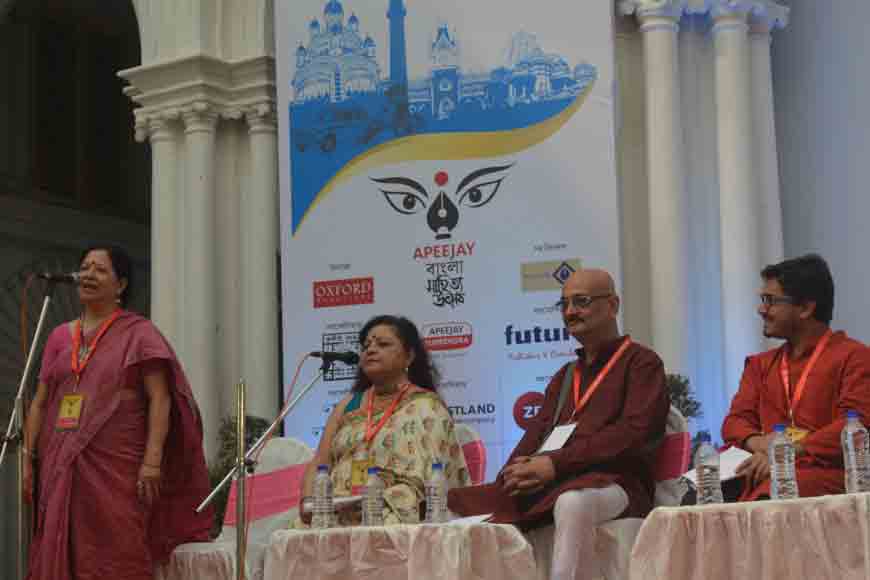 Basabi Ghatak mesmerizing the audience woth her narrational expressions
As Swarnali Chattopadhyay of PKG rightly pointed out that their group has always made sincere efforts to uphold different aspects of Bengali culture. ''Hasyarasher Jibon Kahini' – the life story of humour was a sort of extension to that Bangaliyaana and Bengali ethos. The event was a part of Kolkata Literary Fest 2018. The panelists of the enlightening session were erudite personalities such as Supriya Roy, Sumon Ganguly, and Abhishek Roy who spoke about various writers of various eras and their respective styles of humour. Basabi Ghatak, daughter of comic maestro Bhanu Bandopdhay also came up with interesting readings and anecdotes. She recited various excerpts from poems of Sukumar Roy and Tagore which took the insightful session to a different dimension altogether.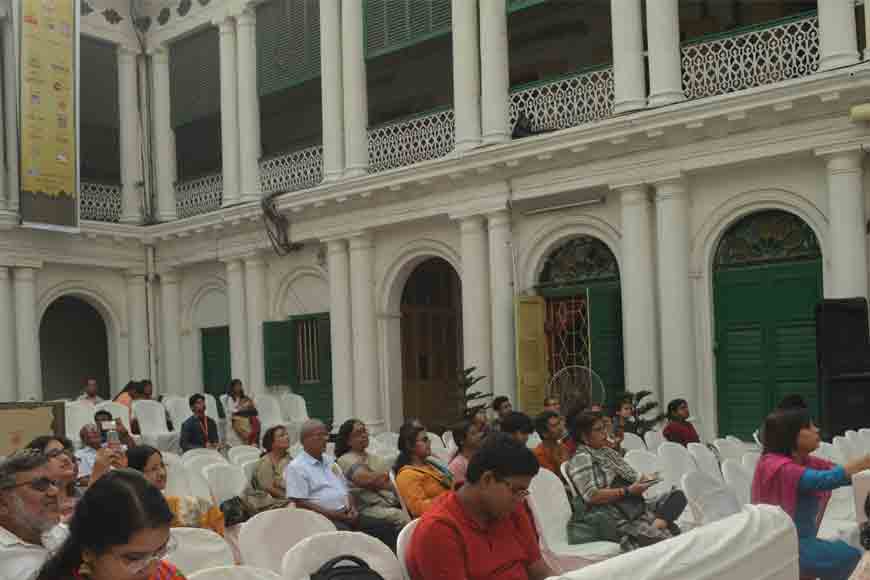 People engrossed in the journey of comedy in Bengali Literature
A delve into Bengali literature shows, how enriched our comic reliefs are, from works of Payri Chand Mitra's 'Alaler Ghorer Dulal,' Michael Madhusudan Dutta's 'Buro Shaliker Ghare Ro,' Bankim Chandra's treatment of Chandi's parody in Bishbrikkho and Kamalakanto. Speaker Sumon Ganguly emphasized on the importance of sattire in Bengali literature. "The concept of satirical comedy has always appealed to the enlightened masses. The evolution of mankind is synonymous to the evolution of sattire," he added. While speaking about 'Ho-jo-bo-ro-lo,' he pointed out how the subtexts are as significant as that of Alice in Wonderland.
While Supriya Roy took off from satirical elements in Dwijendralal Roy's Nandalal where he tried to depict the selfishness of Indians in the name of patriotism. Roy also spoke about how Dadathakur's sense of humour simply ignited the minds of readers and depicted agony of people. She also gave valuable insights on how Parsharuram used comedy to unveil the human hypocrisy. While speaking about Sukumar Roy, she said: "Before Sukumar Roy, there was hardly any poet who brought in intellect in the arena of comedy. Even he used humour to hint his death that was drawing near in his last verse of Abol Tabol with the poignant lines: "Adim Kaler chadim him, toray bandha ghorar dim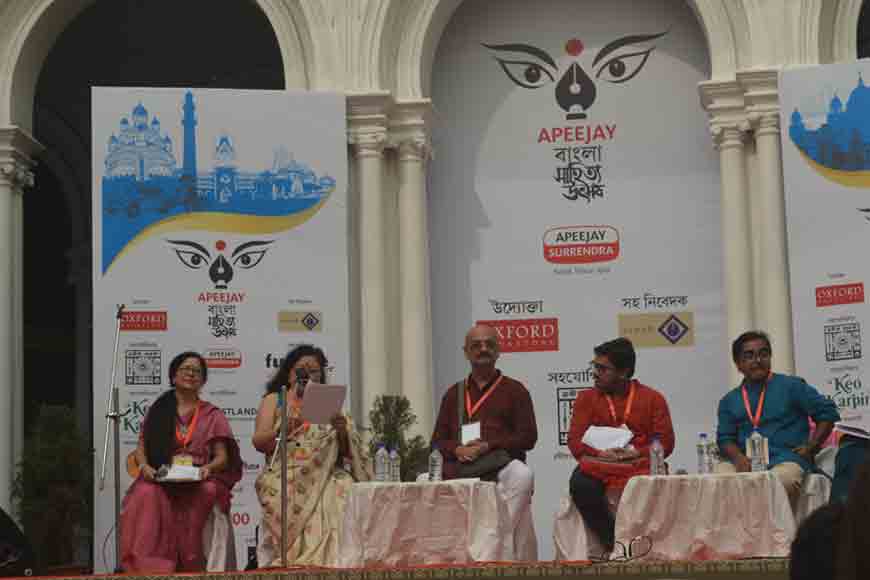 The enlightnening session at Jorasanko
Ghanie elo ghumer ghor, ganer pala sango mor."
Abhishek Roy primarily spoke about Shibram Chakraborty, Sanjib Chaktopaddhay, Nabanita Deb Sen, Tarapodo Roy and Leela Majumdar. Moderator Jayanta Sen, said: "Various others aspects of Bengali literature have been explored, but not much has been talked about the transition of comedy in this context. The journey has been long. This session is a sincere endeavour to talk about the transition of comedy from the time of Vidyasagar to Chandril."