"When life gives you lemons, trade them for coffee," or that's what young photographer/ documentary filmmaker Pratik Dey Chowdhury would have connoisseurs of coffee believe. There's something sacred about making someone a cup of coffee and the beverage plays a vital role in the life of coffee buffs. There's nothing better than waking up to the delicious aroma of coffee in the morning. Independent photographer/ cinematographer/ documentary-maker Pratik Dey Chowdhury and his coffee documentary 'C for Coffee' is one of a kind.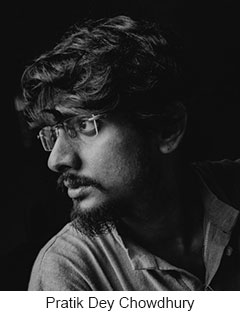 Dey Chowdhury hails from Canning in South 24 Parganas who fell hopelessly in love with the camera during his teens. Later he completed his Bachelor's degree in Bio Sciences and simultaneously pursued a diploma in Photo Journalism. After completing his graduation, he started his career as associate photographer and videographer in a pan-India food magazine 'Food Lovers.' Meanwhile, he participated in a group exhibition of still photographs in 2014 and a solo show in 2018. Later, he opted to become a freelance photographer and cinematographer taking up commercial assignments. He also practices alternative printing methods like Cyanotype, Van Dyke to exhibit his work.
Dey Chowdhury made a name for himself with his very first short film, 'Chokh' (I See) that was released last year and raved by cine buffs. The film takes a seemingly introspective look at facing one's own mortality and opting to bow out early. In approaching the social taboo, the dialogue-free film confidently navigated raw emotions, particularly those associated with the most extreme form of self-crisis. Meanwhile, Dey Chowdhury ventured into another territory – documentary film making quite by chance. He has known Barista trainer Binny Verghese for a long time. "Verghese has associations with the coffee industry and it was his idea to produce the documentary. This was a perfect project for any adventurous roadie like me because it involved a long road trip on motorcycle from Delhi to Chennai. The trip, spanning for 20 days, would cover a total of 13 places where I would meet café owners, planters, roasters and develop on that material eventually," said Dey Chowdhury.

So, the boy from Canning hit the roads. By November 2019, his team managed to speak to many, from roasters to consumers. But everything came to a grinding halt following the COVID-19 pandemic. The documentary could not be completed. "Shooting was scheduled for February when the coffee blossom season begins and later again when the coffee flowers bloom but that schedule had to be cancelled this year. However, we somehow managed," added Dey Chowdhury. 'C for Coffee' focuses on the status of specialty coffee in India. Dey Chowdhury spoke to numerous people including café owners, coffee planters, roasters, consumers to figure out what coffee means to them. Different aspects of coffee have been explored in the documentary, from planting and roasting to selling, as well as the role cafés play. India is known for producing very good quality coffee, but coffee-consumption is still very low, concentrated in small pockets in the southern part of the country. The team interacted with coffee consumers to find out what they think of the status of coffee in the country. The film deftly documents the gradual change in recent years and how coffee is gaining ground as a popular beverage, especially in the cities.
Dey Chowdhury is also researching and developing another documentary about deep water fishing, maritime pollution and the plight of fishermen. The boy from the land of Darjeeling tea has indeed made a name for himself in the coffee world.