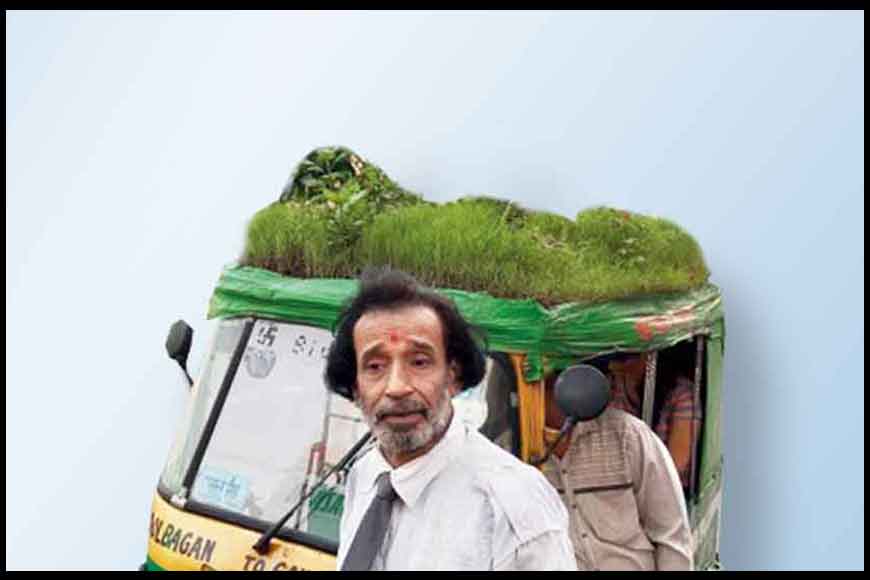 Kolkata has already witnessed Bapi da's Green Taxi, the cab with a grassy tract on its head that help to keep the cab and its passengers cool even during summer. Now, the city throws up another surprise, an auto that acts as an important source of oxygen and weapon for curbing the ever-increasing pollution. If you travel through the Phoolbagan-Ganesh Talkies route, you might come across the city's first Green Auto, that moves around with a beautiful garden of a variety of flowers and foliage on its top. You can also see a touch of green on his dashboard. Flowers like Dopati and Nayantara bloom on this auto. The auto also carries important information on the role of the greens to protect the environment. This creates awareness about environment, specially at a time when the whole world is reeling under the pressure of global warming.
And who does this Green Auto belong to? Fifty-year-old Vijay Pal lives in a small room near Ganesh Talkies and it was his idea to turn this rented auto to a green vehicle. Pollution is a persistent problem in Kolkata, that had disturbed Vijay. He felt an irresistible desire to do something significant to save the environment. He has named his auto, 'Paribesh Bandhob Jaan' or environment-friendly transport. Vijay had saved a small amount which he spent completely on maintenance of the garden. He has given the entire responsibility to a nursery worker. Vijay makes sure that his auto garden does not dry up in the scorching heat.
Incidentally, Vijay's father was a Biology teacher in a Giridih School. Vijay always had a strong inclination and love for environment and its fascinating elements since childhood. His father could comprehend this and wanted to give him an academic training. But destiny had different plans for Vijay. He fled from home, came down to Kolkata and became an auto-driver. But what remained constant and untarnished was his love for nature, environment and its elements.
Many of us are not aware of Vijay's innovative auto. Ahmed Chowdhury from Bangladesh has made a short film on Vijay's environment-friendly auto. He has also spoken about another nature loving auto driver from Bangladesh, Zakir Hussain, who has created a flower garden above his auto. Indeed, people like Vijay and Zakir are the true messiahs of the environment.