Super advanced Robotic Surgery to be introduced in SSKM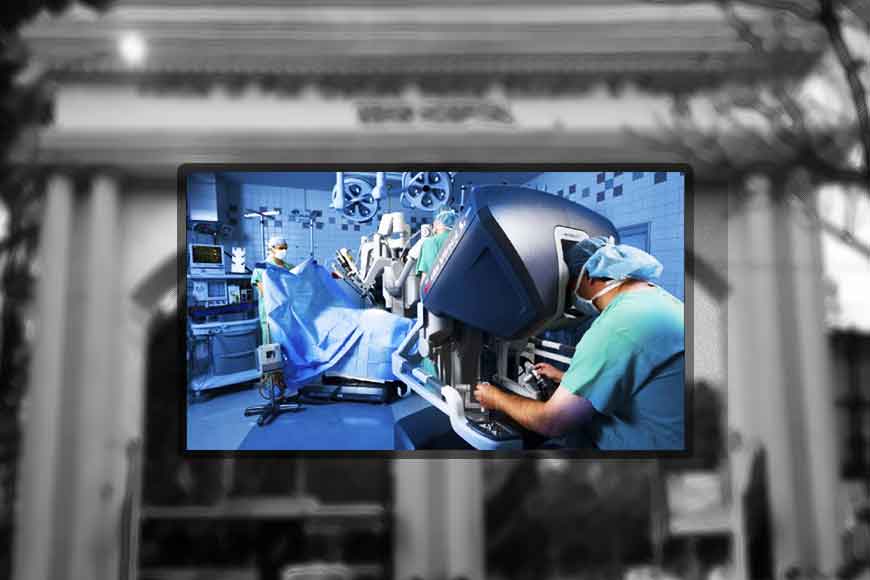 In recent years, there has been an unprecedented development in the health sector of Bengal. The scenario of government hospitals has also undergone a huge change. Today, they are well-equipped to offer every kind of sophisticated service. A new feather to the cap of government-run SSKM Hospital is introducing robotic surgery in days to come. No other government hospital in eastern India has this service. Robotic surgery needs extremely skilled surgeons and enables patients to undergo a minimally invasive operation. The hospital authorities will be spending 30 crores to build this robotic set up. The eighth and ninth outdoor unit beside the pond has been proposed as the operation theatre for robotic surgery. Robotic surgery has gained immense popularity throughout the country. Among the top health centres, AIIMS Delhi, AIIMS Rishikesh, SGPJI Lucknow, Mumbai's Tata Memorial Hospital are already equipped with fourth generation robots.
But what is the reason behind the popularity of robotic surgery? This incredible technology has various advantages which simplifies the process of surgeries. There are certain places in the body which are far away from the accessibility of the surgeon. The robotic hand is highly flexible and serves as the effective solution in this case. The method involves small tools with a robotic arm which are monitored by surgeons. The robotic arm is capable of rotating 360 degrees, ensure maximum motion, precision and can perform seven types of movements. Robotic surgery enables doctors to perform complex surgeries through small incisions leaving almost no scars. The process is less traumatic for patients and ensures a faster recovery. In SSKM such surgeries will be introduced in cases of kidney tumour, prostate cancer, kidney transplantation, colon cancer, rectum cancer, liver cancer, uterus cancer and also in some forms of general surgery.