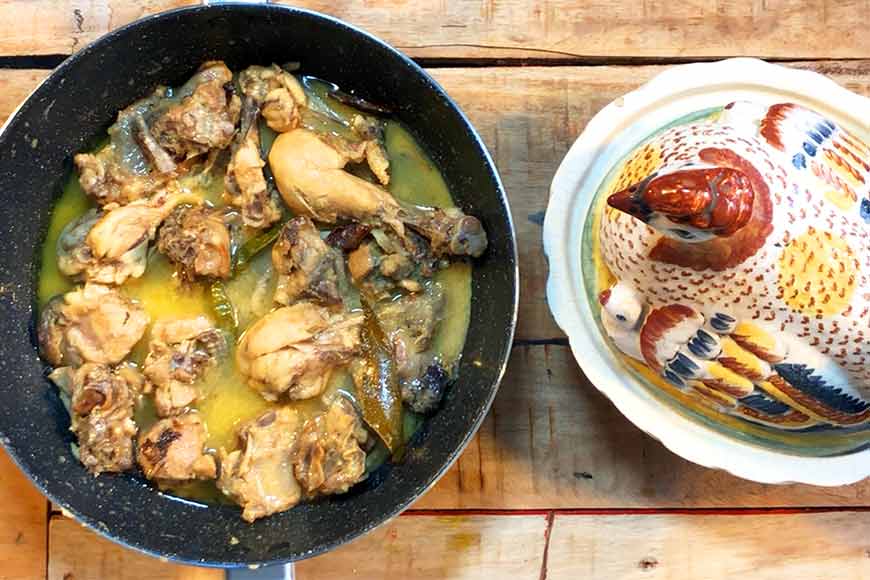 Bikrampuri Korma
Kolkata residents Subhajit Bhattacharyya and Amit Ghosh Dastidar have been friends and business partners for nearly two decades. For most of those who know them professionally, they run an events management and coordination company. So what are they doing in a story about lost and rare recipes? Or, to give it its proper name, 'Lost & Rare Recipes – Kitchen Tales'.
The answer is that, after all these years, the two have decided to give in to a shared passion for food, and launch an initiative that will not merely archive lost and rare recipes – a large chunk of them from the two Bengals - but will actively popularise them through online workshops and demonstrations.
In hindsight, though, it was perhaps destined that Subhajit and Amit would eventually embark on this journey. Their first event, held at Swabhumi in Kolkata way back in 2003, was a cooking competition, followed by a series of cooking workshops in partnership with a prominent media house.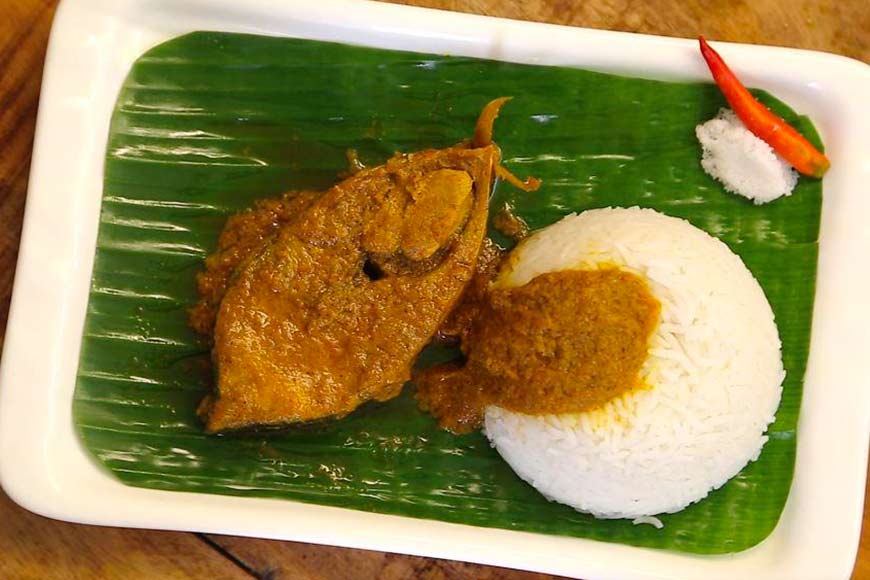 Ilisher Dolon
Subhajit has been a lifelong foodie, and among his childhood memories are his attempts to make 'Alu Tikia', which may not have been perfectly cooked, but tasted fine, he says. The childhood passion for food persisted through the years, resulting in a very impressive, and expanding, collection of cookbooks from across the world, some of the recipes dating back centuries, and consequently practically unknown today.
Amit, on the other hand, could barely rustle up an omelette even four years ago. While he loved eating, he was never interested in cooking, unlike Subhajit. It was only once a relative of his went off to the internationally renowned Le Cordon Bleu academy, and had long chats with him about food from different parts of the world, that Amit's culinary vista began to expand. Today, he can cook a meal for 35 guests single-handed, though he still doesn't count himself an expert.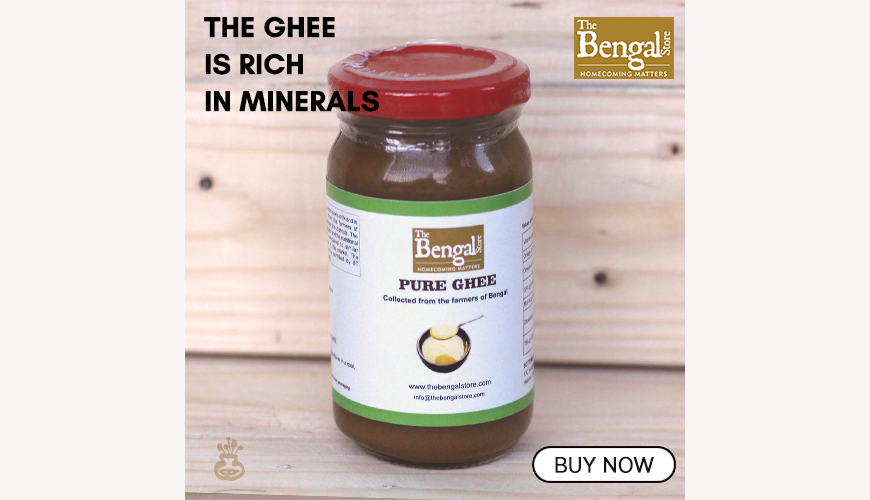 Together, the two are bringing to the fore such little known recipes as Kancha Lonkar Jhol (Green Chilli Curry), Bikrampuri Korma (from Dhaka's Bikrampur region), Ilisher Dolon, Laupatar Bhorta, and Aar Machher Kalo Jhol (a breed of catfish cooked in dark gravy).
Many of the recipes come from Subhajit's own family, principally his mother and her mother. "My grandmother handed me many recipes which I haven't come across elsewhere, such as 'daanta' (a stem or stalk of a plant) with raw mangos. Or raw mangos with 'kochur loti' (the closest English translation would probably be arum lobe)," he says. Himself an expert cook with a wide variety of exotic recipes at his fingertips, Subhajit intends to propagate them all through the Lost & Rare Recipes YouTube channel.
Lau Patar Bhorta
Their cooking videos are shot by Amit in a spare room of their office which they have converted into a dummy kitchen. A passionate photographer, Amit has also taught himself the art of video editing in these cash-strapped pandemic times. Going forward, they intend to organise online cooking workshops for their subscribers too.
"This isn't just about cooking. Across the world, food has always been a social and cultural marker, and by archiving these recipes, we are creating a space for cultural exploration, too," says Subhajit. "I have cookbooks by Pragyasundari Devi, Biprodas Banerjee, recipes from Sovabazar Rajbari… during my travels abroad, I have bought cookbooks at the expense of many other things. I have around 20 cookbooks from Bangladesh alone, such as 101 Bhortas, or 101 ways of cooking 'desi' (local) fish, a cookbook from Bikrampur, or a book dedicated only to 'ilish'."
The journey has thrown up some truly fascinating moments. During a trip to England, Subhajit found an elderly lady selling an old tattered book of her own recipes at a village fair! "There are books without covers, and ones with titles like 'Mistanna Paak', where the ingredients have been measured in units like 'tola' and 'masha', or ingredients like 'bagane masala' (which I was able to figure out as a mix of five herbs) and 'temati' (which I wasn't)." Incidentally, both 'tola' and 'masha' are ancient Indian units of measurement, equivalent to roughly 11.5 gms and 1 gm respectively.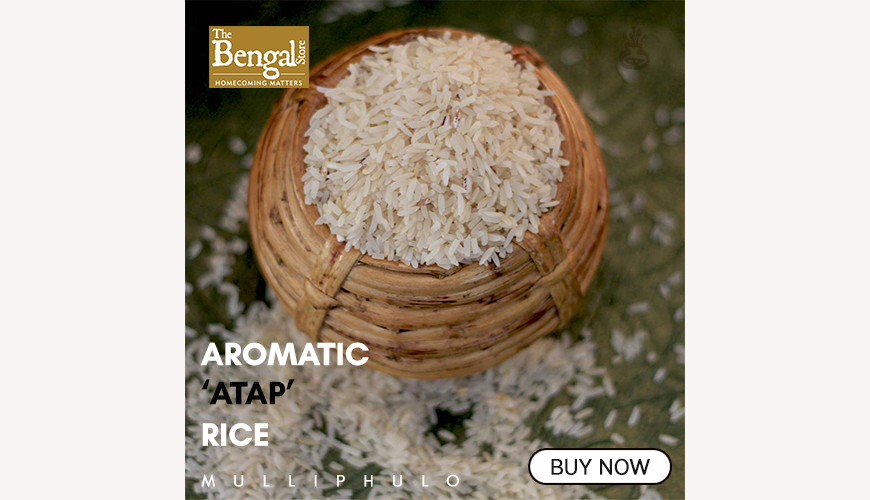 Among potential future demos are 'Rosuner Payesh' (garlic kheer), and 'Peyanjer Payesh' (onion kheer), the latter a specialty from the Thakurbari (Rabindranath Tagore's family) kitchen, Machher Bhangachora (a recipe from Rajshahi), and Ilisher Ullash. Also on the anvil are dishes 'cooked up', pun intended, by Subhajit himself, such as a ilish (hilsa) heads with 'kochur loti' and raw mangos, and Chingri Machher Chuni Panna (red and green steamed prawn balls in white gravy).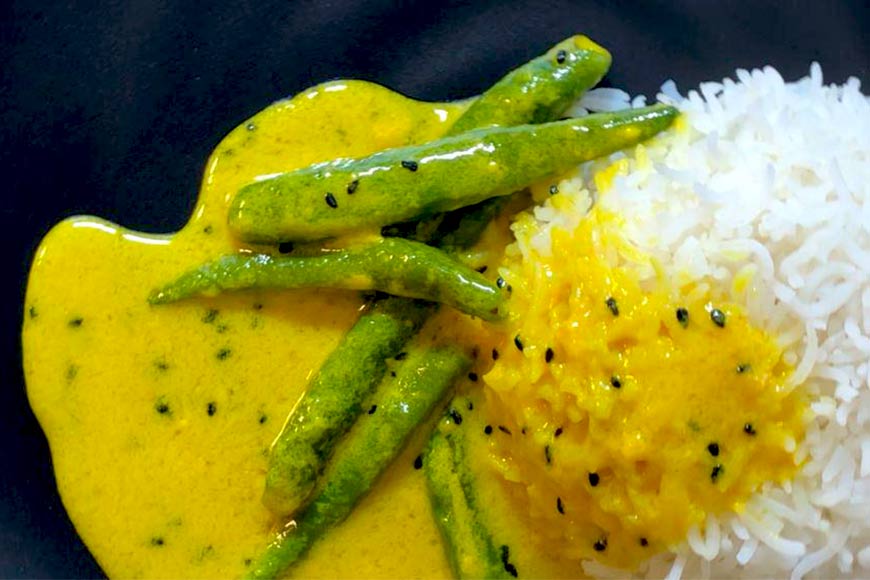 Green Chilli Curry
Both Subhajit and Amit clear about the fact that their primary aim is not commercial, and they have received no financial help for their new initiative. However, while events will remain their core business, the duo are also keen to take their cooking adventure offline, catering primarily to tourists who would like to taste rare but authentic Bengali food. That is a plan for the future, but for now, you can catch their online videos, and try this easy recipe for yourself:
Bikrampuri Murgir Korma
Ingredients
| | |
| --- | --- |
| Chicken | 1 kg |
| Curd | two-third cup |
| Ghee | two tablespoon |
| Milk | half cup |
| Bay leaves | three medium |
| Ginger paste | 1.5 tablespoon |
| Green chillies | 6 to 8 pc |
| Onion paste | half cup |
| Elaichi - small green | 4 to 6 pcs |
| Cinnamon | 2 to 3 medium sticks |
| Salt | to taste |
| Lime juice | 2 tbsp |
| Sugar | 1.5 tbsp |
Method
Mix everything well, no need to marinate. Without any oil or phoron or extra anything, just pour everything in the kadai and put the flame on full. Stir occasionally.
Once it starts to simmer, water comes out. Put the flame on medium, cover and let it cook. Occasionally uncover and stir. The chicken is well cooked and a beautiful fragrance emanates in around 25 to 30 mins. The oil separates and comes to the top. The gravy thickens. It is a whitish golden gravy. Now just squeeze in the juice of one lime and about two spoons of sugar. Stir for a minute and a half and take it off the flame. Eat with rice, roti or best with paratha.