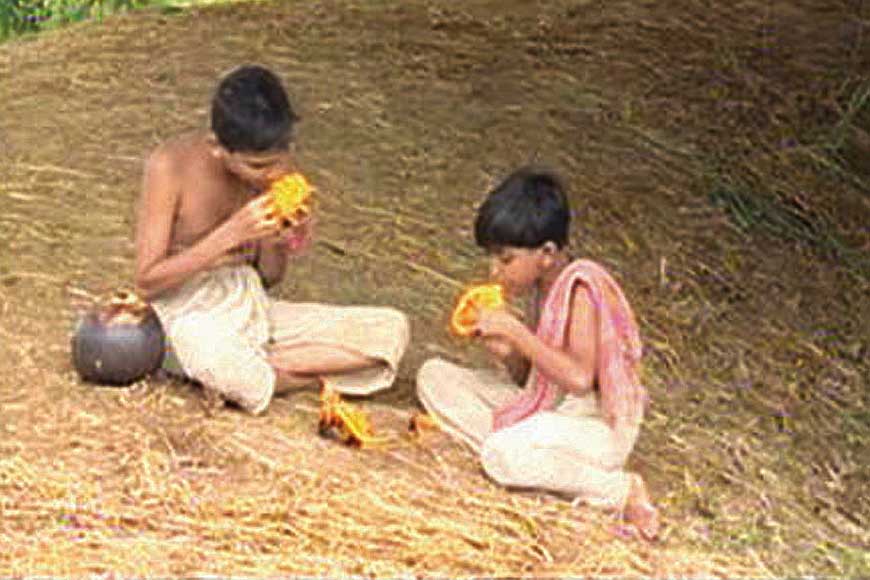 The International Culture Festival under the auspices of the International Culture Centre paid tribute to the memory of Bibhutibhushan Bandopadhyay in celebration of the iconic writer's 127th birth anniversary on September 12. The tribute came in the form of a screening of the film Talnabami, adapted from a beautiful Bibhutibhushan short story by Dhananjoy Mandal, a filmmaker who keeps such a low profile that even today, few film buffs are aware that this film has been screened at festivals across the world, and won many awards.
But Dhananjoy does not know how to market and promote his films and has little in terms of finance, human resources, and clout, though he has made 42 feature and documentary films till date, and won several prestigious awards, including two National Awards.
Despite Satyajit Ray's historic debut in world cinema with Bibhutibhusan's Pather Panchali, few filmmakers have ventured into literature produced by Bibhutibhusan. Though, by Ray's own admission, Bibhutibhusan's works are so filled with visual description that most of them can smoothly slide into the medium of film. Ray went on to make another film based on another Bibhutibhusan classic –Ashani Sanket – this time in colour.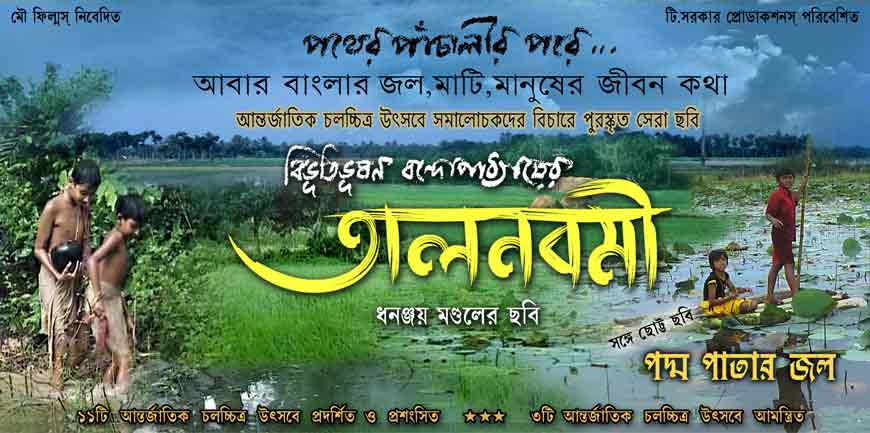 In 2017, rookie director Manas Mukul Pal debuted with a celluloid adaptation of Talnabami, changing the name of the film to Sohoj Pather Goppo. This version won the two child actors, namely Nur Islam and Samiul Islam, joint National Awards for Best Child Actor.
Talnabami, Mandal's debut feature, won the FIPRESCI (International Critics Organization) Jury prize at the Zanzibar International Film Festival on July 22. The jury, composed of renowned critics from France, Egypt, Turkey, Russia and Burkina Faso, singled out Talnabami as "an example of high cinematographic quality achieved with an extremely low budget … the poetic treatment of the Bengali film will not only touch film critics but also a larger audience."

The self-taught Dhananjoy was thrilled with the awards because "I made it on an incredible budget of Rs 4 lakh and it bagged an award amidst films made on budgets running to crores." He has no godfather in the industry, no network of people to help him out, and is incapable of public relations. He has never been to film school, but his work speaks for him.
Talnabami was made in 2001-2002 and though comparisons are not very ethical, this critic vouches for the cinematic and aesthetic excellence of Talnabami over Sohoj Pather Goppo. Manas Mukul Pal has greatly modified the original story, and there is nothing wrong with a director's perspective on a noted literary piece. But these changes, notwithstanding the awards and accolades, have turned the film into a melodrama lacking in authenticity. He has made such radical changes to the story that the flavour of Bibhutibhushan is almost lost.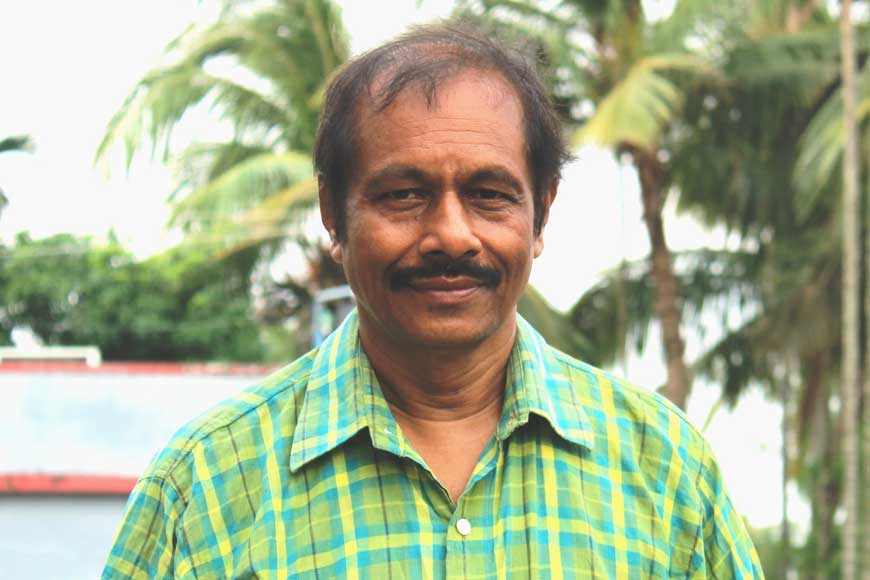 Dhananjoy Mandal
The fact that young Mandal was bold enough to break the 'barrier' unwittingly created by Ray goes to his credit. Talnabami is a simple tale of poverty and want and how little things seem to bring happiness – albeit briefly – to two young boys who dream up a lunch invitation when the actual invitation does not come. Gopal and Nepal are two brothers living in a village in West Bengal with the climate and the landscape bearing close resemblance to Boral, the village that formed the backdrop of Pather Panchali. "Since Boral is now a developed township, I had to go location hunting to look for the right backdrop for his film. The mushy landscape with the white kaash forests across the horizon took me back on a trip to Pather Panchali," says Mandal. "This film is my tribute to the author of the story and also, to the maker of Pather Panchali."
Gopal and Nepal's father is a Brahmin priest. But they are so poor that their mother has to dig out roots to rustle up a 'lunch' for her hungry kids. Since school is closed for vacations, the boys occupy themselves by stealing palm-fruits (taal in Bengali), eating some and selling the rest. News spreads that a family in the neighbourhood will be celebrating the festival of Talnabami to mark the season of palms, a grand lunch to which the entire village will be invited. Will Nepal and Gopal be invited too?
Mandal has made creative use of the backdrop and landscape of rural Bengal in a way that it blends into the incidents and characters of the film. The kaash flowers swaying in the breeze might remind us of Pather Panchali, but it is Mandal's way of paying tribute to the two great masters who inspired his first film. Shot brilliantly in colour (Samir Debnath), the rains in the village where both adults and children are oblivious to the city-bred's constant fear of getting drenched are frozen in time. Manik Bhattacharya's production design brings alive the thatched hut in which the boys live, as it juxtaposes the affluence of a neighbour's spacious home.
Mandal has chosen his actors well and all of them shine with natural and spontaneous performances. Sunil Mukherjee as Khudiram, the boys' father, Sreela Majumdar as Giribala, their mother, Saurabh Das as Gopal and Suparna Bhattacharya as Nepal never once appear artificial or contrived either in their make-up and costume or in their performance.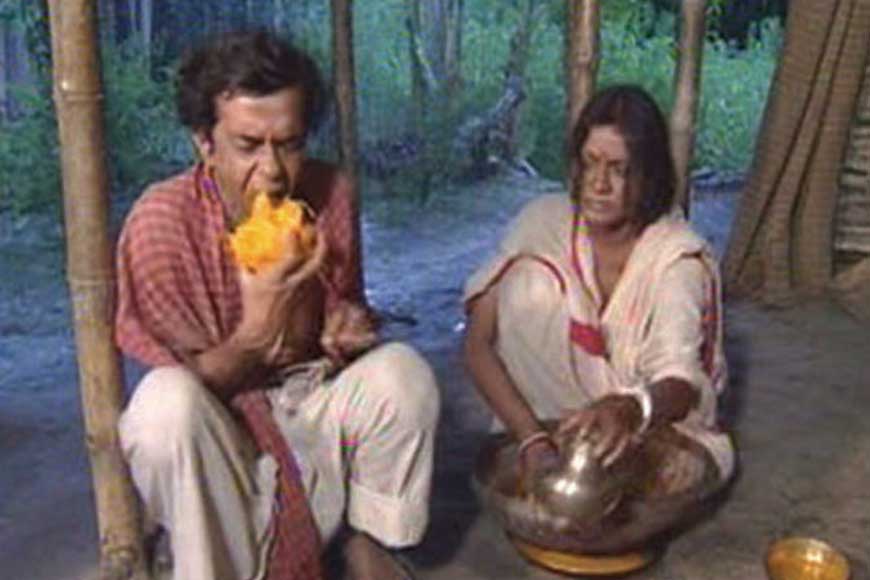 There is a moving scene where the mother dishes out some 'kheer' she has made for the boys from the palm fruit they have collected, and a little rice their father has brought in as part of his 'fee'. They lick up their plates and the husband praises her cooking when she says, "if only I could add a bit of milk and coconut to the paayesh." Imagine making kheer without the basic ingredient – milk! But they take it as a part of life and that underscores the tragic irony of their lives.
Not once does one come across any suggestion of self-pity. Nor does the director attempt to capitalize on the poverty. He tells a simple tale of simple people who lived in a simple village that could quite easily be a microcosm of any village in India. He remains absolutely loyal to Bibhutibhushan's original story, but manages to weave in a bit of himself into the film all the same.
The musical score sticks to the ethnic roots of the place setting but could have done better with some imagination. It is one of the most honest and straightforward debuts one has encountered in a long time. Talnabami, the film, is an ideal tribute to its creator, Bibhutibushan.