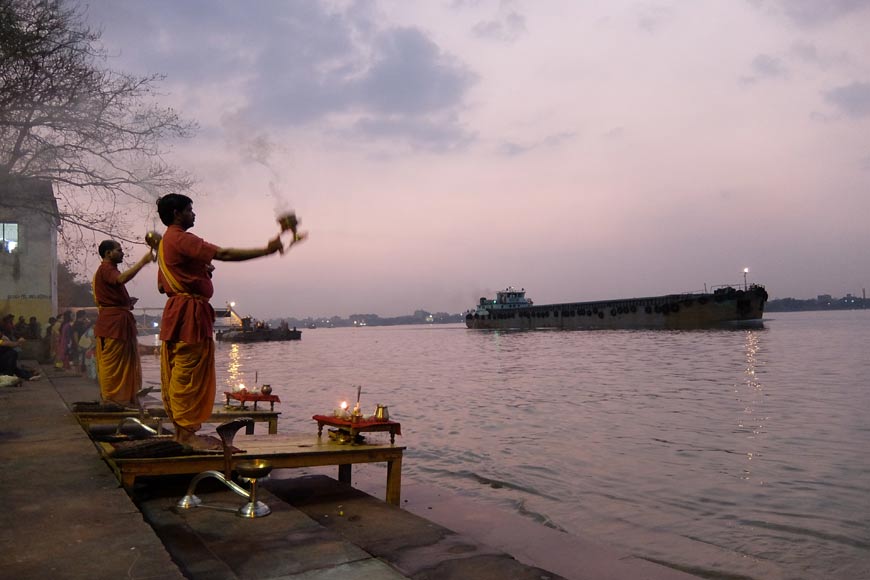 Bagbazar Ghat
If you think about it, Kolkata may well be called a 'city of ghats', but while hundreds and thousands of words and images across the world have extolled the ghats of Benares, not many seem to have performed a similar service for Kolkata. And yet, the numbers tell the story. The Port Commissioner of Calcutta is in charge of 42 ghats on either bank of the Hooghly, of which 15 are maintained using funds bequeathed by the founders of the ghats themselves. Funds for the rest come from the Port Commission. There are also several other ghats maintained by Kolkata Municipal Corporation, the Government of West Bengal, and Howrah Municipality.
All told, nearly 100 ghats still line both the east (Kolkata) and west (Howrah) banks of the Hooghly, an astounding fact not many of us seem to notice. And if there is any old city neighbourhood that can be described as the 'ghat hub of Kolkata', if you overlook the awkward coinage, it would surely be Bagbazar, home to more than ten ghats strung out in a row.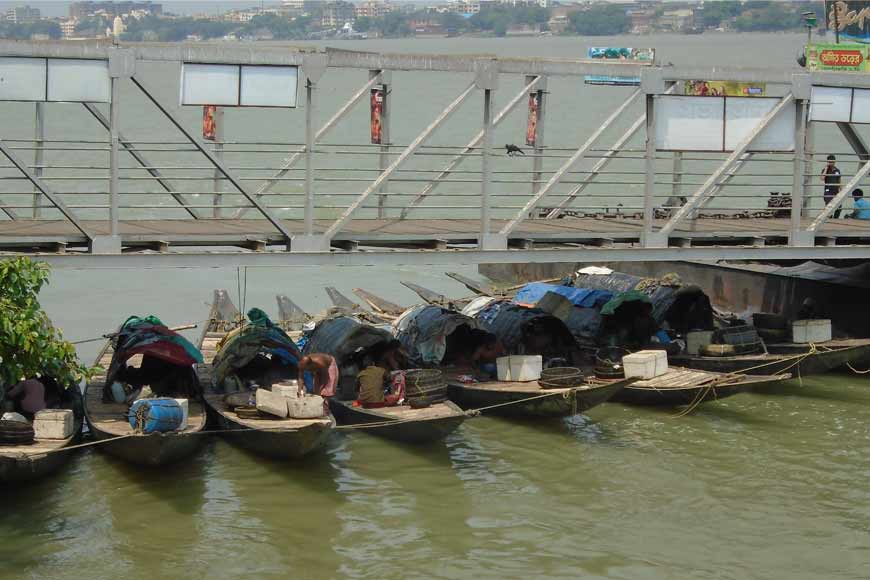 Bagbazar Ferry_Ghat
Starting from Mayer Ghat (also known as Durgacharan Mukherjee ghat in memory of a famously wealthy and corrupt 18th and 19th-century businessman) on Annada Neogi Lane, you need to actually walk just about 400 m along Strand Bank Road before you reach Raja Nabakrishna Deb Ghat, reportedly constructed by Raja Radhakanta Deb in memory of his grandfather Raja Nabakrishna Deb (1732-97), founder of the Sovabazar Raj family, tutor of Arabic and Persian to Warren Hastings, and a close associate of Bengal Governor Henry Verelst. And a mere 83 m down the road is Bagbazar Ghat, which used to be Old Powder Mill ghat in the 18th century, though not many are likely to know this name.
The story is an interesting one, though. In 1753, Col. C. F. Scott, father-in-law of Warren Hastings, bought the piece of land once known as Perrin's Garden (Perrin Saheber Bagan) and set up a gunpowder factory on it. What is Bagbazar Street today therefore became known as Old Powder Mill Road, as did the ghat. However, Scott died soon after setting up his factory, and it passed to the East India Company in 1755. It is reportedly on this site that the British built a temporary octagonal fortification or redoubt, which became the first line of defence when Nawab Siraj-ud-Daulah mounted his attack on Calcutta in 1756.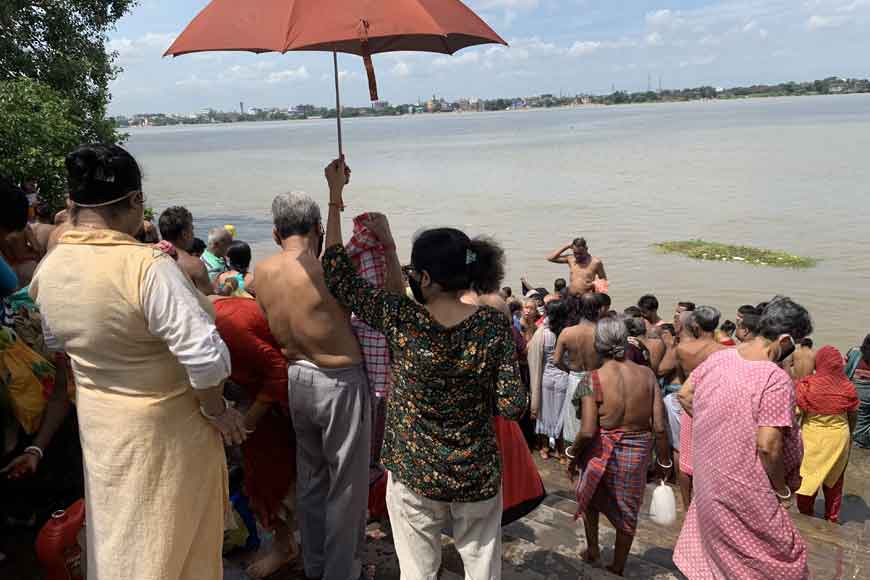 Gopal Ghat
A little over 200 m further down is the curiously named and quite picturesque Slanting Ghat, though not much information about it is to be found. Another 150 m to the south is Gopal Ghat, which more or less marks the boundary of Bagbazar and the Hatkhola-Kumortuli area.
Then there are the ghats which don't even show up on Google Maps, such as Raja Rajkrishna (Rajkissen) Ghat, named after the wildly temperamental and controversial Rajkrishna Deb (1782-1823), son of Raja Nabakrishna Deb. Born into immense wealth and privilege, Rajkrishna seemed determined to squander all his inherited wealth in the pursuit of pleasure, and such was his devotion to his Muslim concubines that he built a mosque for them near his royal residence, and participated in almost every Muslim festival, which enraged his conservative Hindu brethren.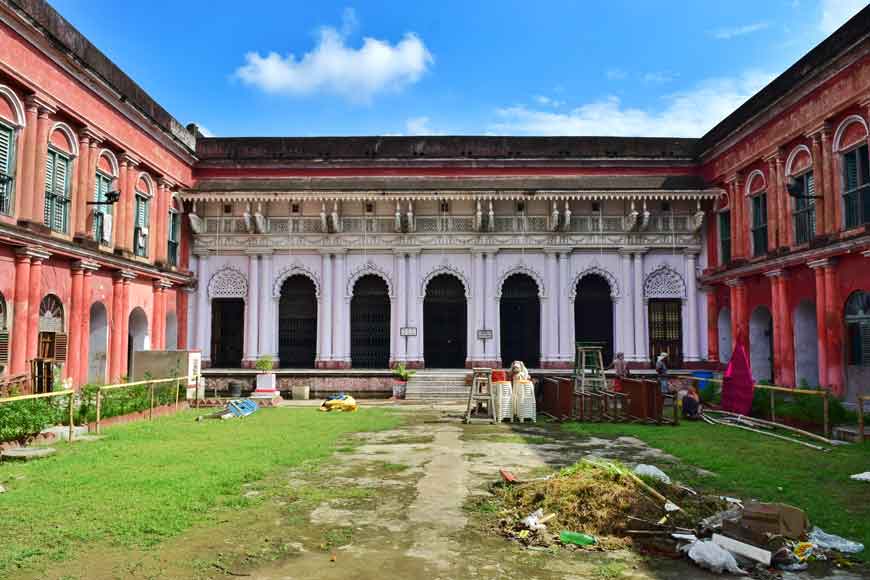 Sovabazar Rajbari
Yet another obscure ghat is Pramada Sundari Ghat, named after Pramada Sundari (1888-1922), daughter of Raja Narendralal Khan of Narajole (Paschim Medinipur), and wife of noted Bagbazar attorney Sushil Chandra Neogi. The ghat bearing her name also has a bust of the woman who died so tragically young.

In the vicinity of Bagbazar Ghat is Annapurna Ghat, originally called Raghu Mitter's Ghaut after the son of Calcutta's infamous 18th-century 'black zamindar' Gobindaram Mitter (Mitra), and being marked as such in British maps published in 1784, 1795 and 1825. At some point, though, the name seems to have changed to Annapurna Ghat in honour of a nearby temple to the goddess Annapurna built by Bagbazar resident Vishnuram Chakraborty, a land surveyor in the employ of Warren Hastings.
Rasik Neogi's Ghat is yet another ghat that doesn't show up on Google Maps. Located very close to Annapurna Ghat, this historic Bagbazar ghat once boasted a magnificent, partially covered hall used for theatrical rehearsals by Rasik Neogi's grandson Bhuban Mohan Neogi, founder of the legendary Great National Theatre (1873), and his no less legendary associates Amritalal Basu, Dharmadas Sur, and Ardhendu Mustafi. Among the notable plays to be rehearsed here were 'Nildarpan', written by Dinabandhu Mitra and directed by Amritalal. Sadly, no trace of the hall now exists, it being demolished in 1875 for the construction of the Port Trust Railway on Strand Road.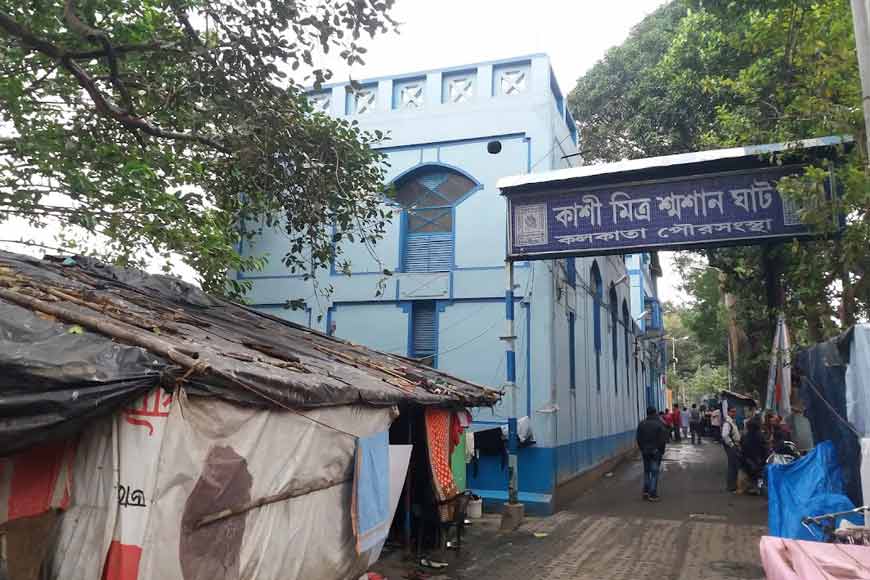 Kashi Mitra Ghat
Finally, you have Kashi Mitra Ghat and crematorium, named after the immensely wealthy merchant Kashinath (some scholars say Kashishwar) Mitra, who built the ghat in the first half of the 1770s, making it Calcutta's first dedicated burning ghat. Among the famous cremations at this ghat were those of Ramakrishna Paramhansa, his disciple Swami Abhedananda, and theatre legend Sisir Bhaduri. Between 1823 and 31, the ghat was shifted westward to accommodate the under-construction Strand Road.