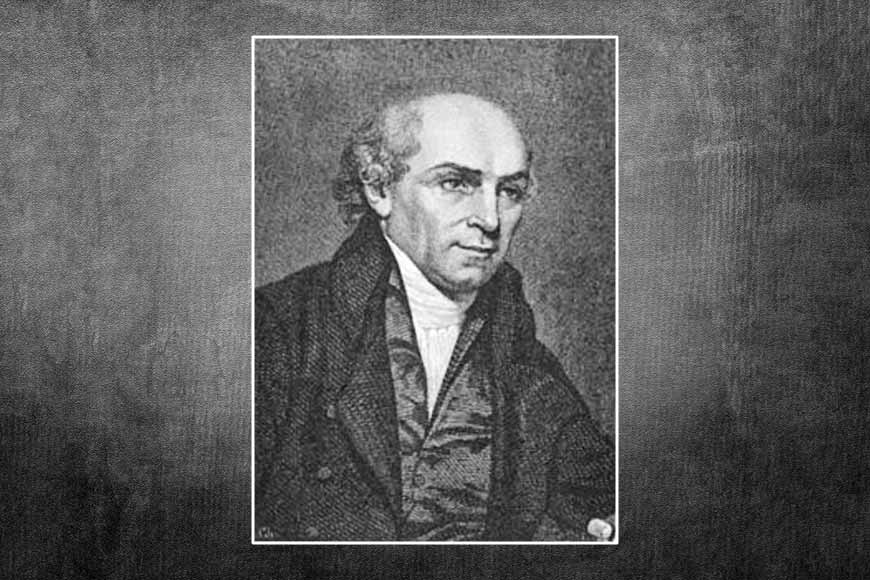 While on a walking tour in the central business district of Kolkata, locally known as Dalhousie, one cannot miss the colonial charm of the region. And why not? Because this area was built by the British with buildings in Greco-Roman neo-classical style including the iconic Writer's Building. This area also harbours some outstanding statues, that have stood there as a witness to the fall of the British regime. On the southern front of the Writers' Building stands a pristine white unpretentious obelisk with two lion heads and a plaque that tells the memorial was built in 1881 in memory of Colesworthey Grant, the founder of the Calcutta Society for Prevention of Cruelty to Animals (CSPCA).
The Royal Society for the Prevention of Cruelty to Animals (RSPCA) is the world's oldest animal welfare charity, founded by Irish politician Colonel Richard Martin in 1824. It became popular in India thanks to the efforts of Colesworthey Grant. Since its inception, the RSPCA has been involved in rescuing, rehabilitating and re-homing hundreds of thousands of animals every year in England and Wales. Presently, society is the largest of its kind in the world. However, Grant's contribution was not confined to being an animal rights activist only.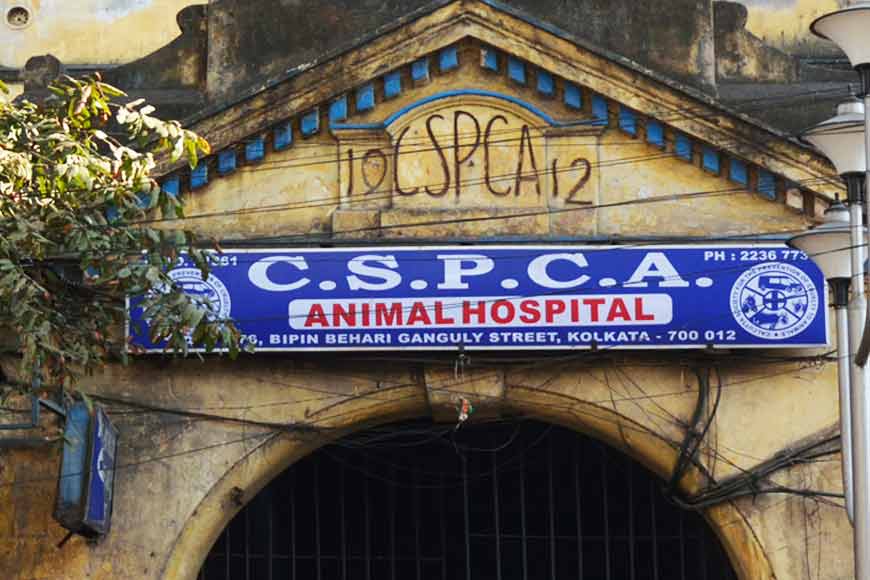 Colesworthey Grant was born on 25 October 1813, in London. His father was a Scot and his mother was of Irish descent. His father manufactured mathematical instruments and arrived in India in 1832 at the age of 19 and joined his brother George who was a clock and watchmaker in Calcutta. Colesworthey was injured in the spine from a fall during one of his exercise sessions and could not walk straight ever after that.
But as the saying goes, when one door closes, another opens and changes the very direction and purpose of our lives, similarly, Colesworthey's accident opened up a new vista for him. He took an interest in sketching and began to contribute to the 'India Review' from 1838 through Dr Fred Corbyn and later to the 'Calcutta Monthly Journal.' He also wrote articles for these two magazines. Grant lived near Creek Row and observed passersby from close quarters and sketched them in his notebook. He was a gifted portrait artist and made a mark in his chosen sphere of work, though he never learnt drawing. Rather he was a self-taught artist who learnt the finer nuances and technical aspects of art himself, through trial and error. Gradually, his sphere of activity increased as did his fame. Lord Dalhousie heard about him and summoned him.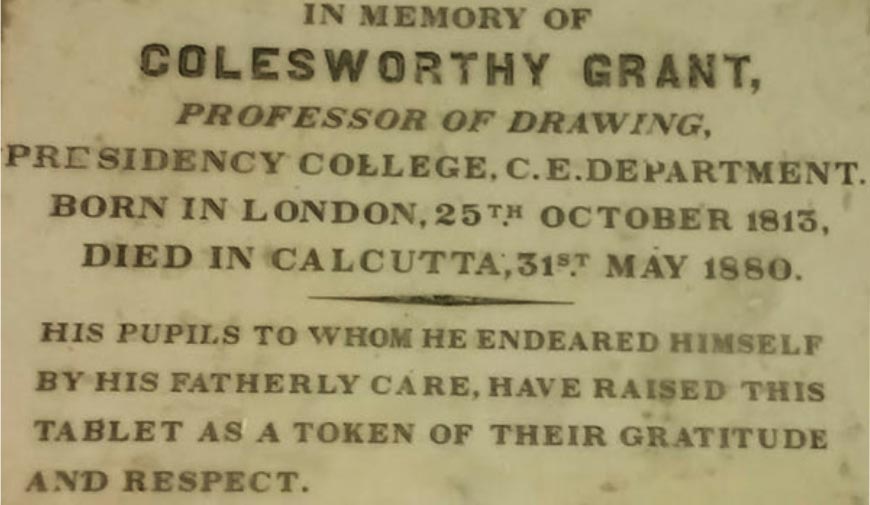 In 1855, Lord Dalhousie chose Grant as a member of the Ava Mission to Amarapura along with Arthur Phayre to document the places for a report they were to prepare. He was also asked to take photographs. The photographs, however, were finally clicked by Linnaeus Tripe, who also joined the mission. His early works included portrait sketches of many eminent contemporary personalities of the city. These portraits have immense archival value. He later became a professor of drawing at Presidency College. Grant also illustrated Dr Frederic J. Mouat's 'Atlas of Anatomy.'

Grant's multifarious sphere of activities did not stop with his identity as an artist or author. He was an ardent animal lover and he founded the "Calcutta Society for the Prevention of Cruelty to Animals" on 4th October 1861 after seeing the sorry state of animals on the streets of Calcutta. Grant was moved by the injuries and mutilations he saw to street animals, particularly draught cattle and horses, inflicted mostly by their owners and keepers.
The objective of the society was to create consciousness against cruelty to animals through publications and campaigns. His crusade bore fruit and two legislations for animal rights were passed. A hospital was also founded by the Society for Prevention of Cruelty to Animals, and that continues to function in Calcutta, taking care of sick animals. He constructed a trough opposite the Lal Dighi, popularly known as Tank Square or Dalhousie Square for storing drinking water for horses.
Grant will be remembered forever for his contribution to animal welfare in India. He sensitized people and made them realize that ''working animals'' are part of our society and their rights to live with dignity and welfare are as important to us as those of our fellow humans. Around 1877 two more societies were established at Madras and Bangalore. Towards the end of his life, Grant was awarded an Honorary Diploma from the Royal Society for the Prevention of Cruelty to Animals.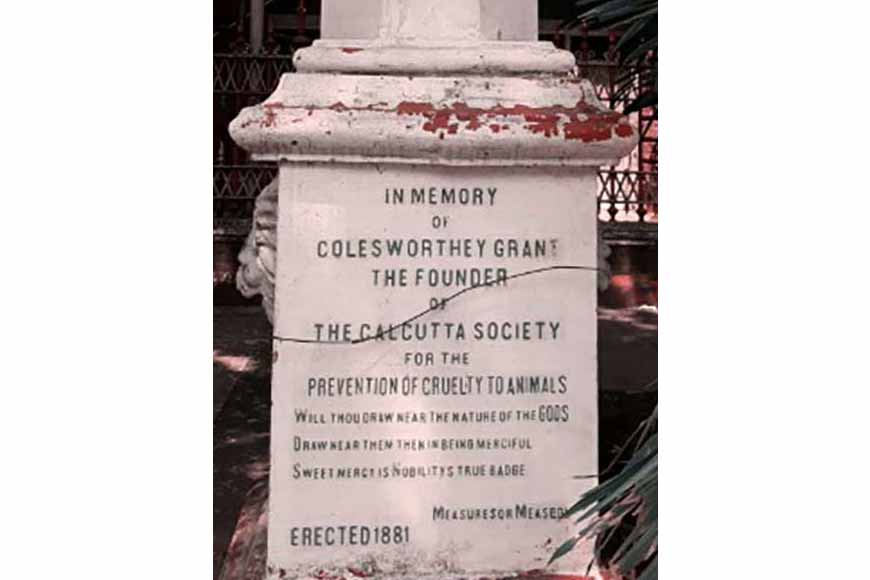 On May 30, 1880, Grant breathed his last and he was buried at South Park Street cemetery. A memorial obelisk was erected near the Writers' Building the very next year. That's how Grant continues to live among us -- through the vast volumes of written articles, sketched portraits and not to forget his organization, Calcutta Society for the Prevention of Cruelty to Animals. After his demise, his comrade in arms, Peary Chand Mittra took over as secretary of the society. Mittra also wrote a biography of Grant from which one gets data about how animals were treated in those days. Maybe the love for Kolkata's stray dogs was born in this way, centuries ago.