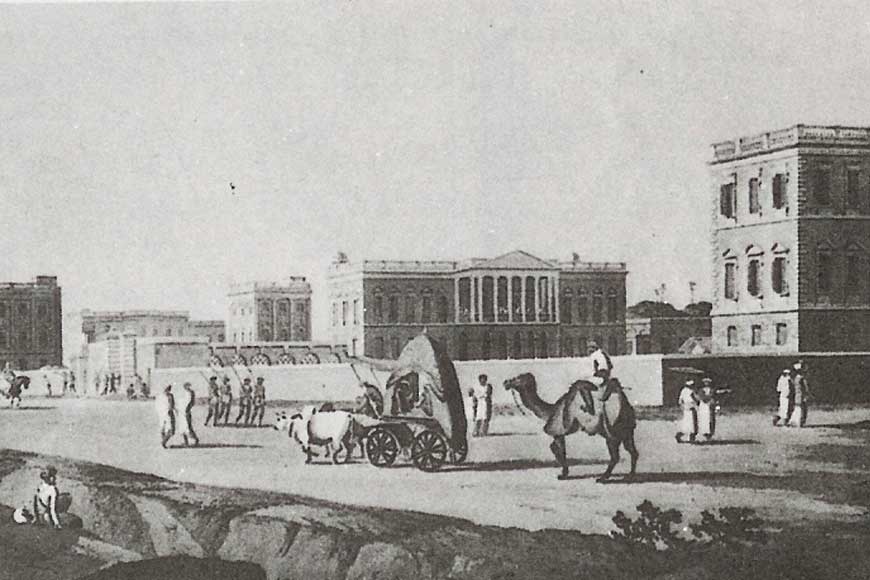 Imagine elephants walking down Chowringhee! Street scenes of erstwhile Calcutta, under the British Raj, captured in water-colour canvases of William Daniell, the English landscape and marine painter, are still something to linger over. One of them shows elephants moving with leisurely grace, followed by many spearmen ready to discipline the huge animals if they tried to run wild, defying the mahouts seated on their necks. In another of his artworks, we get to see a camel, where passers-by see it rear its ugly head..
Chowringhee in those days is seen as a roadway thronged with packs of bullock, four-horse coaches, palanquins, sedans, the native bullock-cart and dignified figures in flowing robes sauntering under mat umbrellas. There are also half-naked porters on the double carrying loads on either end of a stout pliant bamboo. The banghy on one shoulder, beggars sit crouching on the dusty road; a pariah dog goes past them. Kites and crows hover above and the great adjutant birds- the hargeela, or the bone-swallower-stand apart from the traffic in groups marked by grave watchfulness.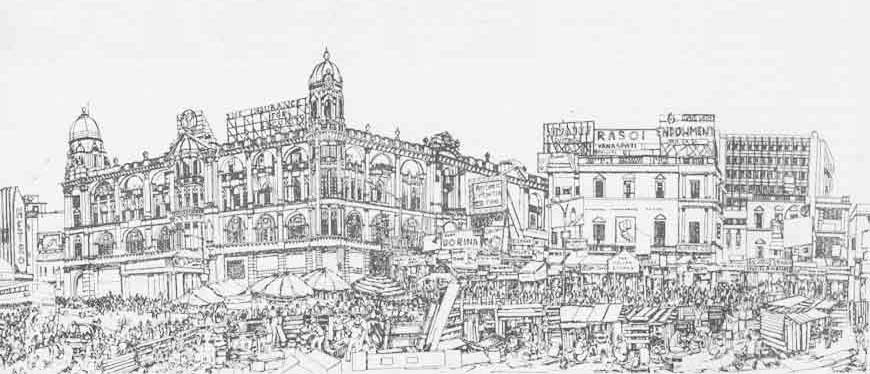 These streets have seen ghastly tragedies enacted. Down these roads, penitents went to the shrine of Goddess Kali measuring with their own outstretched lengths every foot of the way. Yogis smeared with ash all over, religious mendicants glowing with ascetic glory in their hideous self-imposed degradations. Some are shown asking gifts, calling them alms and blighting with curses all who earned their displeasure. When cholera swept the city, the dead lay on the wayside thrown there by relations who did not have the courage to perform their last rites. Famine found the famished from the villages on the outskirts fleeing to the city in hope of succor, and then collapsing wearily on unfamiliar streets of Chowringhee. So, the dead and the dying lay where they fell, all easy prey for ravenous birds and beasts. It was on public street again that the criminals were executed on the scaffold.
Executions took place very often near the scene of the crime. But usually the crossings of Chitpur Road and Bentinck Street with Bowbazar were the spots where those convicted of murder or robbery were hanged. This is where a European soldier named Gale, found guilty of murder, went to the gallows in December, 1797.
Photographs from Rathin Mitra's book