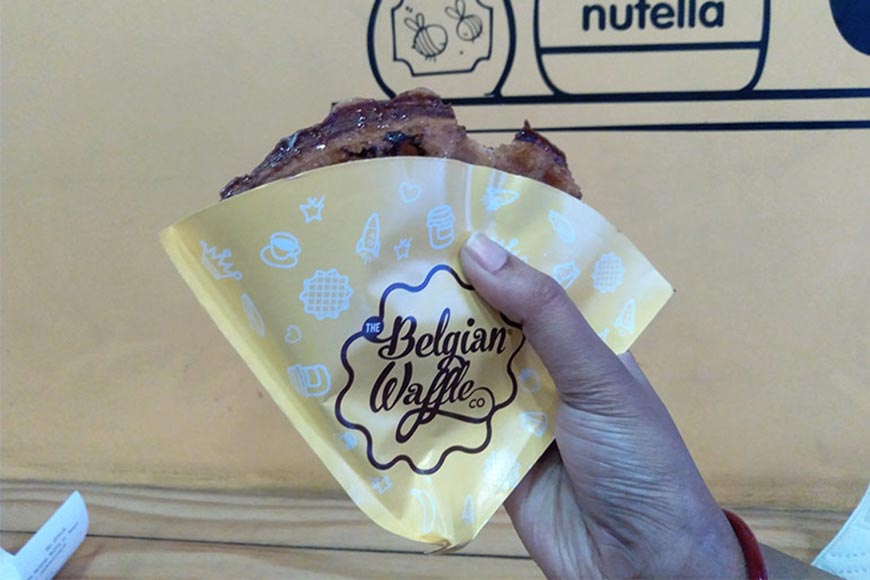 Our indigenous range of 'chops' has failed miserably to make its mark in the international market. While elbowing our way to the counter of renowned roadside stalls like Kalika and Laxminarayan Sau and then devouring our favorite 'aloo chop or Kashmiri chop,' we dream of a day when these delicacies will make their presence felt in the international food markets and grab a substantial portion of the profits made by international food brands like McDonald's, Subway and KFC. But alas! Despite trying really hard, I fall short of imagining customers entering a swanky food joint to order chickpea flour wrapped 'aloo' (potato), brinjal, cauliflower or 'mocha' (Banana Blossom/Spadex) chops. Instead, I have witnessed how steadfastly items like pasta, pizza, sandwiches have taken over the snacks market. Similarly, I have also noticed how 'waffle,' an alien dish for most Bengalis, started its business from the scratch and is now fast making inroads into hitherto uncharted territory. The posh shops at various localities have been attracting epicureans who are making a beeline for the 'exotic' waffle experience.
Waffle has been wooing Bengali connoisseurs of good food for quite sometime before its perseverance paid rich dividends. The product has triumphantly won over Bengali foodies' hearts. The company's branding and marketing strategies are perfect study material for any B-school where the emergence and growth of colonial trading are taught.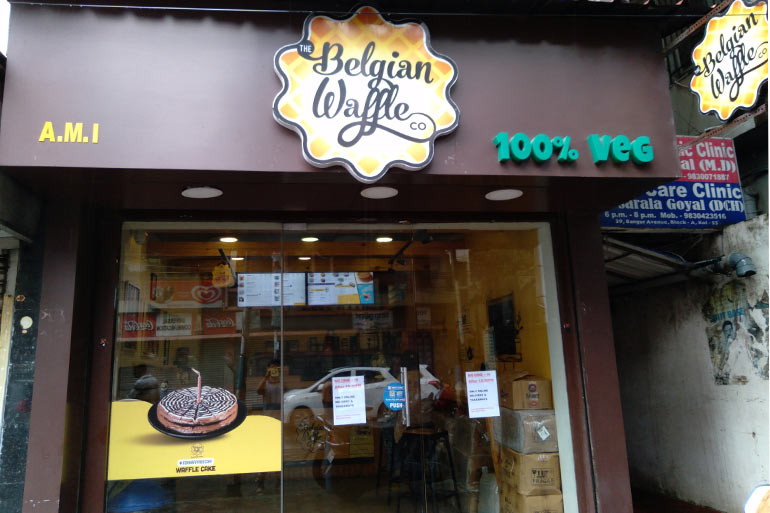 Traditionally, a thick waffle batter is made of flour, milk, sugar, fat, like oil or melted butter, and a raising agent. Pre-mix powder with all the ingredients is also readily available in the market. The making process of waffles is super-easy. After preheating the waffle iron, it is sprayed with non-stick cooking spray and then the mix is poured onto the hot waffle iron. The batter solidifies and is cooked till it turns golden brown and is served hot. Waffles are branded and sold at a much-inflated rate in the market. Waffles are topped off in different flavors and these include common items like honey, chocolate, ice cream, cocoa, nutella, coffee, etc and some are exotic ones like whipped cream and chocolate syrup, peaches and honey, blueberries and yogurt, lemon curd, peanut butter, and jelly, etc and they are priced according to the flavors.
Although waffles are eaten all over the world, Belgium is the paradise of waffles. Belgian waffles are lighter and deeper grooved than American waffles, insist waffle fans. Meanwhile, Kolkatans drool over Brussels waffles. With their innate creativity, Indian entrepreneurs have given a local twist to the waffle as well!. Eateries like Waffle Junction and Belgian Waffle have already established their brands in Kolkata and other cities and towns in the state. With the help of online apps, customers are ordering their favorite waffles from the safety of their homes, and delivery boys are whizzing past from one end of the city to the other delivering the goodies.
Recently I visited the Belgian Waffle Company outlet at Bangur Avenue to try out the exotic taste of the majestic waffle. Belgian Waffle Co. has picked up business in India and is doing very well here. The company is very popular as quick service and delivery restaurant.

A non-Bengali restaurateur launched an exclusive outlet at Bangur Avenue to dish out this exotic imported cuisine to Kolkatans. The store is manned by a smart young enterprising girl from Habra. During the course of our conversation, I learned that she underwent all-around training in waffle-making techniques and now has graduated as a skilled waffle maker. Being new to the world of waffles, I stared at the menu card reading the unfamiliar names printed on the menu. The only thing I could comprehend was the price column. I could understand ingredients like Honey Butter, Maple Butter, Strawberry or Blueberry Cream Cheese, Chocolate etc. but Black Velvet or Red Velvet were totally alien to me. I looked around and found more names starting from the walls and mocking my ignorance. Names like Kazunat Butter, Pink Almond Crunch, Butterscotch Crunch, Classic Belgium, Kitkat et al.
The Bengali salesperson from Habra sensed my helpless state and offered help. She casually suggested, "Most customers are fond of Belgian chocolate which is imported from Belgium. You can also try the honey butter combination, or may be something else?" The prices were quite steep and there was no item below Rs 100. Honey butter seemed comparatively affordable so I promptly ordered it. As my waffle was being made I looked around and bright, daintily decked photographs of waffles met my eyes. This was an epicurean's heaven. "Who are your frequent customers here?" I asked the girl and she promptly replied, "Marwari youngsters form the core customer base in our outlets. Sometimes Bengali customers also troop in. But that's very rare."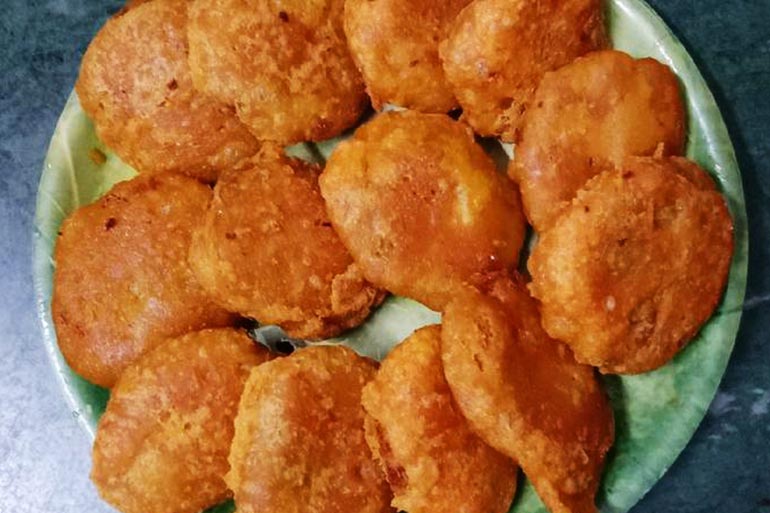 There was a substantial pile of small boxes stacked at the counter. I asked the girl and she said these boxes were chocolate containers that were imported from abroad. This was no ordinary run-of-the-mill restaurant but had an international ambiance about it. As I sat waiting for my order, I watched intently the entire waffle-making process with awe. I was once more hopeful about the future of our 'chop industry' going global. The first requirement for an international 'chop chain,' would be to set up swanky, state-of-the-art eateries. The next vital issue would be to think up of ways to hike the price of 'aloo chop' to attract really affluent, upper-crust customers. But how would one hike the rate of something as innocuous as deep-fried potato chops? Well, for one, the Rs 5 worth chop could be wrapped aesthetically in fine tissue paper, packed in proper zip-locked aluminum foil packs, and then offered at a princely price of Rs 99 only online? A small bait could be introduced to attract impressionable customers. Those placing orders for the first time could be offered a flat discount of Rs 50 for online payment via apps like Paytm or Amazon.
My reverie was interrupted as I watched the shopkeeper/chef pouring the batter in a square mold. I was thrilled to observe the making process, but my enthusiasm was met with a dignified silence and aloofness. Well, that's how the corporate world functions, I deduced.
By that time, the waffle, which was the size of a loaf of bread, was folded in four parts of an envelope. Finally, Honey Butter waffle appeared in front of me, nicely tucked in a paper envelope with the Belgian waffle logo and picture. I was immensely impressed and impulsively took my smartphone and started clicking selfies with my prized waffle at random. I do not know if I shall ever get another opportunity like this in my life to devour an international delicacy again! For now, there is no difficulty in giving on social media. Now it's time to officially face the truth. My ancestors never had the fortune to try out something as exotic as waffle in their lives and I am the first person in my family to such international food. As such, I am the first in the family to give it a go. I took my first bite.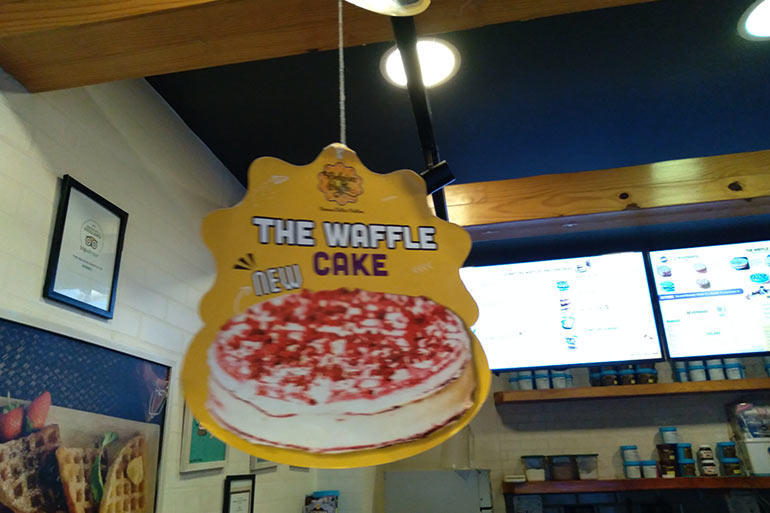 I have often seen in advertisement films how the protagonist -- usually a pretty model or a macho man – looks ecstatic when the model's palate fills with goodies as soon as he/she bites into the upper crust of ice cream or some other dessert. I had a somewhat similar feeling as soon as I sank my teeth into the waffle. There is no Bengali dish that I can compare with the deliciously sweet hot waffle with a soft crunch. I wondered what if the quintessential ice cream served as dessert at the end of a hearty Bengali wedding meal could be replaced with the waffle just as 'Lal doi' was elbowed out by ice cream? It would be sweet revenge for Bengalis! Waffle is a dish for the connoisseur. It should not be eaten in a hurry. Every bite offers a unique texture and taste that cannot be expressed in words.
I sat there and like a clairvoyant, with each bite, I could visualize waffle's future in Kolkata. I saw waffle's colonial supremacy will not be restricted to the elite neighborhoods of Salt Lake, Laketown, and Park Street but will take over malls, restaurants, clubs, or pubs and even reach out to cater to local neighborhoods. But all this will be possible only if the steep price range is slashed and made available for all and sundry. Waffle sandwiches and waffle cakes will revolutionize the food sector in Bengal and perhaps a new waffle food culture will develop that will give pasta and pizza a run for their money.