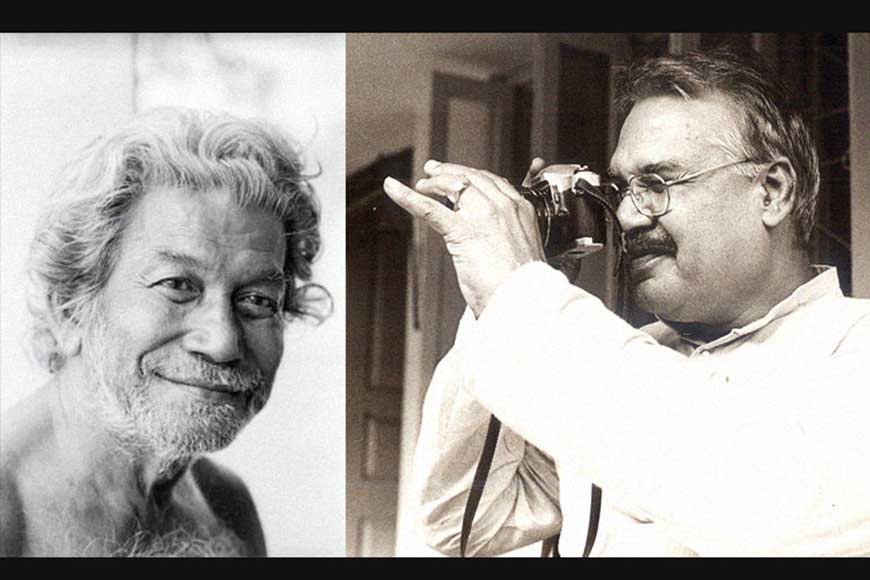 One late evening, Mohan Singh was sitting near the canal in Santiniketan with Tuku. Suddenly he saw two men walk towards them. In the darkness in the beginning he could not make out who they were. But as they came forward, Mohan Singh realised, one of them was Ramkinkar Baij and the other was none other than Ritwik Ghatak. Ramkinkar pointed to Mohan and told Ghatak, "This boy sings very well! I often visit Sangeet Bhavan to hear him sing. Ghatak smiled at this. His smile somehow blended with the full moon night and only one song kept ringing at that hour: Aaj Jyotsna Raat e Shobai Gechhe Bone (Today on a full moon night everyone has gone to the forest)
Ram kinkar Baij loved Mohan a lot. Every time he planted a new tree, he would call Mohan from his hostel to sing a bhajan of Guru Nanak
In his middle age, Ramkinkar Baij was a part of the Non-Cooperation movement of the Freedom Struggle against the British and painted portraits of freedom fighters who participated in that After his school leaving matriculation examination, Ramkinkar was introduced to prominent journalist and editor of 'Prabashi' newspaper Ramananda Chattopadhyay. Four years later, Ramkinkar joined Visva Bharati as a student of Charu kala section. His teacher was none other than Nandalal Bose and stalwarts like Ramendranath Chakraborty and Benodbihari Mukherji were his classmates.
He earned a diploma in from Charu kala and was appointed as divisional head of the department of sculpture of Visva Bharati. He retired in 1971. Ramkinkar's relationship with Mohan Singh was unique. When Mohan sang, Ramkinkar would stand mesmerised and listen to his renditions. Every Poila Baishakh and Durga Puja, he sent hand drawn cards to Mohan.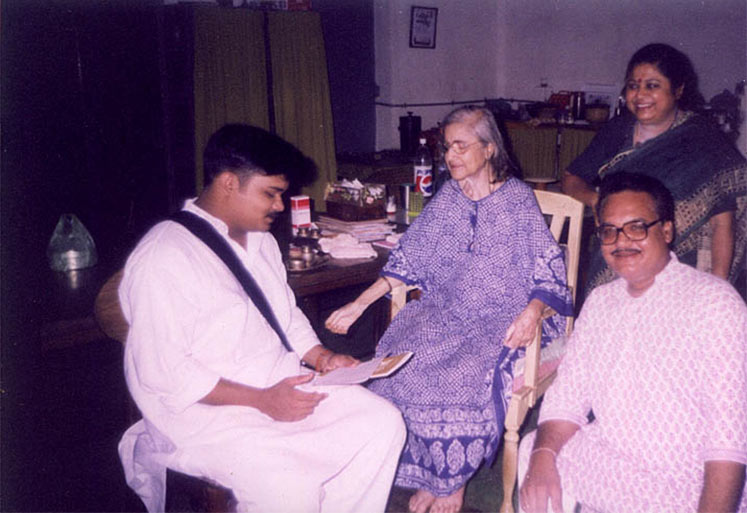 Vikram, Kanika Bandyopadhyay, Mohan Singh Khangura and his wife
Not just a sculptor, Ramkinkar was interested in drama too and often directed many plays in English-medium schools, let alone Patha Bhavan and Visva Bharati. One such was play was Two Palaces or Dui Mahal, which was directed by Ram Kinkar and the background score was written by Mohan Singh. He even played the role of Bishu Pagol in Tagore's famous drama story Rakta Karabi or Red Oleander. Many are not aware that Baij was a dramatist too. However, Mohan Singh was witness to this rare talent of Ramkinkar.
Transcribed from an original interview of Mohan Singh Khangura taken by Arpita Chatterjee
Story Tag:
Mohan Singh Khangura, Ramkinkar Baij