Ever since an announcement made public by the Nobel website (nobelprize.org) brought to the fore that Tarashankar Bandopadhyay, arguably one of the most influential novelists of Bengali literature was nominated for the Nobel Prize in literature in 1971, a pall of gloom has descended on the literary circles of Bengal. Academicians are lamenting that had he won the prestigious honour, Bandopadhyay would have been the second Indian and Bengali author to have been a Nobel laureate. That year, the Nobel Prize for literature was awarded to the Chilean poet, diplomat and Communist leader, Pablo Neruda. This information came out in the public domain only recently, after the Nobel committee released the list of all 137 nominations of 1971 after a 50-year embargo on making the knowledge public.
According to the Nobel website (nobelprize.org), Tarashankar had been nominated from India by author Krishna Kripalani, who was then the secretary of Sahitya Akademi. 'The statutes of the Nobel Foundation restrict disclosure of information about the nominations, whether publicly or privately, for 50 years. The restriction concerns the nominees and nominators, as well as investigations and opinions related to the award of a prize,' mentions the website. However, the author died on September 14, 1971, according to the rules, the Nobel Prize is not awarded posthumously, Tarashankar's name was no longer considered. In 1971, 91 writers were nominated for the coveted prize and it included renowned authors such as Gunter Grass, Arthur Miller, James Baldwin, William Golding, Graham Greene, Arthur Koestler, Vladimir Nabokov, Ezra Pound, Philip A. Larkin, Eugène Ionesco, Tennessee Williams and many more. The Nobel Prize in Literature ultimately went to Pablo Neruda.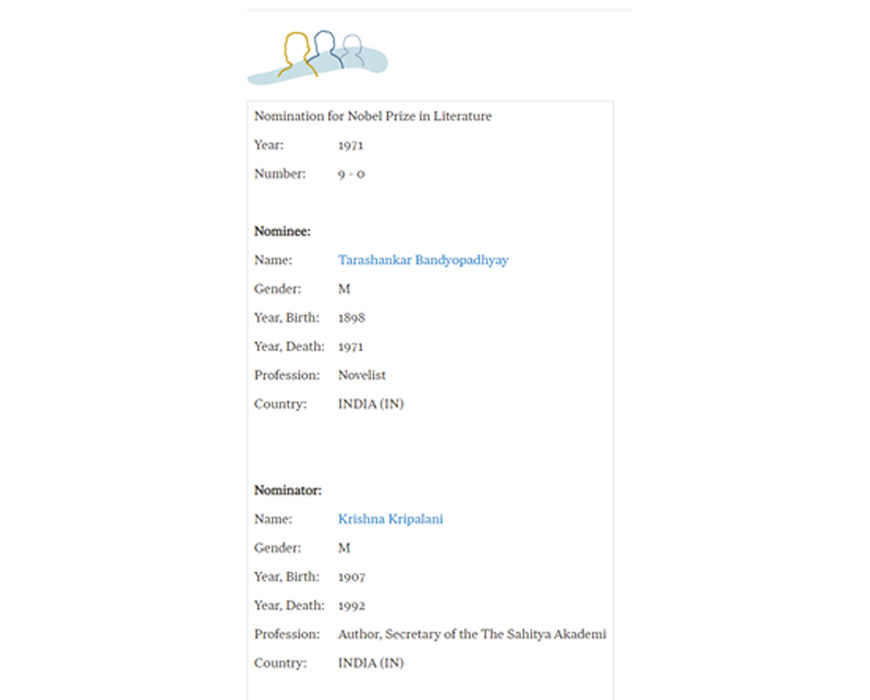 Tarashankar Bandyopadhyay along with Manik Bandyopadhyay and Bibhutibhushan Bandyopadhyay are the three doyens of Bengali literature, also known as Bandyopadhyay trio. They are considered three milestones in the history of the post-Tagore Bengali novel with the singular exception of Sarat Chandra Chattopadhyay. But the three authors are pointedly different from one another. Manik Bandyopadhyay's writings explore the dark alleyways of the human mind; Bibhutibhushan captured the magic of the rural landscape like no one else had done before him, or since. In a sense, he was a kindred spirit of the Romantic poets of England in the 18th century, whose verses rang out with a call to return to nature—in literature, in the fine arts, in life—rejecting the trappings of mindless industrialization and capitalist greed; Tarashankar's success lies primarily in his selection of subjects. His asset was the knowledge of his subject at first hand. He narrates the saga of the rise, fall, continuation and resurrection of a people like a historiographer.
Born into a zamindar (feudal lord) family from Labhpur in Birbhum district on July 23, 1888, he wrote about the rural milieu -- the people, their cultures and myriad rituals – he had observed from close quarters. His works are labeled as "regional novels" since most of his plots are centered around the district of Birbhum. But his narratives, though regional in nature, compellingly capture the conflicts between local social dynamics and global capitalist cultures, resulting in an aesthetic that is ecologically sensitive and stylistically complex. His complex narrative structure etches and brings to the fore a social realist narrative of "tradition versus modernity."

Inherently humanitarian, Bandyopadhyay ventures into the heterogeneity of human life and unravels it through the people he personally came across. His characters are not limited to local features; they rather represent almost all social strata, from rich landlords to famished vagabonds, as if microscopically thrust in his Birbhum. His works provide an insight into the universality of human condition in relation to cyclical movement of history, political revolution, dissolution of a subaltern population, clash between tradition and modernity, and the exploitation as well as decline of Zamindari system.
Tarashankar received all major Indian literary awards during his lifetime including Rabindra Puraskar and Sahitya Akademi Award. He was the first to get the prestigious Jnanpith Award for Bengali literature in 1966. He was also the recipient of the Padma Shri and Padma Bhushan awards. Tarashankar never aspired for global recognition and was happy to be recognized by his readers in Bengal. In fact, people of Labhpur still hold him in high esteem, and there lies his success as an author - for being loved and respected even five decades since he passed away.
A number of academics feel that translating Tarashankar's works is a challenging task. He used typical dialects which imbued his text with local flavour, but which was extremely difficult to express in other languages. This was a major obstacle for translating his works so that they could reach a wider pan-Indian readership. He wrote 65 novels, 12 plays and 53 stories. If Tarashankar had won the Nobel Prize in 1971, the country's second Nobel in the field of literature would have also come in the hands of an eminent author from Bengal.