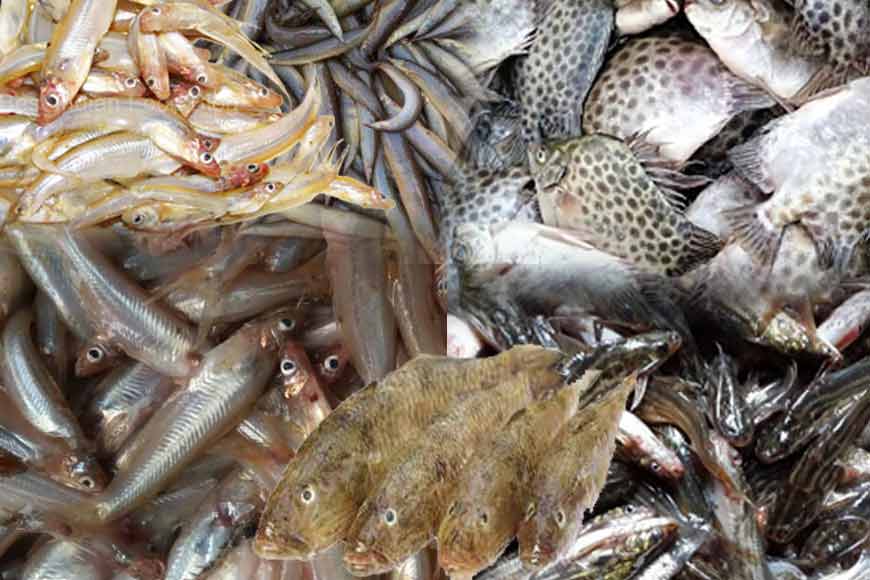 CCyclone Yaas which originated in the Bay of Bengal in the middle of May this year left behind a trail of destruction and devastation in West Bengal. It also flooded East Midnapore's coastal areas. Several villages were inundated due to breach of embankments and pisci-culturists were severely hit by the flooding, losing crores of money they had invested in fish farming. Fish farming involves breeding fish in tanks and artificial enclosures like ponds but during Yaas, the water bodies overflowed and the produce was washed away. However, as the saying goes, there's always a silver lining behind clouds, likewise, the flooding revived the growth of a large number of lost or nearly extinct native species of fish which have a great demand in the market. The affected pisciculturists are finally breathing a sigh of relief.
How was this possible? After Yaas, river water that had infiltrated into various wetlands, remained static for months and this helped the breeding of native varieties of fish that thrived and increased manifold within a short time. Researchers believe that the produce is already flooding the local markets. Vijayakali Mohapatra, Chief Fisheries Scientist at the Central Government's Central Institute of Fisheries Education, has been studying the trend and he said his investigation led to discover a large variety of lost and rare species of local fish from a wide area stretching from the Sundarbans to Meendweep in East Midnapore district.

According to scientists, there is an abundance of 'Sona Tyangra, Meetha Tyangra, Khoyra, Bele, Paira Chanda, Muktogachha, Bok Maachh and Pankal Maach flooding the market. All these fish need stagnant water for breeding. Due to an increase in the area of stagnant water, proliferation of these varieties has increased almost 10 times. The Sundarbans creeks are now supporting great bounties of fish and marine life. A survey was conducted in Pratapdighi and its vicinity in East Midnapore. And the results are very encouraging, insist scientists involved in the project.
A large variety of fish species from other parts of Bengal have migrated during the floods and taken shelter in stagnant water in the ponds and reservoirs. There are several thousand fisheries in Meendweep under Haldia subdivision. Nayachar was swept away by the cyclone and all the fish in the pond which were being bred commercially got washed away. But now as the water recedes, the farmers are discovering their ponds are full of Chital, molasses Chakli, Bekti and lobsters – species that they did not cultivate at all! Pisciculturists of different fish cooperatives of Meendweep now claim there is a profusion of large Chital and Tangra in the ponds of the island and these have come from the river. Fishermen inform the southern shore of the island is disintegrating and there is a plethora of sea crabs found along this shore.