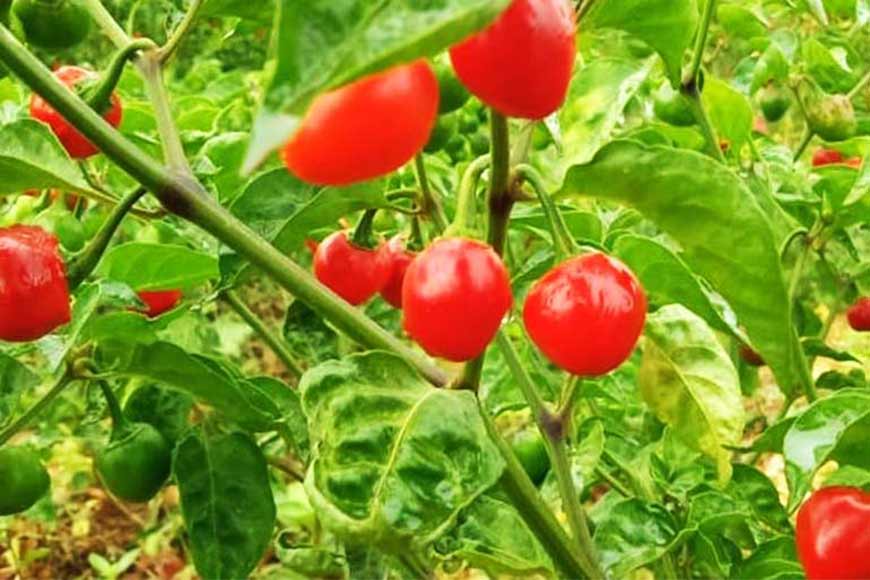 There are times when the very sight of food puts you off and everything looks dull and bland and you really can't figure out what exactly you want to have, then perhaps you could try out a unique food. But you need to brace yourself and prepare for the consequences. Yes. Now take the first mouthful of boiled rice mixed with boiled lentil (dal), then hold your breath and take a bite of Dalle Khursani or red cherry pepper. The initial shock might numb your senses for a while and then you start enjoying the taste of this really hot chilli. In fact, Dalle Khursani is not for the faint-hearted as it is one of the hottest chilies in the world. Usually grown in Sikkim and regions of Darjeeling and Kalimpong in North Bengal, Dalle Khursani belongs to the capsicum family and is known to be amongst the most extreme in terms of heat. The Scoville Heat Unit (SHU) scale, a rating system for the chilli quotient of various spices, gives this chilli pepper an impressive score between 100,000 to 350 000 SHU, which is similar to what the habanero chilies of South America score on SHU.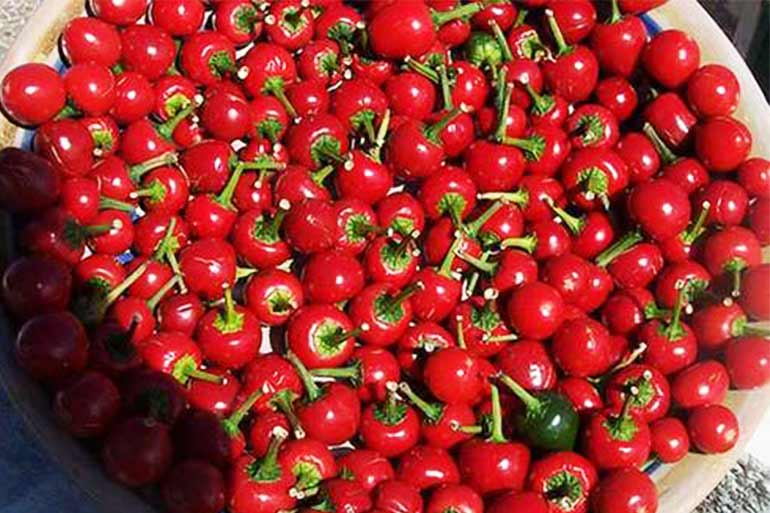 On September 14, 2021, West Bengal jointly shared the prestigious GI tag for Dalle Khursani with neighbouring Sikkim. Locals of Darjeeling and Kalimpong simply call it Dalle. The word 'dalle' means hot. Although the Naga Morich pepper's (cultivated in Nagaland) heat level ranges from 1 million to 1.5 million SHU on the Scoville Scale, making it one of the hottest peppers in the world, Dalle is highly rated by gastronomes with a penchant for hot, spicy food. Many in the region swear by the distinct flavour of the chilli. Once you get accustomed to the sweet-tingly flavour of the chilli, you will have the urge to use it in almost every dish. Dalle is a favourite side-dish consumed with the usual 'daal-bhaat' and commonly used for chutneys and sauces along with momos. It is regularly consumed in winters as it keeps the body warm. Dalle is widely used chilli in the entire North-Eastern regions of India due to its addictive taste. It is also eaten with simple boiled rice mixed with salt to neutralise the intense heat of the chilli.

Locals use it for making Chilli Chicken, Dalley pickle, Dale chutney etc. Another typical recipe of the region is the fermented Dalle along with yak-buttermilk (also known as soft Churpi). Fermented dalle pickle is a hot favourite with tourists visiting the North-East. This wild chilli has caught the fancy of foodies and its demand is growing. Farmers keep getting orders from not only different parts of the country but also abroad. So, the government is now promoting the cultivation of Dalle Khursani for export.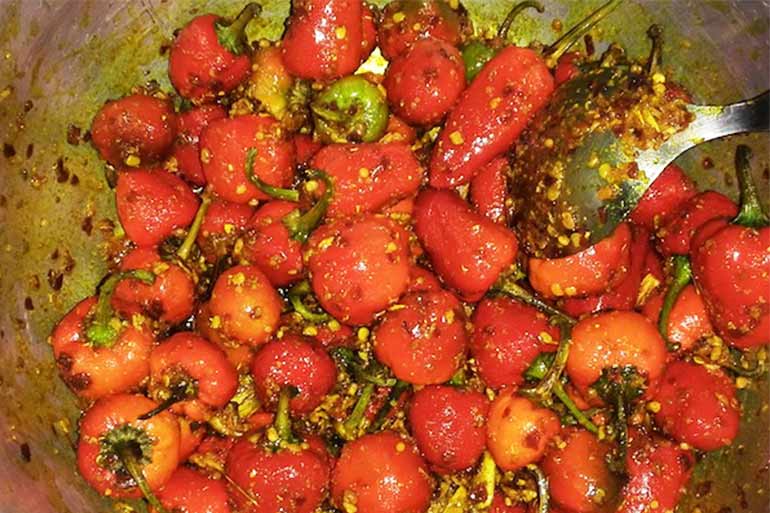 As unique as its taste, Dalle Khursani is a premium product that sells at a very high rate compared to other varieties of chilies and vegetables. Both in Darjeeling and Kalimpong town market, dalle is sold at Rs. 300-500 per kilogram. Apart from its flavour, the product is also high in Vitamin A, E and potassium, and low in sodium. One hundred grams of fresh dalle khursani has 240 mg of vitamin C (five times higher than an orange), 11,000 IU of vitamin A, and 0.7 mg of vitamin E. It is believed to cure all ailments related to digestion and annihilates harmful bacteria from the stomach. Dalle khursani has etched a permanent place in the people's homes who believe it is a good omen to store the chilli at home.
So, the next time you are planning for some firework in your mouth, then try Dalle Khursani a lesser-known variety than the familiar bhut jolokia (which literally means Bhutan pepper in Assamese). With its unique taste, you are bound to get addicted to this cute little crimson ball of fire.