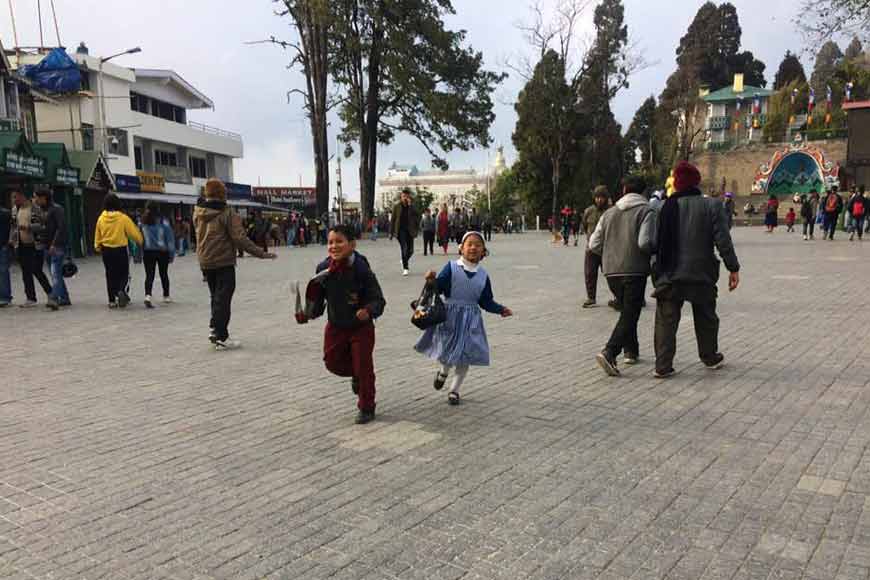 It is tempting to begin this piece with a detailed description of the beauty of Darjeeling, but we suspect that would merely be repeating the obvious. No matter how many times you have visited the 'Queen of the Hills', its spectacular natural charm refuses to fade. And Darjeeling's colonial heritage simply adds to its glamour.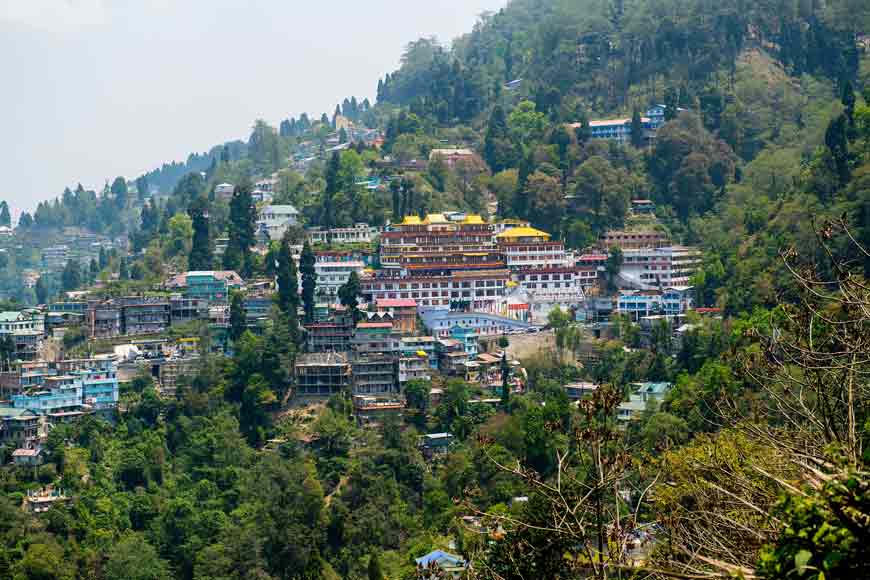 Darjeeling Town
Thanks to a half-day (or full-day, depending on your stamina) Heritage Walk, you can now experience Darjeeling's famous charm from an entirely different perspective, complete with fascinating history trivia from your guide. Who knew, for instance, that Gandhi Road, which is one of the main roads of Darjeeling town, was once known as Tanga Road? This was because the road was once only open to 'tangas' or local horse-drawn carriages. Not even many locals know this today, and I know only because I took the heritage walk with an old-time friend, who is a great guide too.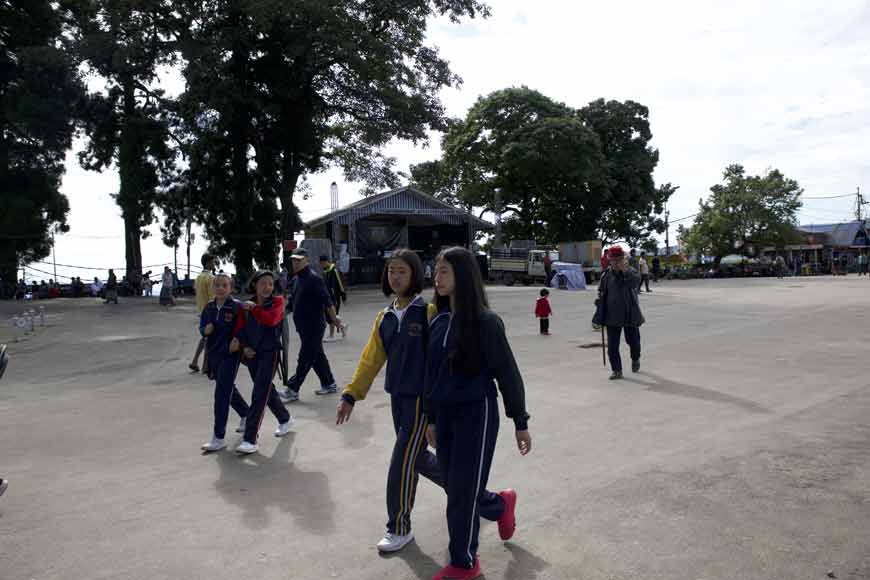 Mall
On the half-day walk, some of the attractions you will come across are:
Planter's Club, established in 1868 for British tea planters and their wives to enjoy the evenings. Many business tycoons and famous personalities have visited the club and stayed in the colonial rooms. The club was also the starting point of the ill-fated Mt. Everest expedition of 1924 led by Irvine and Mallory, who never returned.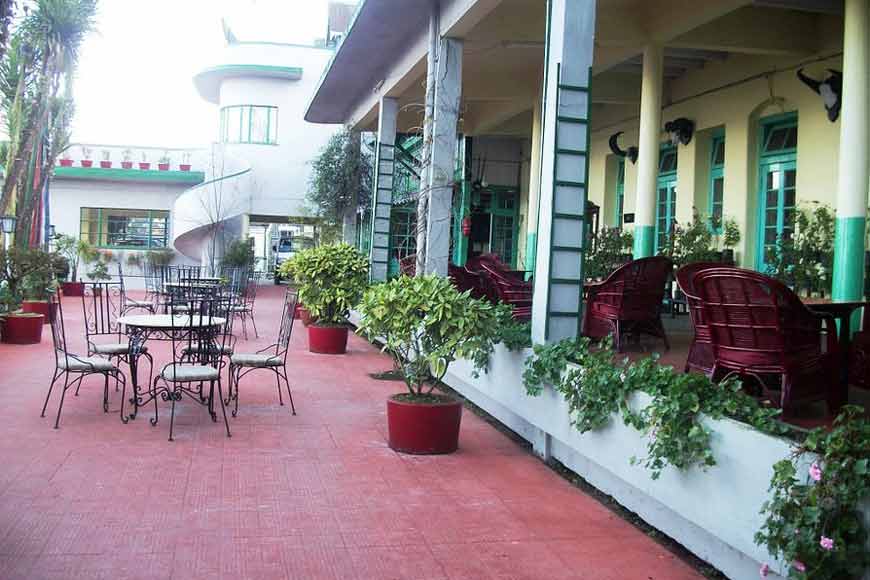 Planters Club
Several well known landmarks along the Laden-La Road. These include the Darjeeling Municipality Building, where the famous clock tower forms the front part. The huge clock plays a lovely musical tone followed by the dingdong of the bell every hour. You will also walk by the Darjeeling Head Post Office, State Bank of India building etc.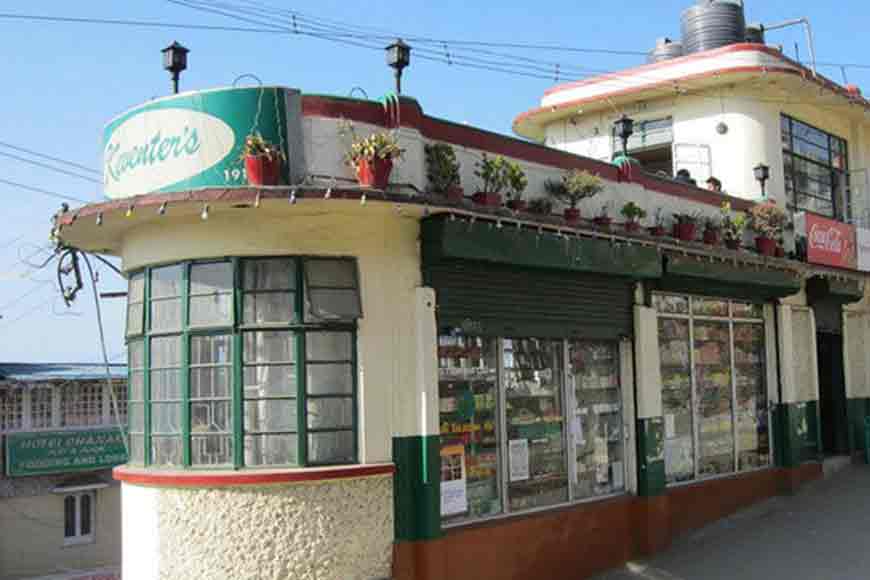 Keventer's
You will see two of the century-old restaurants on Nehru Road, both of which came up during the British era. Keventer's restaurant is all that remains of Edward Keventer's dairy farm in Ghoom. The farm was once famous for dairy and piggery products. However, Keventer's restaurant is still beloved for its hearty breakfast with bacon, sausages and meatloaf. The other restaurant is Glenary's, which was founded by an Austrian named Pliva. Its famous bakery and tea room are on the ground floor, with a multi-cuisine restaurant on the upper floor. It has recently expanded with a bar and discotheque called 'The Buzz' in the basement.
Glenary's
You will also pass by Das Studio, one of the oldest studios in Darjeeling, and reach the Mall area. Here, you will be shown some very old shops, including Habeeb Mullick & Sons, which is famous for many different curios and special jewellery.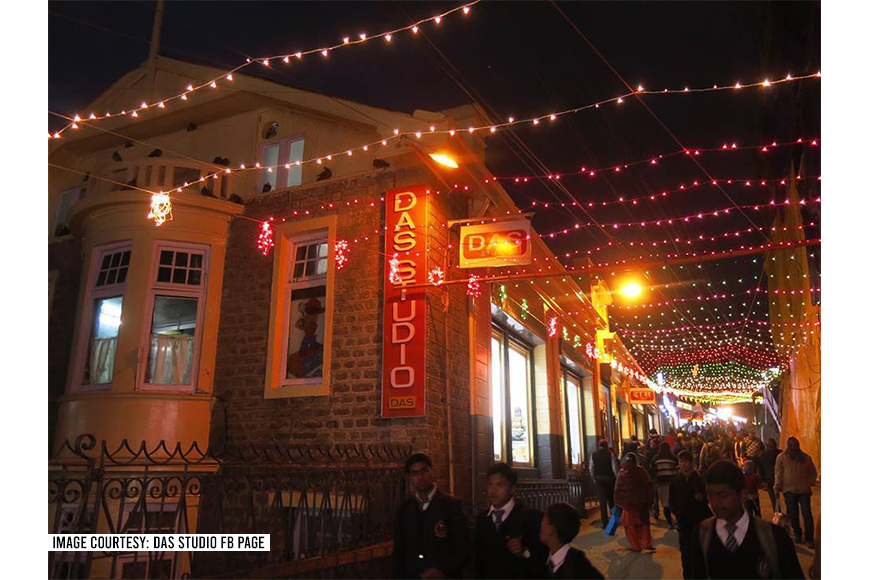 Das Studio
You will then walk up to the Observatory Hill and Mahakal Temple. This area on the hill top provides a sweeping view of snow-covered mountain peaks and the valleys. Here stands the region's oldest Hindu temple to Lord Shiva, which is said to have self-manifested in the 1700s. There used to be a monastery here as well, which was destroyed and later shifted to the Bhutia Busti below.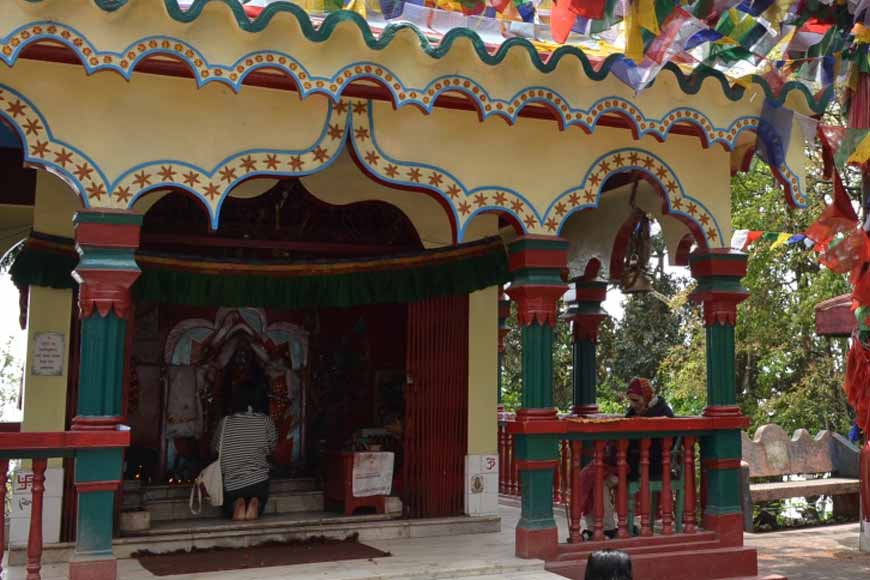 Mahakal Temple
Along Mall Road, you will walk past St. Andrew's Church, an old Anglican church originally built in 1843. Another attraction on this stretch of the road is Darjeeling Gymkhana Club, which was established in 1909, and remains in fine health well over a century later. It has an excellent library and many sporting facilities. There are en-suite rooms for holiday makers to rent. You will also walk by the sprawling compound of Governor's House, the summer residence of the Governor of West Bengal.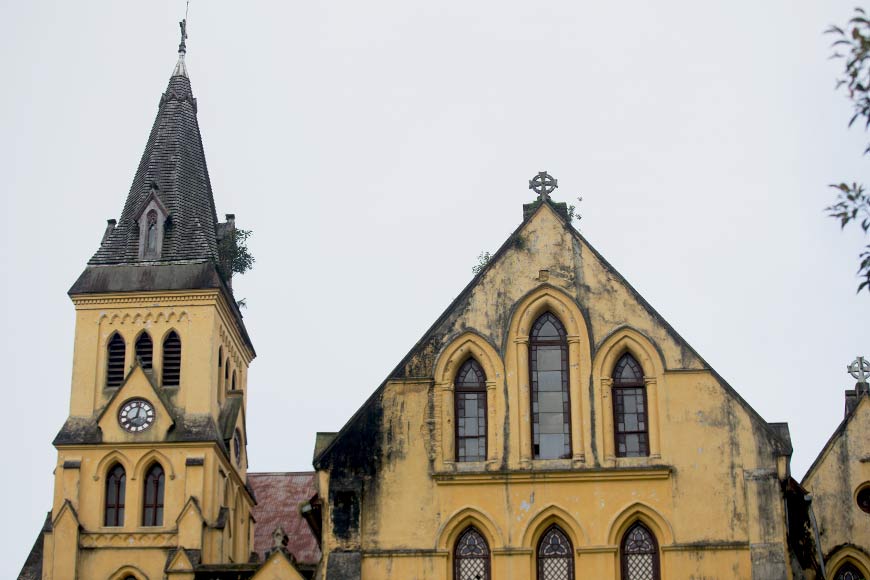 St Andrew's Church
As you walk downhill toward the lower bazaar area, you will pass the Jama Masjid, originally built in 1850 and rebuilt in 1910. You will then visit the Old Supermarket (a new supermarket has been built close by). You will also walk past Judge Bazaar, Darjeeling Railway Station (the last toy train station on the Darjeeling Himalayan Railway track) and St. Columbus Church.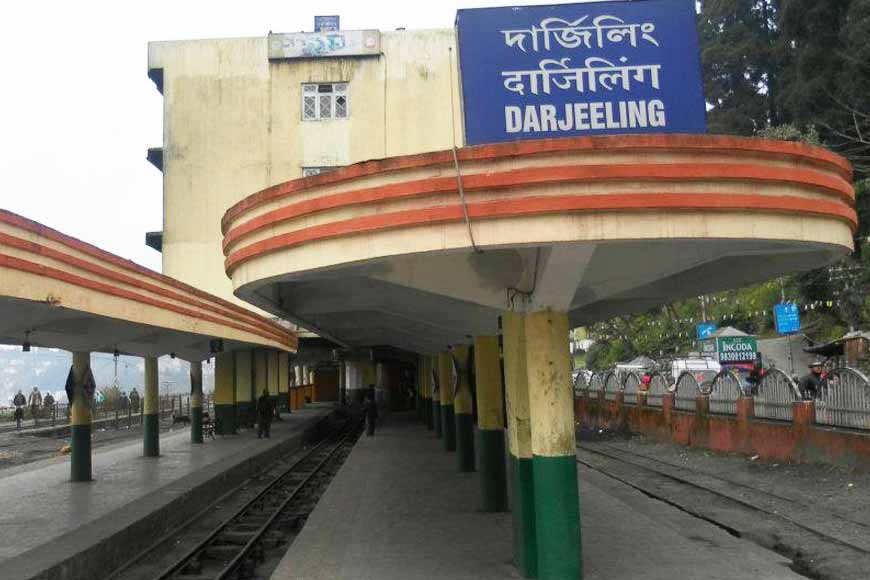 Darjeeling Railway Station
Full-Day Heritage Walk
The full-day walking tour covers all the points of the half-day walk, plus the following additional locations:

The SP's Bungalow, an old heritage property with a sweeping view, is used by the Superintendent of Police, Darjeeling. It's located on a narrow steep road that goes up from Zakir Hussain Road.
Hooker Road, named after Sir Joseph Dalton Hooker, an eminent British botanist, biographer and traveler. He stayed in this part of Darjeeling (close to Lebong Road). Based on his study, he wrote the world famous book 'Flora of British India'.
Himalayan Mountaineering Institute (HMI) and Darjeeling Zoo
Himalayan Mountaineering Institute (HMI) and Darjeeling Zoo, both located in the same complex. HMI was established in honour of Tenzing Norgay after his successful ascent of Everest, and is now a pioneering institute giving lessons on mountaineering and rock climbing to students who come from all over the world. The zoo is famous for its collection of rare high-altitude animals of the Himalayas.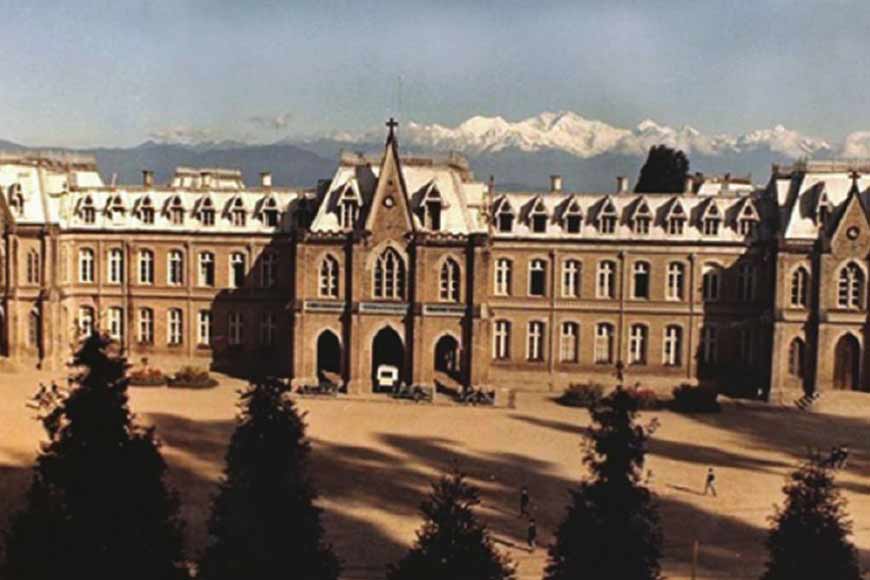 North Point School
North Point School, located on Lebong Cart Road, whose foundation stone was laid way back in 1890.
The Old Cemetery on Lebong Road, the final resting place of many old British settlers, including the one who is known as the 'discoverer' of Darjeeling, Lt. Gen. George W. Aylmer Lloyd.