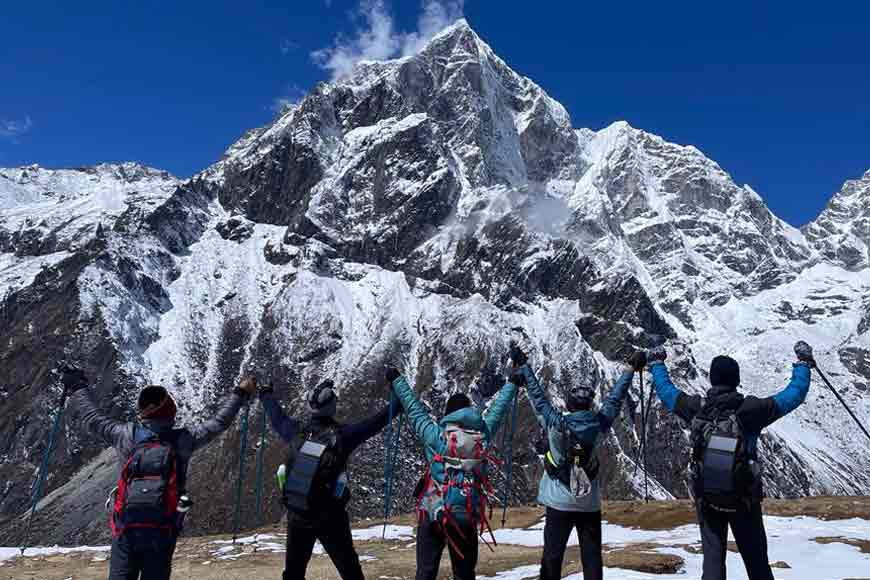 The thrilling moment after the successful completion of their mission
Mount Everest - a place of wonder, mystery and legend. The majestic peak has remained an icon of beauty, a symbol of magnificence and an expression for the relentless zeal of the human spirit. However, beyond the sheer magnitude of this thrill, Mount Everest Base Camp is also a unique and one-of-its-kind experience that beckons adventurers from across the globe. There are two base camps on Mount Everest, on opposite sides of the mountains: the South Base Camp is in Nepal at an altitude of 5,364 meters (17,598 ft), while the North Base Camp is in China at 5,150 metres (16,900 ft). The Everest Base Camp (EBC) trek on the south side is one of the most popular trekking routes in the Himalayas.
Anik Mandal and his wife Nilima Das , Rakesh Bhowmik and his wife Kavita Bera along with Rakesh's Uncle Soumen Samanta at EBC
When it comes to the Everest Base Camp trek from the south, there are a number of route options but most people fly in and out of Lukla Airport and trek from there and back, the round trip taking between 11-15 days depending on the level of fitness at high altitude and weather. But recently, a group of five motorcyclists, Rakesh Bhowmik and his wife Kavita Bera Bhowmik, Anik Mandal and his wife Nilima Das Mondal and Rakesh's uncle, 52-year-old Soumen Samanta of Haur, Panshkura ventured out on a trip of a lifetime.
This group of five bikers from Tamluk in East Midnapore district set a record by long-distance biking through hazardous mountains to Nunthala village in Nepal, and then set on a 12-day trek to reach the base camp of Everest. Their endeavour paid off and the India Book of Records recognized them for covering the most remote roads by bike and then trekking to EBC.
Rakesh and Anik both hail from Tamluk and have been school fiends since childhood. They both share their passion for biking and adventure. After marriage, their spouses joined them enthusiastically and the four-member team was roaring to go on new adventures. They had their first taste of long-distance bike ride in 2021 when the four of them with another couple set out for Ladakh via Spiti. "It was a 38-day trip that gave us the incentive to plan our next trip and kept the ball rolling," gushed Nilima excitedly. A nutritionist by training, Nilima loves travelling and the thrill of long-distance bike rides makes her yearn for more, she confesses.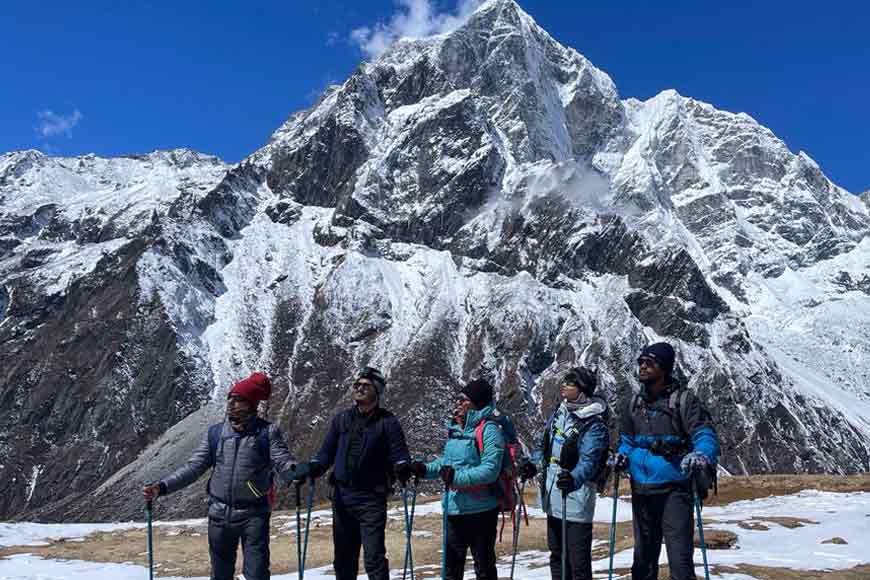 Five riders from Bengal set record on bikes to Everest Basecamp
"We started off on March 17. We spent the night at Raigunj and the next day, we crossed the Nepal border and rode to Itahari in Nepal. From here, we had no idea of the route we were to take. We knew about a road to Mirchiya but we did not know where that road would lead us. We sought help from locals. They tried their level best to share their limited knowledge about the entire route but everything was very sketchy and inadequate. We were like a group of kids playing blind man's buff. We were familiar with names of places like Taksindu but did not know about Nunthala village that lies on the way to EBC.
Next, we had to get the mandatory Bhansar permit for our bikes, issued by the Traffic department of Nepal at Border checkpost. Usually, the permit is granted for seven days, which can be extended for the next seven days before the expiry of the previous one from any other check post on the way. The rule is, in a calendar year, any Indian can get a bike permit for a period of 30 days in all in Nepal. Since we had planned to travel through uncharted and lesser-known routes through villages, the possibility of finding a Bhansar office in the interiors was slim. So, we requested the authorities to extend it for 25 days," related Nilima.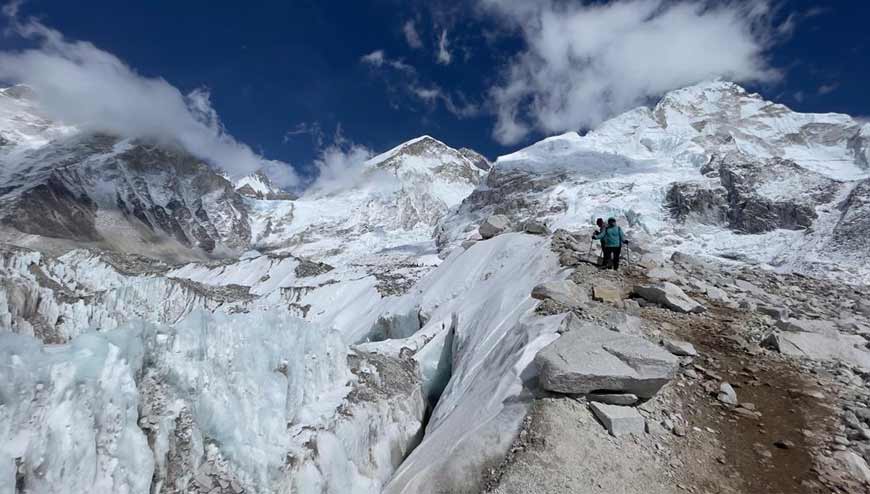 Mount Everest - The Highest mountain on Earth above sea level
At the Bhansar office at Itahari, the bikers met a local person who suggested them to cross Itahari, take a path that meanders through tiny villages, and ask the locals the way to Gaighat, an important town of Udyapura district. An off-route track from Gaighat would lead them to their destination. "We decided to start early the next day and spent the night at Itahari little realizing what awaited us. The next day we woke up to a pitch-dark sky with heavy rains pouring incessantly. This dampened our spirits. The road conditions in the village interiors of Nepal are treacherous to say the least, but we were determined to go ahead. Finally, around 8.30 am, we put on our raincoats and drove amid lashing rain for the next 217 kilometers to reach Kettuke, among which the first 50-60 kilometers were off road (unpaved rough path). The dirt roads were clammy and slippery. Both Kavita Di and I were riding pillion and had to get off the bikes at several places and trek and the men skidded off with their bikes and fell flat on the slippery path.

We had to proceed through that unfamiliar, long and deserted stretch till we could spot any human habitation before nightfall. The motel at Ketuke was decent and so was the food. In fact, that was the last proper meal we had before we proceeded to EBC. The next day we started at around 7 am. After crossing approximately 10 kilometers, the road gave way to lose boulders and rain-drenched clay. Suddenly a heavy hailstorm ensued and we moved on but after sometime, a thick sheet of solid ice formed on the road right in front of our eyes and we had to just stand and wait for it to get over. It was freezing and slippery but somehow we managed to ride till Taksindu.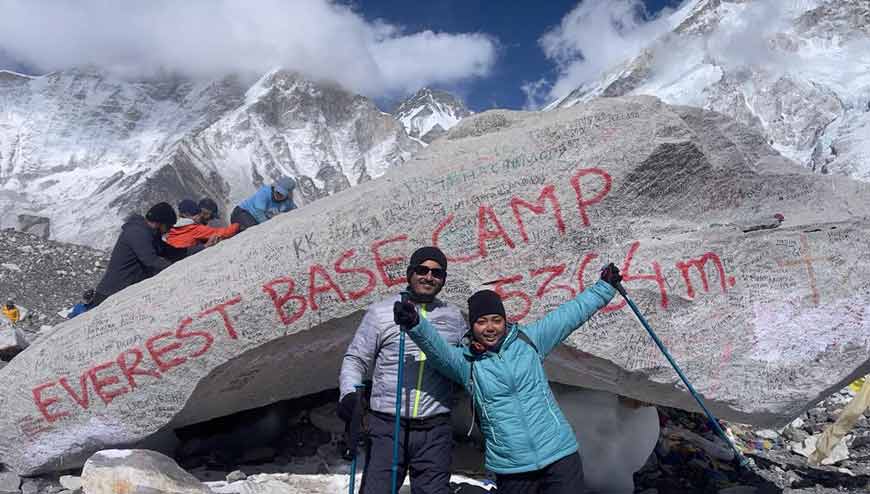 Anik Mandal and his wife Nilima Das at EBC
There we met several climbers all of whom were on their ways to various mountain summits. Locals at the hotel warned us that the road ahead was going to be worse and we would not be able to ride our bikes. We were now in a fix and wasted half a day to decide whether to leave behind our bikes and start our trek from Taksindu or move on until Nunthala village. The road was menacing and it took us five hours to cross nine kilometers with our bikes. We were smeared with mud from head to toe when we reached Nunthala (at an altitude 1823 meters /5980 ft) on March 21," recalled Nilima.
The bikers spent the next day preparing for their uphill ascend. They cleaned the motorcycles, packed their riding gears and outfits and took out their trekking outfits and shoes for the journey ahead. It is mandatory for all the visitors who want to enter the Sagarmatha National Park to hire a local porter-cum-guide and they did so. They started their trek on March 23 and as soon as they commenced their journey, it started pouring. The entire stretch was very rough. The group reached Kharikhola. Their next stop was Paiya where they stayed overnight. Rain never seemed to desert them. From Paiye they reached Surke around 4 pm and stayed overnight. From Surke they headed for Phakding. At last, the weather seemed to improve partially from Phakding and they trekked till Bengkar after lunch. Here they stayed overnight and the next day they left for Namche Bazar (3,440 meter).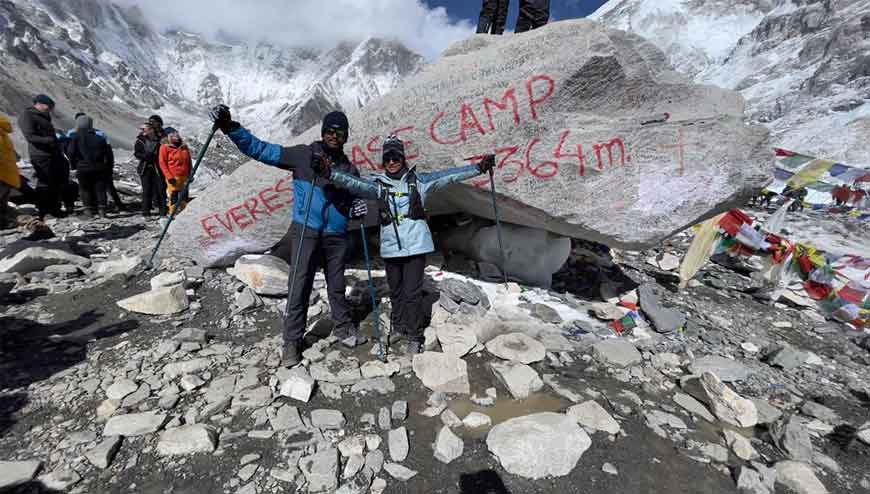 Rakesh Bhowmik along with his wife Kavita Bera
Namche sits high above a steep valley and overlooks the confluence of two rivers. For many, this is where the change in altitude can really be felt and so rest is paramount. At this point, it is essential for trekkers to give the body time to adjust to the higher altitude and so a daylong acclimatization and hiking to and from Everest View Hotel is mandatory for all hikers. From Namche Bazar, the route was well-maintained and the weather cooperated with the trekkers. The rest of the path was cakewalk for them through Tengboche, Dingboche, Lobuche, Gorakshep to reach EBC. They all felt exhilarated after completing their mission successfully.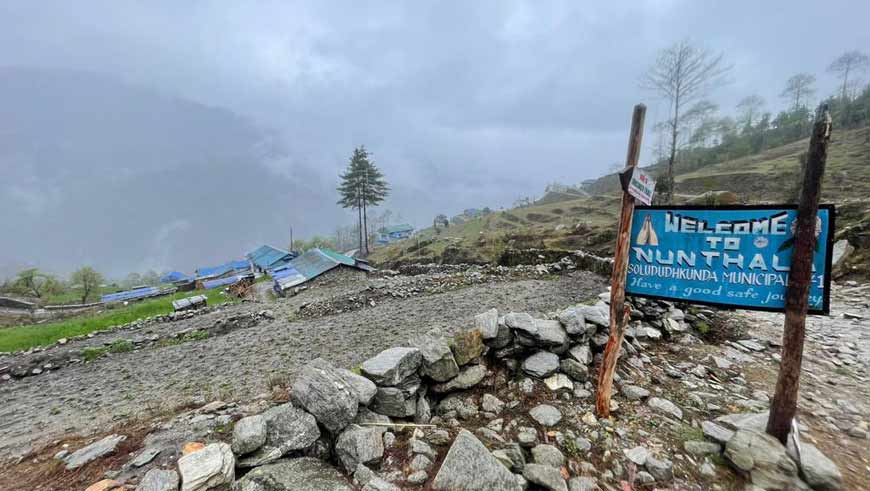 Nunthala, Everest region
The return journey was tough but not as eventful as the group had encountered when they scaled the mountainous route. When the bikers returned home, they were welcomed with open arms. Their friends dispatched details of their adventurous journey with photographs to India Book of Records and their claim was officially acknowledged by the organization. However, not the ones to sit on their laurels and bask in the glory, the quartet are once again gearing up to explore some new biking trail. Not one to give up details at this early stage, Nilima says, "The world will know our next biking trip when that happens," and with these words she signs off.