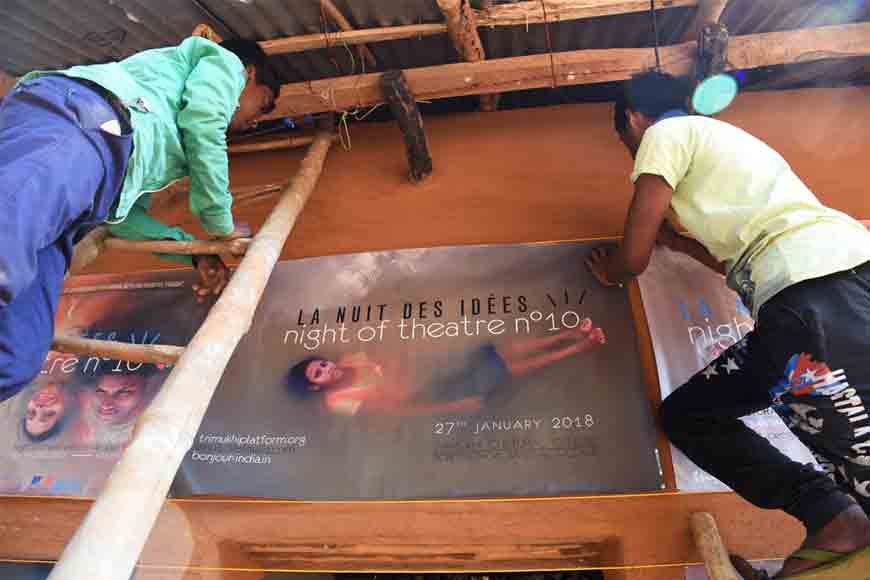 • How did you feel interacting with the tribal children of Jhargram

Interacting with the children of Jhagram was an amazing, intense and rich experience.

• Why did you in the first place choose this area of Bengal to work?

I have heard about Trimukhi Platform organization and the work they do in Jhargram. In January 2017, Iwas at the Night of Theatre, that they organize in Jhargram each year. I was impressed by their performance and the amount of dedication and passion that went into the project. I then spoke to Jean-Frédéric Chevallier, the stage director and his wife Sukla Bar Chevallier. They have been working in Jhargram, for almost a decade now. They encouraged me to come over to Jhargram, stay there and work hands on among the children.

• As a famous photographer from France, how did you connect with the children?

Well, it was through photography. I came in October to Jhargram to conduct a photo-workshop with the children.The photographs the children took, were exhibited during the last night of Theatre project, along with the photographs that I took.

• How did you train the children?

I came to teach the children the basics and technical issues of photography. The children already had few photo-workshops before, they were used to working with the cameras. I was here to guide them and help them improve their practice. The children were very intelligent and enthusiastic, they understood very fast. It was interesting to observe them experimenting, each one of them with along their personal visions.

• How exactly do you think tribal children of Bengal can be helped in their journey to adulthood, other than mainstream education?

Skill development and choosing a profession at an early age. The children of Trimukhi choose a profession early and are trained accordingly. Some choose to be stage director, some wish to be a photographer. Accordingly, they are trained and they pick up the skills fast. They get seven years to turn them into pros and professionals as well as get trained thus to earn their future livelihood.

• Do you often visit Bengal and Kolkata? Are you part of any other projects of this kind?

I come to Bengal every year. I do another photo project in a village of Nadia district also.

• Would love to return to Bengal every year?

Yes, of course, I would love to. I would love to continue the work that has been done.