Chandraketugarh is a 2300-year-old archaeological site located about 35 kilometres north-east of Kolkata. The site is located in a region that is still know for cotton weaving. It is a well-known historical fact that fine form of cotton or mousseline or muslin or malmal is associated with Bengal and more so with Chandraketugarh. The use of textile is depicted frequently in terracotta figurines from as early as 2nd century BCE in Chandraketugarh which speaks a volume about the extraordinary journey of Bengal and her textile.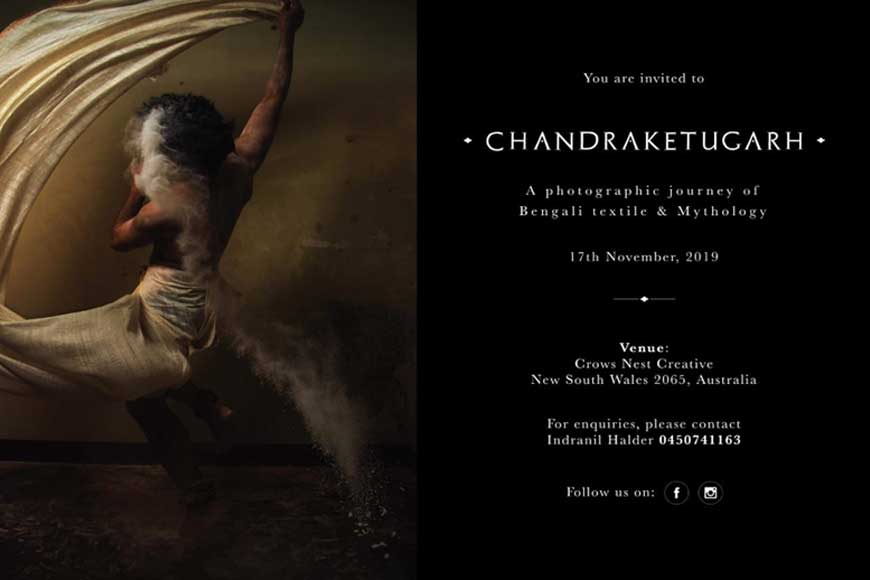 For thousands of years, before, the Mughal Emperors, British Raj and the Chinese arrived in Bengal that was popular throughout the world for textile trade. All trade routes lead to Bengal for Muslin as it has been a fabric in great demand for its intricate designs and weaving techniques. This Bengal muslin is still used as dhoti by men in Bengal just like other parts of Indian subcontinent. Dhoti is one piece of cloth which covers the male body from the torso downwards. For Bengali men, Dhoti symbolises a unique connection of oneness with the world. It may be an attire of a (Brahmin) priest, or a (Vaisya) trader or just a common family man.
The female version of dhoti is Saree. Saree defines every woman's respect. In Indian epic Mahabharata, Princess Draupadi's Vastraharan- the disrobing of Draupadi, identifies the use of long cloth like saree for self-respect. In this project, women empowerment is depicted through choice of Bengal goddesses and saree stands for their self-respect. This self-respect is clearly visible in terracotta statues of Yasksi (female earth spirit) discovered in Chandraketugarh and displayed in various museums across Europe and America. Mythological figures such as Yasksi connects Chandraketugarh not only to the world of mythology and also celebrates Bengal's textile journey and heritage.
Anyone growing up in Bengal, listening to these mythological stories, is a unique experience. From very early age, mythology surround Bengali childhood. Instead of fairy tales, kids grow up listening to stories of mythological figures such as Yakshi (female earth spirit) or Yaksha(male earth spirit) or epic such as Mahabharata which are often narrated in homes across Bengal.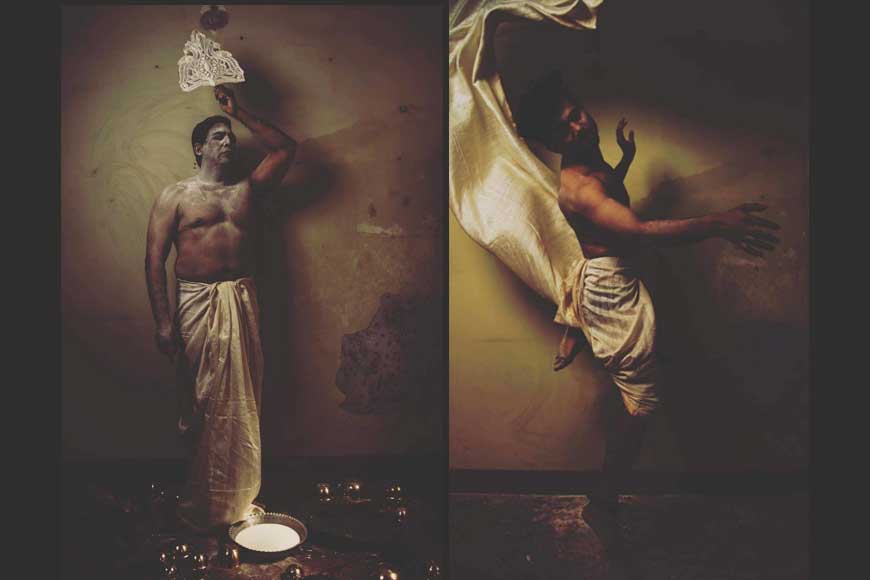 These stories never leave anyone. They stay with the kids who grew up or are growing up listening to them. As adults, these stories come back every time with different perspectives. Mythology always surround our childhood and sometimes, even though the mythological figures may not be as famous as Indian holy trinity: Brahma, Vishnu & Shiva but they never fail to create a world of imagination and stimulate curious minds. They also help in developing an understanding of tradition, culture and heritage that relates to daily life.
For this exhibition, our purpose is to introduce some of the popular Bengal mythological figures to Australia for greater understanding of tradition, culture and heritage, create awareness about 2,300-year-old archaeological site, Chandraketugarh and celebrate thousand year-old Bengal cotton or muslin through a series of photographs. The exhibition will be held on 17th November at Crows Nest Creative, NSW, Australia.