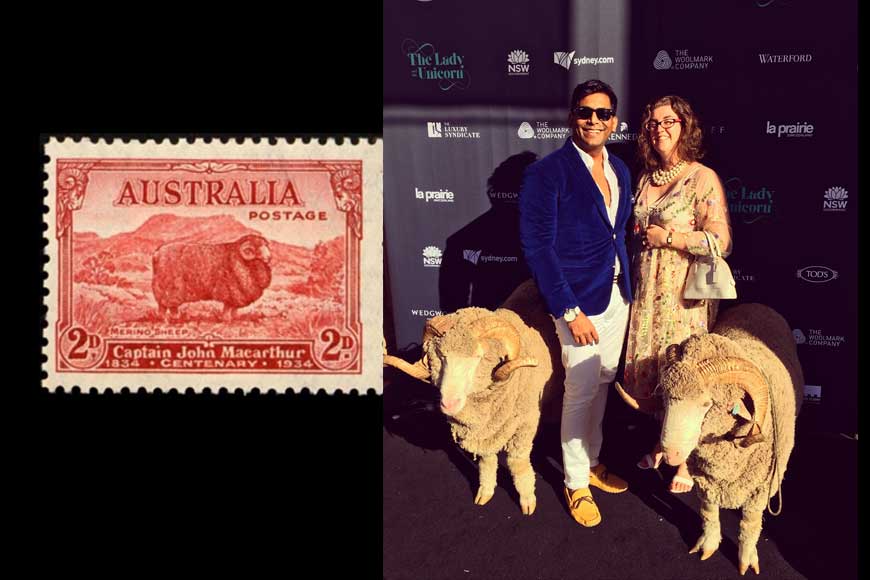 Billion-dollar Australian wool industry survives on sheep brought from Bengal! Can you believe it? According to Australian Department of Agriculture, Australia is the number one producer of wool in the world which was valued at $2.6 billion in 2017. Vast agricultural land, great cattle raising techniques and hard -working farmers in south-eastern Australia made sheep farming possible in New South Wales, Victoria and Tasmania. Today, China and Australia are collaborating to share future in Australian Merino wool with further development of innovative wool textiles and manufacturing.
In 2009, according to the article 'New pasture for sheep trait from Bengal' scientists said archived historical records from the late 18th century show that a number of Garole sheep from Bengal had been shipped to Australia in 1792 and in 1793. These sheep were not taken there for boosting fecundity, but when they reached there, they probably mingled with other sheep and helped increase the number of lambs in those breeds. This theory was seconded by Chanda Nimbkar, Director of Animal Husbandry at the Nimbkar Agricultural Research Institute (NARI), Phaltan in Maharashtra.
In the 18th century, as settlements grew in Australia and financial panic spread due to American Embargo Act, established merchants in India traded with New South Wales to recover financial loses. Trade grew between India and Australia and Bengal sheep made their way to Australia.
In late 1791, a ship name Atlantic arrived in Kolkata port. Atlantic was in Kolkata port for stores and livestock. The ship left with 20 sheep (2ram and 18ewes), cow and goats. Australian colony at the time consisted of fat tailed sheep from Cape of Good Hope and a few small hairy sheep from Bengal, India. In 1793, more sheep arrived from the Cape and India. 100 more Indian sheep which were known as Bengal arrived at Port Jackson in the ship Shah Hormuzear. They became the foundation flocks of Australia.
From the time the sheep landed in Australia, graziers were planning to produce wool but it was not favoured by the British government. Wool industry was primarily a English industry from twelfth to nineteen centuries and not for its colonies. Australian wool industry is a vision of John Macarthur and he is the man to establish a successful Australian wool industry.
From the very beginning of the Australian wool industry, it is wrongfully assumed that all of John Macarthur's stud sheep were pure bred. Claims were even made that the sheep were an unmixed descendants of Spanish Merinos which he obtained from King George III. On the other hand, the real story is, in 1794 Macarthur purchased 60 hair–bearing Bengal Ewes with an undercoat of fine wool which he crossed with others. And Bengal sheep remained the best kept secret of Australian wool industry. In 2002, New Zealand Scientists analysed genes of sheep from eight countries. The analysis produced genetic evidence. The evidence support historical records that Garole sheep had been introduced in Australia from Bengal in the late 18th century.
It is time we celebrate this wonderful connection between Bengal sheep and Australian Wool Industry. And it is also time for Bengal and Australian collaboration on innovative wool textiles and manufacturing.