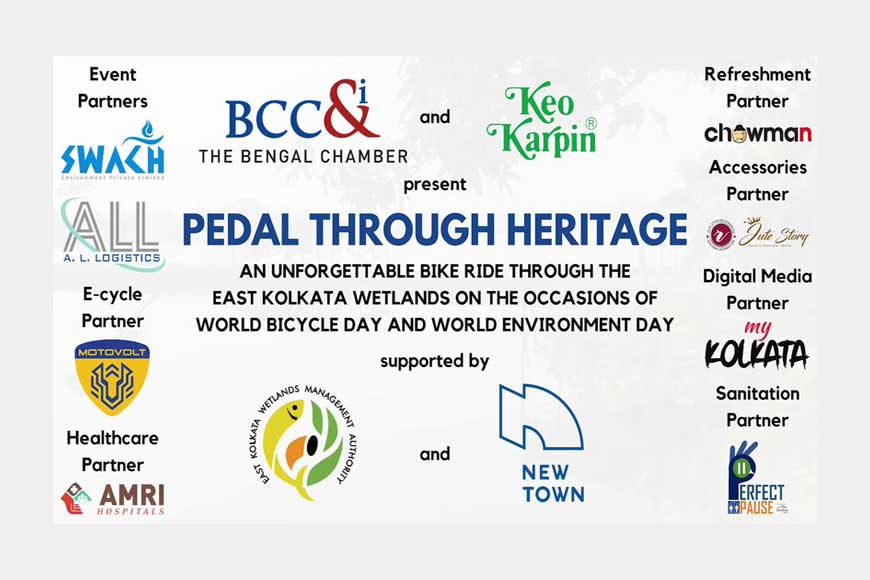 How does one join the dots between heritage cycling and wetlands? The Heritage Committee of The Bengal Chamber of Commerce and Industry has successfully merged World Bicycle Day and World Environment Day by organizing the 1st Edition of 'BCC&I Pedal through Heritage.' It is first of its kind Heritage Cycling Tour in Kolkata supported by East Kolkata Wetlands Management Authority & New Town Kolkata Development Authority to create awareness on the immense environmental impact that the 'Kidney of Kolkata' has on the city. On Saturday, 4th June, the awareness generating cycling event will start from 6.30 am and will cover a large area in Newtown along the Wetlands.
Sukanya Bose, Deputy Director of The Bengal Chamber of Commerce Industry added: "This is our first edition and we plan to continue this endeavour to create awareness about the wetlands every year. This year many employees of corporate houses in Newtown, IT firms, Start-up companies, college and university students are participating. Both amateur and professional cyclists will be present. They are all very enthusiastic about the event."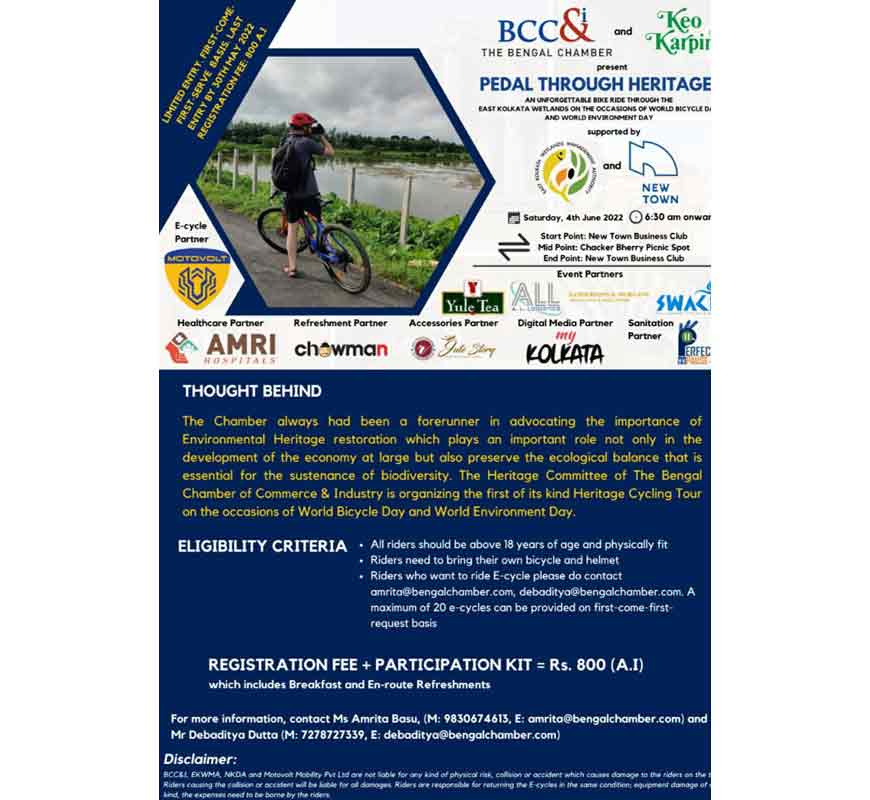 The Bengal Chamber Heritage Cycling Tour will indeed be a knowledge sharing event. Through their initiatives, The Chamber has always been a forerunner in advocating the importance of Environmental Heritage restoration which plays an important role not only in the development of the economy but helps to preserve the ecological balance that is essential for the sustenance of biodiversity. "Our objective is to highlight the importance of wetlands to a bigger audience," said Dutta. Environment activist Somendra Mohan Ghosh feels "such initiatives are very important as East Kolkata Wetlands is a protected Ramsar site and we have already lost 40 percent of this area to land sharks. To save the Wetlands, such awareness events play an important role."
The event will have both mechanical and electric bicycles. For participants who do not have bicycles of their own, around 25 e-bicycles will be provided for the event. The initiative will also help promote issues of air pollution and how bicycles are considered efficient to mitigate such challenges. The tour starts from New Town Business Club with a mid-stop at Chacker Bheri Picnic Spot. From there, participants will again head back to the starting point.

As S.M. Ghosh points out: "In subsequent editions more and more students and younger generation can be involved. In Western countries such cycling awareness events around water bodies are very common because water has a cooling effect on the environment helping cyclists. The Chamber can do such events even at Rabindra Sarobar, and name consecutive events as 'Conservation of Waterbody and Wetlands Cycling.' Even mini marathons can be organized in winter. This will immensely help in protection of the environment."