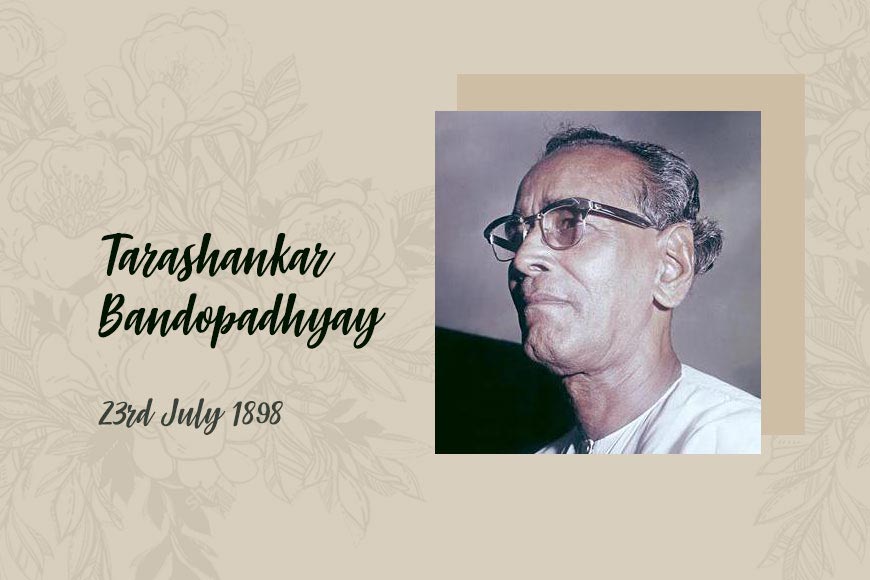 Once Madhusudan Majumdar, a famous publisher of Bengali books, decided to celebrate the birthday of a renowned author ceremoniously. Among the organizers were such stalwarts as Sailajananda Mukhopadhyay and Sajanikanta Das, eminent editor of Shanibarer Chithi. When they met the author to inform him about their plan and seek his permission, he immediately replied he had already finalized his plans and would spend his birthday in Labhpur. The organizers were crestfallen. They asked him why he was so keen to go to Labhpur and pat came the reply, "My mother will bless me with the flowers consecrated to the household deities, Devi Phullara and Lakshmni-Janardan. Then she will light an earthen lamp and feed me payesh she makes herself every year as part of a ritual. There can be nothing more blissful for me than this. Labhpur is my holy motherland. Its soil is my life-force."
Labhpur is synonymous with author Tarashankar Bandyopadhyay, who along with Bibhutibhushan and Manik Bandyopadhyay completes the famous triad of the 'Banerjees' (or Bandyopadhyays) of Bengali literature. Tarashankar was born in a zamindar family on July 23, 1898 at a village called Labhpur in the district Birbhum. Birbhum, the land of the 'red soil' is also 'the land of the brave.' This ancient land is a melting pot of diverse cultures and is steeped in history, legends and folk-tales.
Few of Tarashankar's notable works
Labhpur is one of the 51 holy Shakti Peethas described in the Puranas where the dismembered parts of Sati's corpse fell when Lord Shiva carried her lifeless body after her self-immolation. Birbhum has been home to both indigenous and foreign cultures from time immemorial and there is a fine blend of the different sects, religions and culture. Poets of such diverse faiths as Vaishnava (Jaidev) and Shakta (Chandidas) composed magnificent padavalis and have co-existed in this land. Added to that, the Sahajiya philosophy and songs of the bauls or the roving minstrels are an intrinsic part of the folk culture of the district.
As a child, Tarashankar literally woke up in the mornings listening to a Boshtum Thankur (Vaishnav minstrel) walking down the village path, singing paeans of Lord Krishna, or a baul walking past his home, strumming his ektara and humming , lost in his thoughts, or a group of Muslim Pirs who would visit every village home, bless the family members and then go away with alms. Diverse, multi-coloured images crowded the imaginative, thoughtful boy's mind.
There were Patuas who came with hand-painted canvas depicting the life stories of Ram Sita or Radha Krishna. The professional snake charmers or Bedias dropped in as did Bajikars or nomads who hunted wild animals and sold love potions to credulous villagers. All these people contributed towards the making of the author.
In the feudal atmosphere of Labhpur in his early days, Tarashankar witnessed aristocratic zamindar families clashing with the nouveau riche class in a show of grandeour and pomp and muscle flexing to gain fame and influence in the village society. All these incidents had a profound influence on him and he used them in his writings. His first work, a poem titled Dheu (The Tide) was published in journal named Sachitra Shishir. His first published book, 'Tripatra', a volume of Poems appeared in 1926. One day, he came across an issue of 'Kali Kalam' and was inspired by two short stories, 'Ponaghat Periye' by Premendra Ultra and 'Jani o Tani' by Sailajananda Mukhopadhyay. Sailajananda's story motivated him to depict Birbhum in Bengali literature and within a few days he wrote, 'Rasakali' - a short story on the life of Vaishnavas of Birbhum. He sent it to 'Pravasi' only to be rejected after a long time. He was frustrated by this rejection and decided to give up his literary career and concentrate on developing his village. He was selected president of the local Union Board. His experience during this phase is sketched in his novel, 'Dhatridevata.'

Meanwhile, he came across a copy of 'Kallol,' a modern, trendy journal and was so inspired, he sent 'Rasakali' to 'Kallol.' Rasakali was much praised when it was printed. 'Harano Sur,' another short story by him was also published. Soon, Tarasankar Bandopadhyay gained huge popularity and emerged as the new star in the horizon of Bengali literature.
A prolific writer of short stories and novels, Tarashankar also wrote two volumes of autobiography and reminiscences: Amar Kaler Katha (Tales of My Times, 1951) and Amar Sahitya Jiban (My Literary Life, 1953). Many films have been based upon his novels, including Abhijan and Jalsaghar (The Music Room), both directed by Satyajit Ray. Tarashankar received the Jnanpith Award in 1967 for his novel Ganadevata.
In his lifetime, Bandyopadhyay wrote 65 novels, 53 short stories, four autobiographical stories and two travelogues.