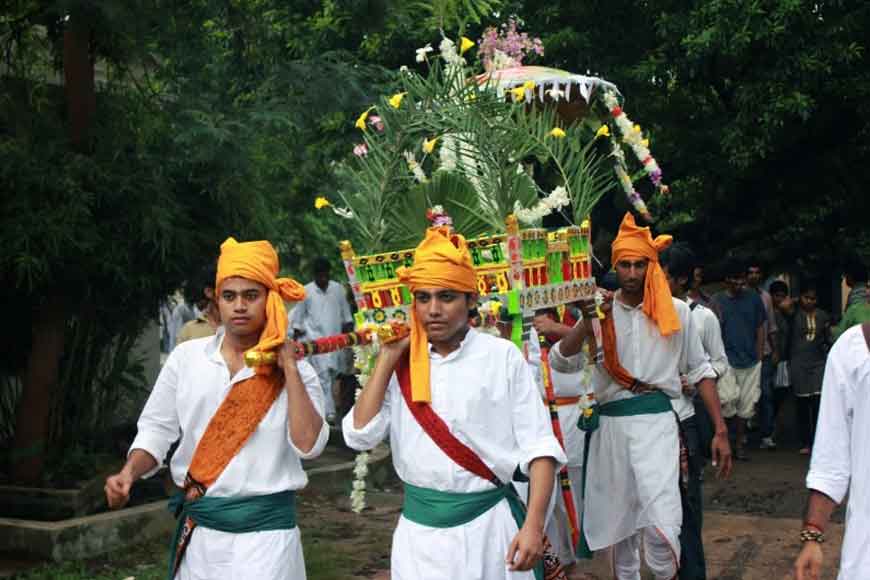 If you thought the time has finally arrived to save nature, in the backdrop of COVID 19 and Cyclone Amphan, then you are wrong. For we should have started doing it long ago, if only we had followed the teaching of visionary Rabindranath Tagore. We only concentrated on his path-breaking poetry and songs, but never took lessons from the various celebrations of nature's festivals that he started in Santiniketan almost a century ago. And even to this day, they are followed, be it Vriksha Ropon or Hala Karshan.
Tagore had a deep sense of harmony with every element of nature and universe, for he realised and felt deep within, that our ultimate source and our ultimate end happens within the cradle of nature. That is the very nature we had raped over decades through deforestations, inciting forest fires, urban development, reducing green covers, destroying the fragile mangrove ecosystem or even trekking to mountains in hordes and polluting the environment leading to melting of snow and global warming.
Tagore had a deep interest in protecting the environment. His concern was particularly about the deforestation, and so he initiated 'Tree-planting' and converted it into the Vriksha-Ropon festival, way back in 1928. That was the precursor to modern day afforestation. He knew such festivals will motivate both urban and rural communities to preserve nature and live in harmony with it. His interests were not limited only to literature and humanism, rather he experimented with nature and science. Twenty second day in the Bengali calendar month of "Shrabon" holds a special significance not just because the World lost a gem, but it is a day celebrating the paramount value of nature initiated by Tagore on his 64th birthday at Santiniketan as the Tree Plantation Day. But did we follow the visionary?
Probably we didn't. Else why in his very own abode of Santiniketan, would we destroy the natural laterite formation of Khowai, fell hundreds of trees to build apartments? Tagore has repeatedly insisted that science should be applied for serving society and often was in touch with eminent Bengali scientist Jagadish Chandra Bose and sent his own son abroad to study agricultural science and apply it to bring in a green revolution among the rural community of Birbhum. In 1930, while speaking to Albert Einstein, Tagore said, 'This world is a human world-the scientific view of it is also that of the scientific man.' Ilya Prigogine, a Chemistry Nobel Laureate said in 1984 about Tagore: 'Curiously enough, the present evolution of science is running in the direction stated by the great Indian poet.'
Rabindranath Tagore's profuse legacy of striving towards harmony amongst people and harmony of people with nature, the freedom of life, of learning amidst nature and from nature could act as a learning for people of Bengal. For he spoke in the language of nature, even in his innumerable songs written on Prakriti and Prem-Prakriti sections. Feel like singing today over and over again: 'Moru bijayer ketan urao shunye, urao, urao hey probol praan' (he wished to conquer, even an arid desert with green foliage).
Image Courtesy - www.santiniketan.in
Story Tag:
Vriksha Ropon, Rabindranath Tagore