'Kochuripana' will no longer be a nuisance - generating handicrafts from water hyacinth – GetBengal story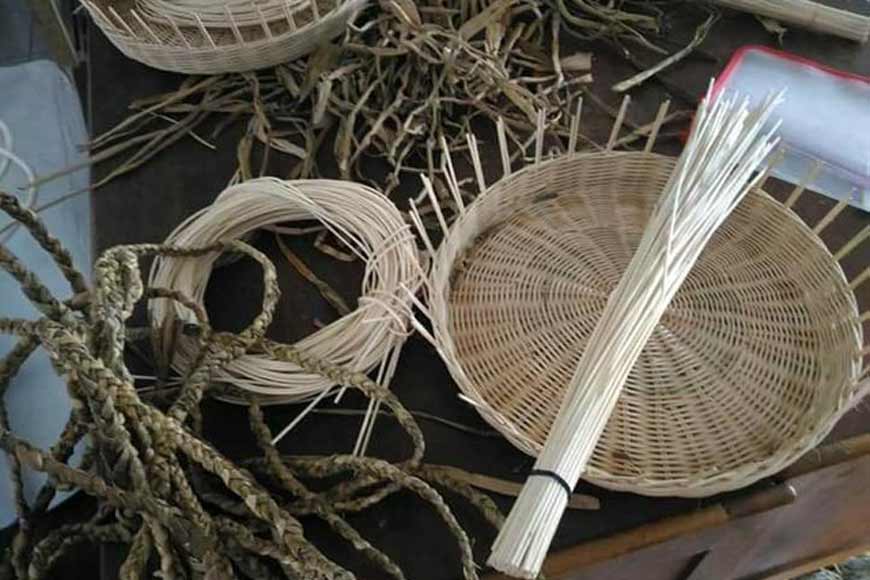 Craft items made from Water Hyacinth
There is a Bengali folk song that goes like this:
"Thakile dobakhana, hobe kochuripana/ Baghe horine khana eksathe khabe na/ Swabhab toh kakhono jabe na…"
(Wherever there is unguarded water body, water hyacinths will invariably grow and take over. Tigers and deer will never share their food together and that's because ingrained habits never change.)
M'Kochuripana' or water hyacinth is a familiar free-floating perennial plant found in abundance in West Bengal. These can grow to a height of three feet. It has striking light blue to violet flowers located on a terminal spike. But water hyacinth is a serious pest. It is a very aggressive invader and can form thick mats in no time. If these mats cover the entire surface of the water body, they can cause oxygen depletions. The weed chokes tropical fresh waters, suffocates lakes, blocks shipping and impacts local economies. The problem with water hyacinth is that it doubles its population in just seven days, and it adapts easily to polluted water. As a result, huge floating mats drift across hectares, which are so dense that fisherman can't fish, boats can't get through and everything living in the lakes and ponds beneath slowly dies. Meanwhile, snails and mosquitoes thrive in this choking mass of weed, bringing malaria and schistosomiasis (a disease caused by parasitic worms) to communities throughout the tropics and subtropics.
Scientists have been working on ways to recycle water hyacinth plants and make them economically viable. Water hyacinth is now used for making textiles, paper, as fodder for animals, green manure, compost and for camouflaging fish traps. It ferments rapidly due to its high water content and can supply biomass for biogas production. Recently, Mr Swapan Debnath, Minister-in-Charge, Animal Resources Development, West Bengal, revealed a unique project he has initiated in his constituency in South Purbasthali to recycle water hyacinth and generate income.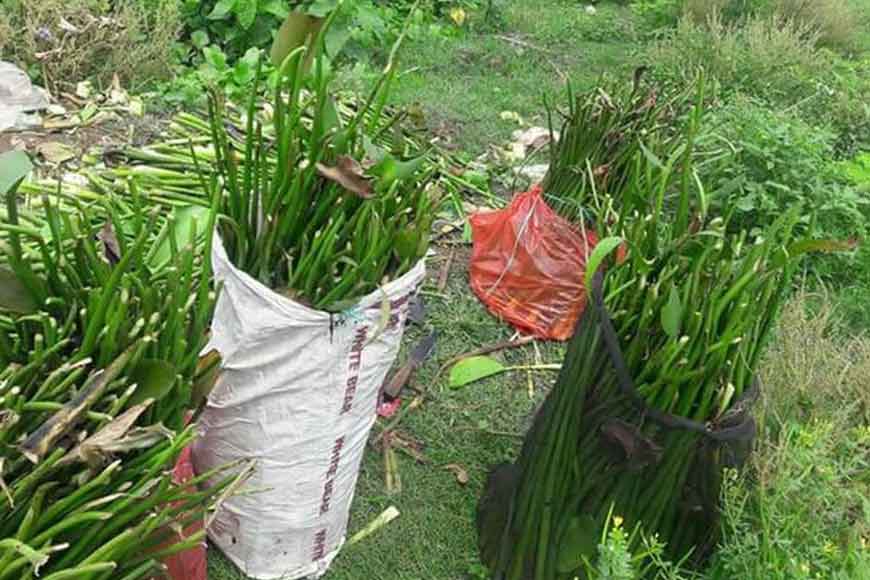 Uprooting hyacinths from water bodies prevents pollution
Debnath says water hyacinth is available in abundance in rivers, ponds, lakes and even wells in villages across the state which can be collected, dried and then sold at a moderate rate of Rs. 25 per kg. The dried stems can be used for making and selling household products and this can be a way of generating employment in the rural sector under the Mahatma Gandhi National Rural Employment Guarantee Scheme that promises 100 days of employment in a financial year to any rural household whose adult members volunteer to do unskilled manual work. According to him, there is no need to buy raw material for this industry in villages where there are large water bodies that lie neglected and hyacinths proliferate. Regular uprooting of the hyacinths from the water bodies will keep pollution at bay and make it useful for pisciculture.
Baro Kobla is a tiny non-descript village in Katwa Sub-division of East Burdwan district. Here local women are making beautiful handicraft items from dried, processed hyacinth stems. These include mats, baskets, fruit trays, bottle holders, wall hangings, jewelry box, table mats, bags etc. These ladies were initiated into this craft by the son of the soil, Raju Bagh, a student of Visva Bharati University. He has been working with eco-friendly materials for quite a while and he was smitten by the possibility of making aesthetically pleasing handicraft items from the eco-friendly, bio-degradable plant stems. He was confident of succeeding if these products could be placed strategically and marketed professionally. He approached Debnath with the proposal and the minister was very encouraging and promised all help to Bagh including a market for the finished products. Bagh involved his friends from Santiniketan and they were all very enthusiastic and chipped in the project.
The next challenge for Bagh was to convince the homemakers to join in the project. Initially, when he spoke to the women and introduced the idea of making handicraft items with hyacinth stems, they were hesitant and doubtful. However, Bagh was patient and persistent and this worked wonders. A moderate number of women agreed to take up the challenge and they were mobilized.

Bagh and his friends organized a training workshop where 20 women of different ages were taught first-hand the various stages of production from processing, design ideas, techniques of making etc. Once the first batch of trainees completes the training, they will induct others into the fold.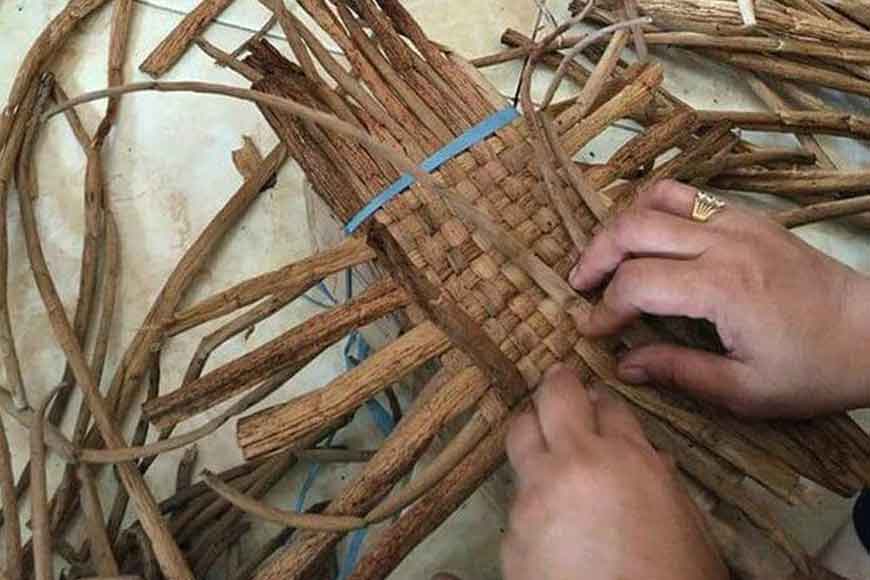 Bagh has a larger picture in mind. He intends to expand this craft culture and later build up a cottage industry in his village. This will not only generate employment locally but will also help uplift the village economy. There are several water bodies in the vicinity and proliferation of water hyacinth in these unattended areas are a real menace, also because uninterrupted hyacinth growth encourages vector borne diseases.
Debnath is a member of 'Khal Bill Welfare Society', an organization for the maintenance of ponds, marshy land, swamp etc and the society has been organizing mass awareness programs through Khal Bill Utsav (festival) for a while now. Debnath is well aware of the problems created by the fast-growing water hyacinth plants so he is very enthusiastic with Bagh's idea. Initially, he says, the government will buy the readymade products and create a market for these handicrafts. Marketing is an important aspect of any business and once that is taken care of, 'kochuripana' will no longer be looked down upon as a nuisance but as a raw material that will support rural women become financially independent.\