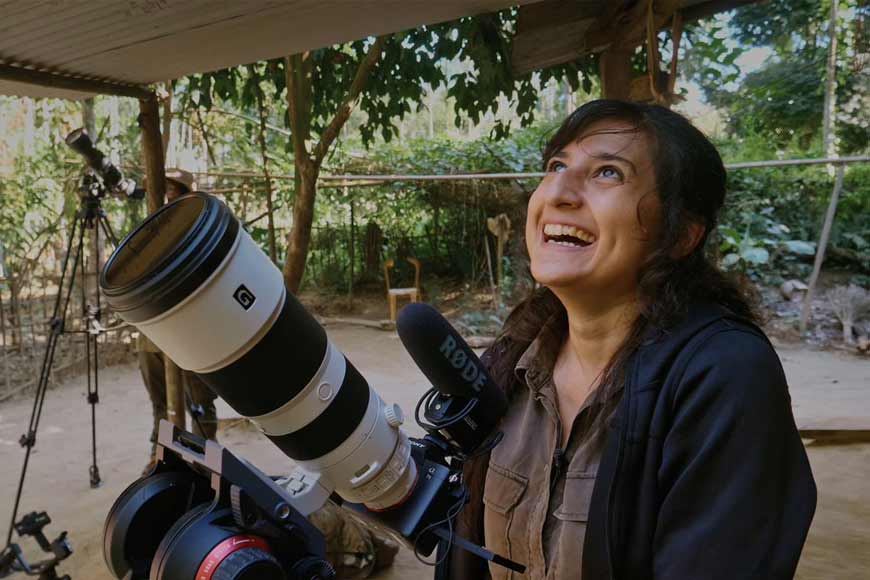 "In this image-driven age, wildlife filmmakers carry a heavy responsibility. They can influence how we think and behave when we're in nature. They can even influence how we raise our kids, how we vote and volunteer in our communities, as well as the future of our wildlands and wildlife. If the stories they create are misleading or false in some way, viewers will misunderstand the issues and react in inappropriate ways…." opines Chris Palmer, Hong Kong-born English environmental and wildlife film producer and director of the Center for Environmental Filmmaking at American University.
Ashwika Kapur aka Ash Kapur, India's youngest Green Oscar winner and wildlife filmmaker would certainly concur and second Palmer's opinion. This Kolkata girl has once again brought laurels for the country with her latest achievement. She has been nominated by the Royal Television Society (RTS) as part of its upcoming awards in October. Her name has been proposed in the 'Best On-Screen Talent' category alongside comedian Frank Skinner, naturalist and explorer Steve Backshall and Paralympian Jonnie Peacock. She got nominated for the film she made for BBC's 'Planet Defenders' -- a series of six standalone episodes telling conservation stories for children. Her film, 'Ashwika and the Gibbons', is about 25 minutes long and deals with the hoolock gibbons in a village called Barekuri, in the northern corner of Assam.
Since childhood, Ashwika has been passionate about wildlife and a die-hard fan of Sir David Attenborough after watching his documentaries on the state of the planet. Attenborough's outsized impact on the global environmental movement had, at some point, influenced her and inspired her to choose a very unusual career. Daughter of Ashwani and Munmun Kapur, Ashwika was born and schooled in Kolkata. Her grandfather, Dr. A.P Kapur, was a former Director of the Zoological Survey of India in the late 1960s. Passionate about animals from an early age, Ashwika spent most of her childhood in the company of assorted pets at home. Her interest in creatures of all descriptions started when she was around four years old. She whined and pined for a dog but her parents did not pay heed to her demands. Later, her mother agreed to get a duck instead. Others followed and her vast array of myriad animals included rabbits (20 plus), rescued tortoise, Maina, Kingfisher (one of each), white mice (nine plus), pigeons, guinea pigs, and roosters all living with her in her 12th floor apartment. However, her attempts to transform the family apartment into a "fully functioning farm" was shelved when her parents foiled her attempt to smuggle a goat back from a family holiday in North Bengal.
Ashwika did her schooling from La Martiniere for Girls, Calcutta and later graduated with Honours in English Literature from St. Xavier's College. She grew up as child actor in the 90's, appearing in several advertisements, tele-films and stage productions. Her love of cameras came from her early involvement in the entertainment industry. Apart from filmmaking, Ashwika also dabbles in writing, quizzing and public speaking. She is a TEDx speaker. After graduation, she took a rather bold decision and swapped a stable, safe, secure, predictable, conventional life for one of chaos and unimaginable fulfillment. She was barely 22 when she headed for South Africa. Her initial experiences in filmmaking in South Africa led to work opportunities in Kenya, Borneo, India and Nepal.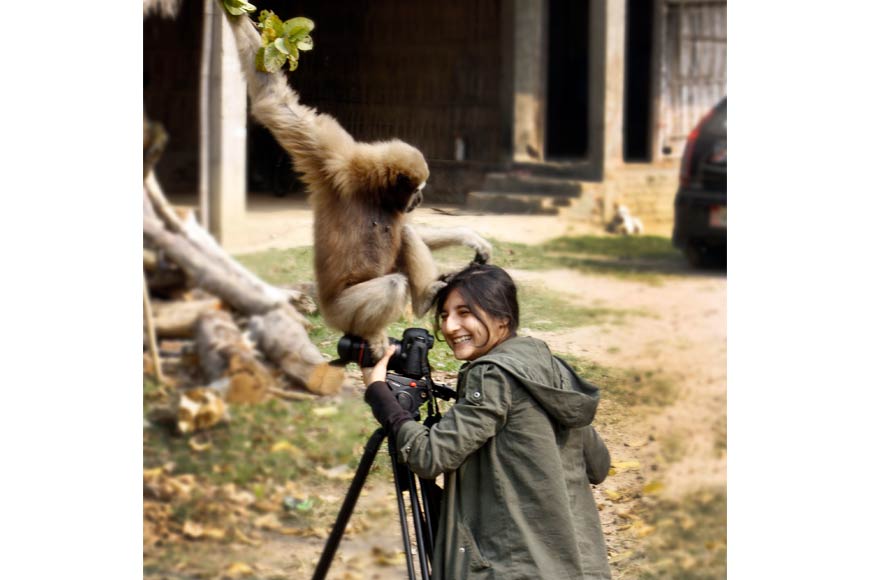 While in Kenya, Ashwika stayed at an animal orphanage for two weeks and befriended a two-year-old cheetah called Mzima. The experience was an eye-opener for her. She realized just how precious life is for a growing number of awe-inspiring species globally, and decided to master her craft. She left Africa and headed to Centre for Science Communication at the University of Otago in Dunedin, New Zealand for her Postgraduate Diploma in Natural History Filmmaking and Communication. The year was 2014, a turning point in her career that opened her eyes to the genre's endless potential.

While still on the programme, Kapur single-handedly produced an $800 film about Sirocco, a "celebrity" kakapo parrot. "Sirocco – How a Dud Became a Stud", is a rags-to-riches story about a celebrity Kakapo bird with a government job in New Zealand! After its release in 2014, the film toured with several international wildlife documentary festivals, was screened in 80 countries and travelled as part of the prestigious Jackson Hole Wildlife Film Festival where it was nominated for a Grand Teton Award. The film won the Panda Award, the 'Green Oscars' of the international wildlife film and TV industry, in the global category and a Newcomer's Award at Wildscreen Film Festival in Bristol. Ashwika is India's youngest and only woman to win the Panda Award. At Bristol, she met the living legend and her ultimate hero and inspiration, BBC broadcaster and naturalist Sir David Attenborough. It was a real dream-come-true moment for her.
In 2019, Ashwika presented 'Heroes of the Wild Frontier' for Animal Planet, the first ever television series on Forest Guards in India. She also hosted Discovery's 'Mysterious Wilds of India'. Her career has so far taken her to live and work in several parts of the world including India, South Africa, Kenya, Borneo, New Zealand, and the United Kingdom. She's worked as a self-shooting director/producer, a researcher, a development A.P, a camera-operator and now, she's making her debut as an International TV presenter for CBBC. In recent times, she was part of the team that worked on the Netflix series, 'Attenborough's Life in Colour' and that too, was nominated for the RTS Awards.
Ashwika likes to be involved in as many aspects of the filmmaking process as possible. She has even appeared in front of the camera to help the audience get closer to the experience of being on location. She scripted, filmed and presented her recent film, Ashwika and the Gibbons' that deals with the hoolock gibbons in a village called Barekuri, in the northern corner of Assam. The film is part of 'Planet Defenders,' a six-part TV mini-series, commissioned by BBC Studios Natural History Unit and presented by leading young natural history film-makers, each exploring an endangered species and what can be done to conserve and protect them. Each film features a specific animal story or wildlife issue that the young filmmakers want to share with the world. Ashwika is passionate about protecting India's only ape, the hoolock gibbon whose population has decreased alarmingly by 90 per cent in just 30 years.
Ashwika also takes time out to make short-form conservation films on regional, environmental stories in India. She is a professional public speaker and an educator, and regularly delivers wildlife and conservation talks in India and UK to inspire young minds to discover the wonders of the natural world.
Modern living has made us indifferent to how amazing our planet is. Her wildlife documentaries depict how beautiful and fragile the world is and she tries to sensitize people to love and protect this beautiful planet from the ravages of man-made disasters. Poet Rainer Maria Rilke had said, "If we surrendered to earth's intelligence, we could rise up rooted, like trees." Nothing could be truer than this.
Image source : https://mobile.twitter.com/ashwikakapur