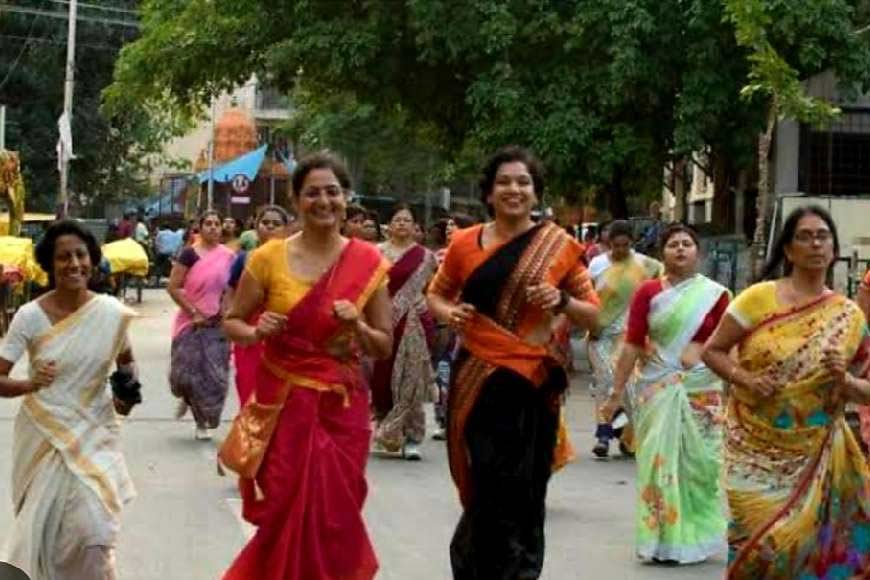 Imagine ladies running in a saree. And why not? If sprint challenges, short and long-distance runs are the order of the day and are being made popular in the urban circles with competitions thrown in, then why not a 'Run in a Saree?' The woman of today is forever juggling work, family, relationships and everything in between with the finite time and resources she has -- yet she manages to do it all with aplomb, or so it seems. Take a close look at a woman who is careerist, a mother and a homemaker all rolled into one and you will realize she ideally needs six pairs of arms, four brains and the ability to clone herself so she can be in all the places she is expected to be at the same time! But since she is not endowed with those extra bodily parts, she has to rack her brains to discover ways to fill the gap and often ends up feeling exhausted and frustrated. At the day's end, how many women take CARE of themselves and their needs? This is one job that one simply cannot delegate to anyone or count on anyone else to take care of her needs and this is one aspect that most women tend to forget.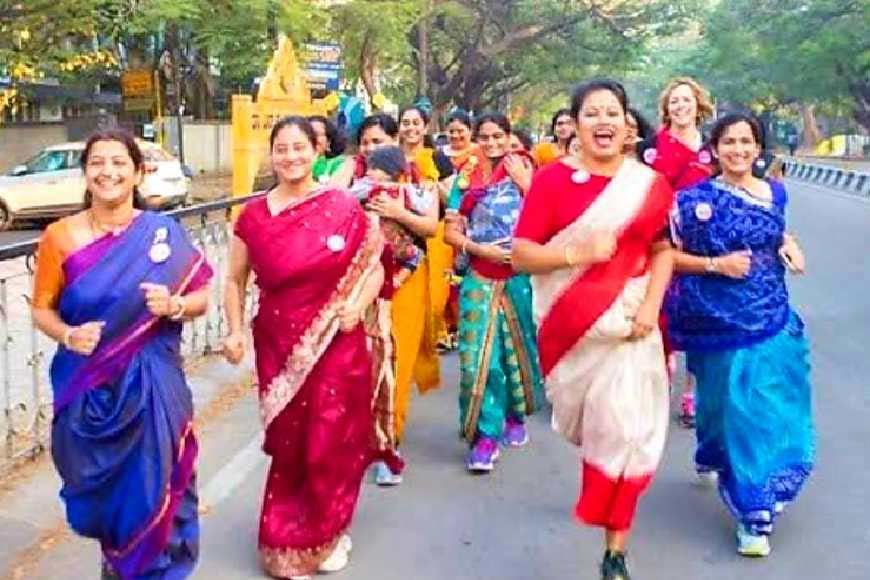 So, what's the way out? 'Be kind to yourself! Look after yourself. Exercise as frequently as you can.' The underlying message is that it is vital for women to make time for themselves and prioritize their health. Sounds cool, huh? Believe it or not, but a vast majority of educated women think fitness is only for a privileged few who can wear activewear, shorts etc. and shy away from fitness. This compromises on their fitness because of social pressure about attire and impacts their health.
Over the past nine years, JJ (Jayanagar Jaguar) Active, India's oldest and largest running academy based in Bengaluru, with over 30 centres in five cities, has trained over 7,500 men and women in running. While many women have broken social barriers and become ardent runners, there is still a section that is hesitant to take up this activity because of the belief that one needs to wear running attire to run. Saree Run has been a launchpad for such reluctant runners.
Taneira, in collaboration with JJ Active has taken up the unique initiative to help women overcome social discomfort in embracing fitness. It all started in 2016 with a small number of women joining in the event with trepidation. However, over the years, the annual event has seen a phenomenal rise in participation.

After a massive success in Bengaluru for the last seven years, Taneira Saree Run comes to the City of Joy - Kolkata! This year the 'Saree Run' for ladies will be held in five metropolitan cities across India including Kolkata, Pune, Chennai, Hyderabad and Bangalore. Kolkata will be the first metropolis to host the event on March 12. The registration process for the event has already started and ladies of all age-groups are being encouraged to participate in "The Saree Run" to break stereotypes about women and fitness! This event, as the name suggests, is exclusively for women and participants will be required to walk/ jog/ run a distance of 3K/5K in sarees. Although the format of the event is a symbolic run, it is aimed at motivating ladies to take up fitness, in ways possible to them.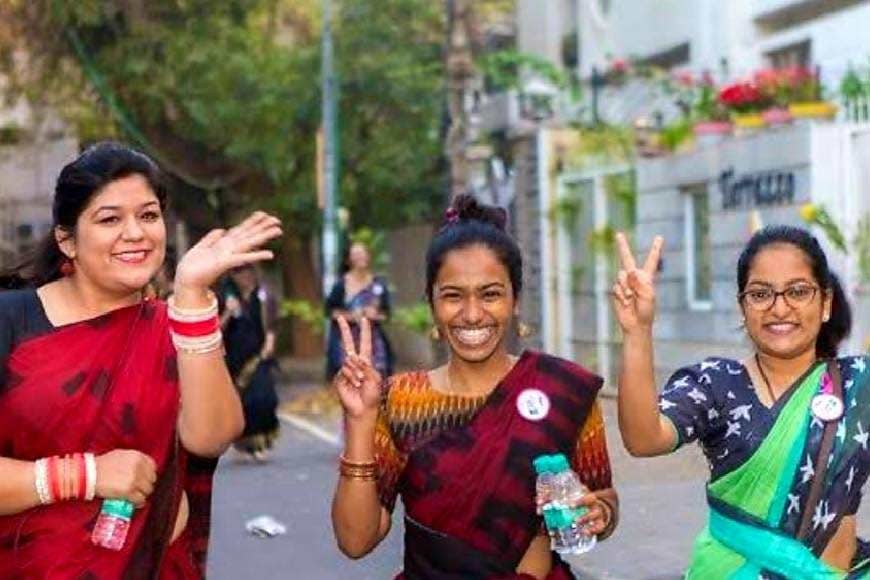 JJs coach Pramod will be training ladies for the event and his clarion call is all too loud and clear: "Breaking societal barriers starts with your own mind. So, break the societal barriers and challenge yourself to stay active no matter how busy life gets. Your body can stand almost anything -- it's your mind you have to convince. It's time to take back control of your physical and mental health. So don't be afraid to break free and do something that challenges you today!" He says, "A quick workout is better than no workout, and the more you push yourself to improve, the less you'll care about what people think. Let's all commit to a healthy lifestyle and stay fit!" He adds that though running for long in a saree is not practical, this event will help to break some mind blocks. "Though we started off with 20 members in the first edition, the second edition saw 200 women. We are expecting more people this year." A number of women who had participated in previous saree run events are ecstatic and confess, running with other participants and completing the goal, boosts confidence and a sense of accomplishment is achieved. Many of them have taken to running seriously and find running liberating and empowering.
Women who can wear activewear, shorts etc. will demonstrate to the ladies running alongside them in saree, that they face similar pressure from society but have chosen to overcome this pressure, as they understand the importance of fitness. This year, the 'Taneira Saree Run' will be flagged off from Police Athletic Club Ground opposite Eden Garden, Leslie Claudius Sarani at 6.30 am.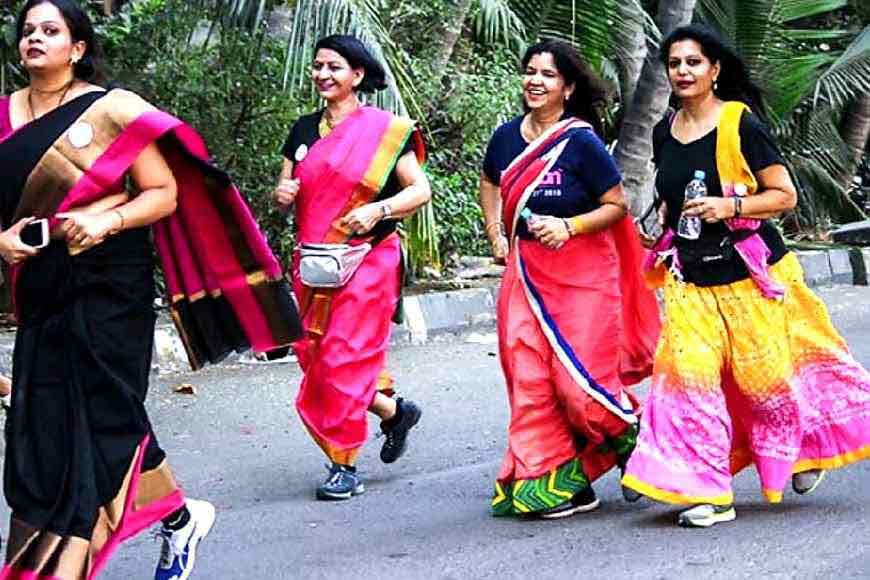 From Kolkata, the event will move on to Pune where the race will be held on April 16. Dates for Chennai and Hyderabad haven't been finalized yet but Bengaluru will host the Saree Run on September 17 this year. Participants who have registered their names are agog with excitement and as one lady says, "Women are awesome and when we do something together, we do amazing things." Yes, and one cannot overlook the age-old adage, 'A fit man is a fit man, but a fit woman is a fit family!' So, time for Kolkata ladies to buck up and show their solidarity and pledge to stay fit.