London University confers D.Litt. on Mughal art historian Asok Kumar Das - GetBengal story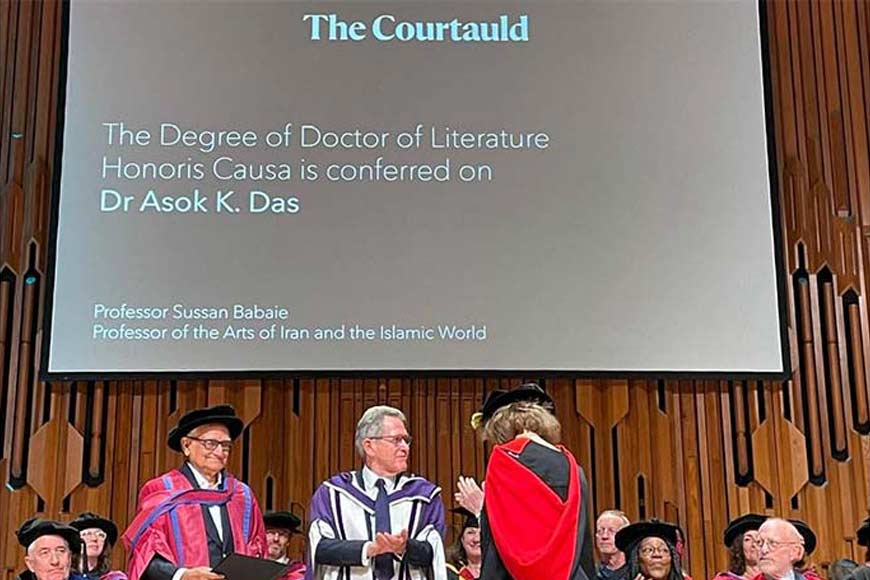 Professor Asok Das received D. Lit. at The University of London
It was mid-1970s and Dr. Asok Kumar Das, was working as the director of Jaipur's Maharaja Sawai Man Singh II Museum when he received a trunk call from Kolkata. The caller, with an unmistakable rich baritone voice, said, "I am Satyajit Ray." Dr Das relates the conversation he had with Ray fondly. "Ray was at that time shooting for the period film, 'Shatranj Ke Khiladi' and he said he was worried about shooting an important scene that called for several 'muzzle-loading' guns which were used by the British Army in 1857. In addition, he said he needed bayonets, swords, 'camel guns' (a type of swivel gun, attached to the saddle used on camels), wheeled cannon carriages, gunpowder boxes, howdas (a seat for riding on an elephant or camel's back, especially one with a canopy) and palanquins used in old days. He also needed veteran artillerymen who could demonstrate how the 'dismounting of the cannon' used to be done. He asked, 'Can these things be arranged for shooting?' He also added that most of the articles were available in Lucknow, but he would prefer to shoot that scene in Jaipur, because it was convenient to arrange for elephants and camels there."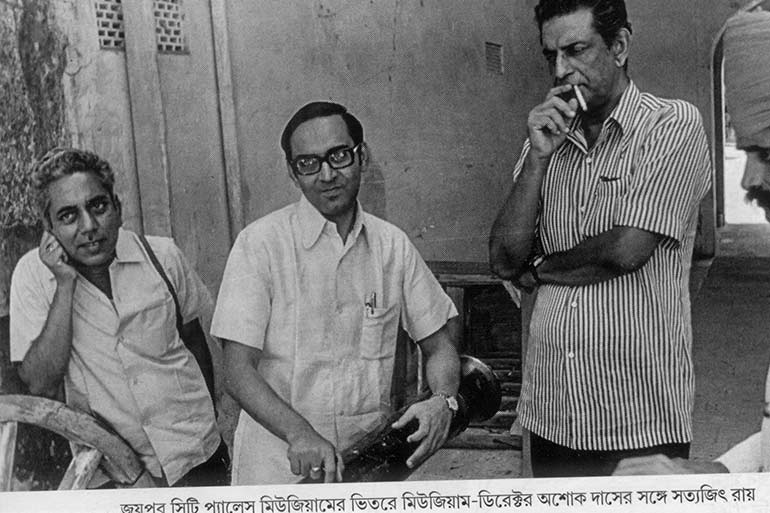 Ray is known for being the most meticulous and uncompromising researcher for his films. In a period film like Shatranj Ke Khiladi, he needed to procure the materials for shooting the feature film and that's how he contacted Dr. Das. It had skipped Ray's mind that they had met earlier in 1971 at the house of the Consul General of Yugoslavia where Ray was being conferred the 'Star of Yugoslavia,' the highest honor of that country. Prior to that, Dr. Das had written 'Matir Neechay Itihash' (History Buried Underground) that was published in the Magh, 1369 (January-February 1963) issue of 'Sandesh' magazine. When Ray was scouting for materials and more information from his archaeologist friends and acquaintances working in museums, they all suggested him to get in touch with "the right man," Asok Kumar Das who, they all convinced him, would be able to help him in every possible way for material and information related to shooting 'Shatranj Ke Khiladi.'
True to his commitment, Das really did not disappoint Satyajit Ray at all. In fact, he not only provided accurate historical details but also helped Ray locate the exact items he required. 'Letter of Satyajit Ray' to Das, published in the 'Sharodiya Desh' literary magazine of 1423 (autumn 2016) is an evidence of his gratitude for the academician-friend.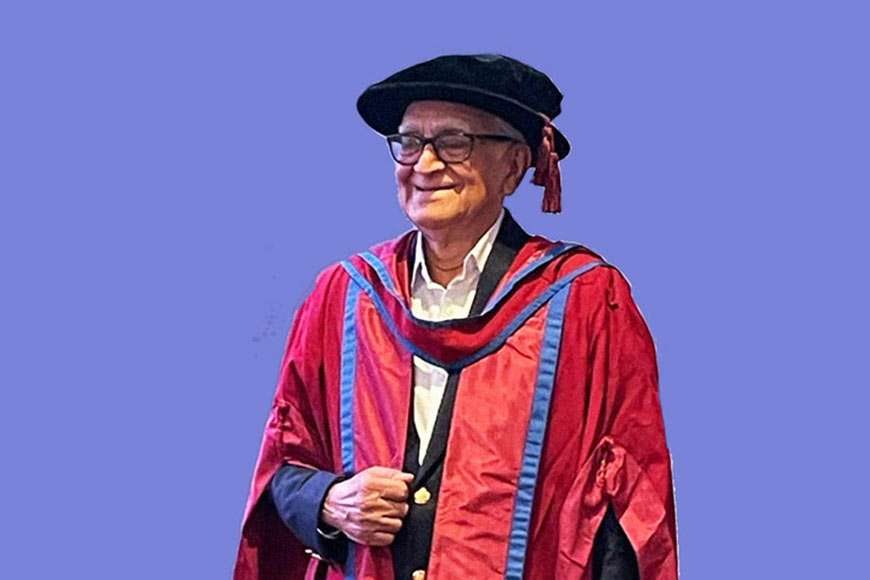 Professor Ashok Kumar
India's leading expert in Mughal miniature paintings, Dr Das' expertise in Mughal, Rajasthani and Pahari paintings have taken him to world's best galleries as a consultant, including London's Victoria and Albert Museum and the Metropolitan Museum of Art in New York City. He is a living legend revered in the academic circle globally, yet it is a pity that most Bengalis are not even aware of this brilliant art historian. On July 13, the University of London conferred honorary D.Litt degree on Dr. Das for his lifetime contribution to art history.
Professor Das was born in 1936 in Garhbeta, West Midnapore district. He completed his schooling from Garhbeta High English School and graduated in History from Midnapore College in 1955. He moved to Calcutta to do his post-graduation in Ancient Indian History and Culture from Calcutta University. Here he met legendary historian, Professor Niharranan Roy, who took him under his wings. Das also did a post-graduation course in Museology from Calcutta University. In 1964, Das obtained a Commonwealth Scholarship and headed for School of Oriental and African Studies (SOAS), London for his PhD.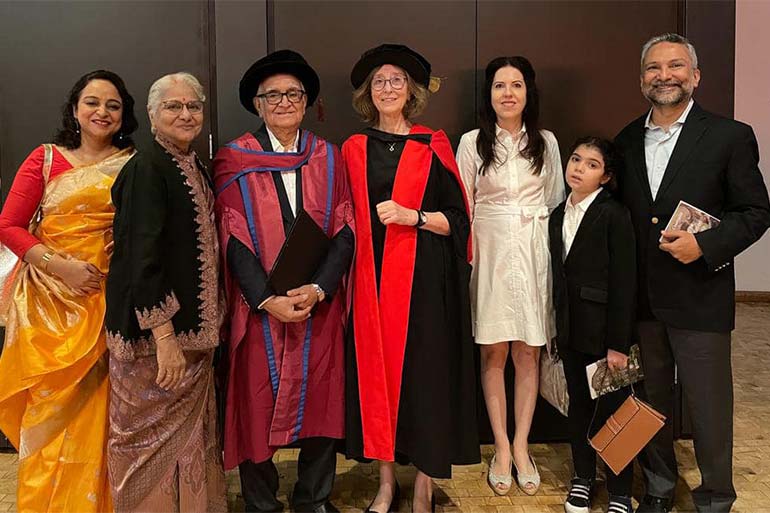 Professor Asok Das with his wife, daughter (on the left), son, daughter-in-law, and granddaughter (on the right) after receiving his D.Lit in London
The focus of Professor Das's PhD was Mughal paintings in Emperor Jahangir's time. His study was not just about Mughal paintings, but about how the painting developed and changed under the patronage of a particular person. It was a time when Western materials were arriving in India — the Albrecht Durer (15th-century German painter and printmaker) engravings, for example — and they arrived in Mughal courts. The Mughals studied them and there was an influence of Durer in their works. However, it was not a one-way street, as Mughal works also inspired the West. Rembrandt collected Mughal paintings, studied them and incorporated details in his works. Eugene Delacroix (18th-century Dutch artist and Romantic painter in France) also did the same.
Dr. Das belongs to the nearly-extinct generation of Bengali liberal intellectuals who believed in the dictum of "simple living and high thinking' and considered world citizen for their vast gamut of wisdom. Despite his many laurels, Dr. Das has led a life of contentment, in the company of books. He loves his quietude and prefers his anonymity. After news of London University felicitating Dr. Das for his lifetime contribution to art history became public, well-known author and academician of Visva Bharati University, Professor Biswajit Roy wrote on his Facebook wall, "His receiving this D.Litt is an international acknowledgment of the intellectual humility that was an integral part of the Bengali scholarly class."

Dr. Das began his career as a conservator at the Indian Museum in Calcutta nearly 60 years ago. This distinguished historian, researcher and writer worked as the director and curator of Maharaja Sawai Man Singh II Museum in Jaipur for 16 years. Prof Das's PhD thesis was later published as a book in 1967 titled 'Mughal Painting During Jahangir's Time'. He has authored over 60 books, including 'Paintings of the Razmnama' and 'Wonders of Nature: Ustad Mansur at the Mughal Court' and 'Splendor of Mughal Paintings'.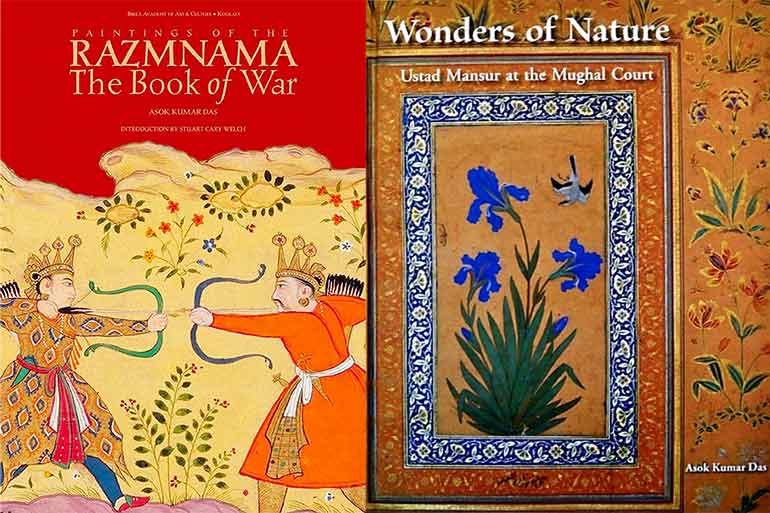 Few books by Professor Ashok Kumar Das
Dr. Das has always been passionate about museums. Times have changed, technology has changed, and Professor Das wants museums to change too, to engage with people as they interface with the past. The Indian Museum has some of the best assets, including Mughal emperor Akbar's imperial Ramayana and the Razmnama or The Book of War, which is Mahabharata. Both manuscripts are richly illustrated and inscribed with translations of the epics from Sanskrit to Persian, and behind lock and key under the shield of the Supreme Court for over 25 years due to a family dispute. Prof Das may be among the last few who had an opportunity to see these historic and precious documents before they were removed from public view.

The octogenarian has shifted base to Santiniketan after superannuation and lives with his wife, Shyamali, a renowned expert on textiles. He often visits Visva Bharati University as a visiting professor to deliver lectures at seminars and symposiums. Photography is one of his favourite hobbies. He still loves visiting temples in rural Bengal. His childlike curiosity can be gauged when he spots some subject of historical importance and does not hesitate to crouch on the ground and click photographs of historic artifacts carved on ancient temples. It is evident that his commitment is not just for academic interest, but an undying love for art and history.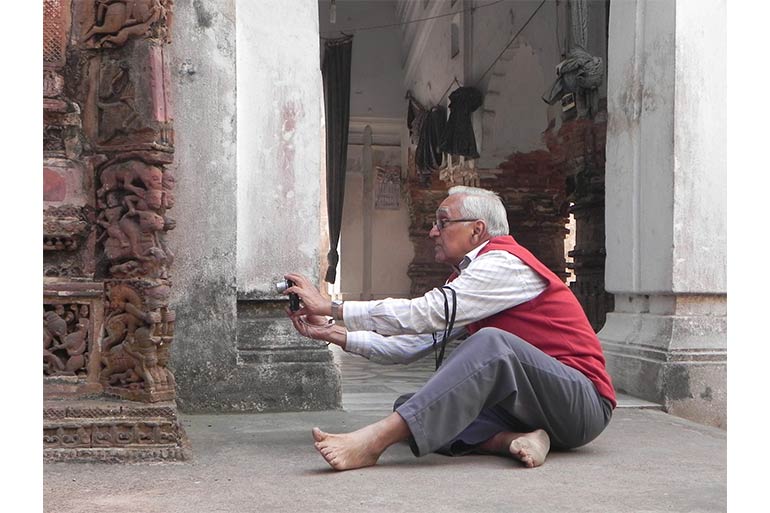 Professor Asok Das
When Get Bengal contacted Dr. Das the day after he received the honor in London to know why is the study of art history important, Professor Das said, "A person's human emotions are connected with the study of history and art." He was asked to express his opinions on matters like the fast advent of AI and its impact on traditional academic. Can he envision a gradual decrease in the study and practice of art in the future? Besides, at present, there is an orchestrated move to remove Mughal or Islamic history from senior school syllabus. What can be the repercussion of such a move and being a prominent historian, what is his take on this?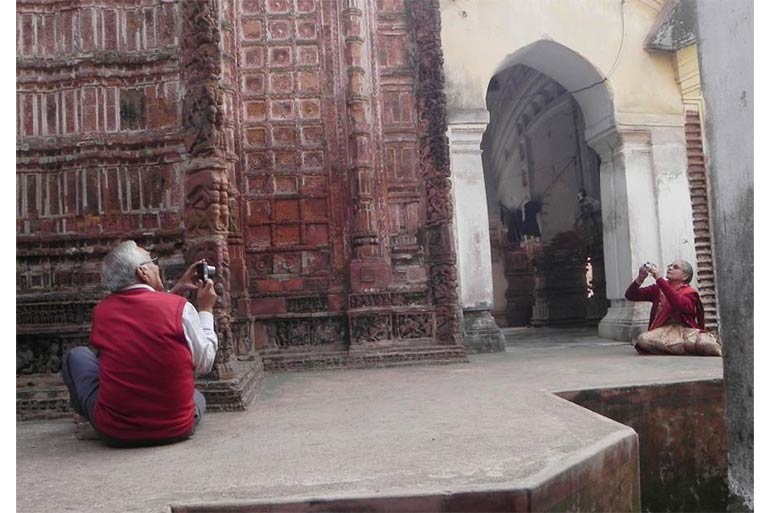 Professor Asok Kumar Das with his wife , Syamali Das
"AI is a fancy rich man's toy," opines the veteran historian without hesitation. "Art-consciousness is a natural human instinct and it will never get outdated. I constantly feel that both our taste and artistic sense are sorely lacking. If the home environment and school education are not supportive and do not nurture this sense from a very young age, it does not develop or thrive in later life." Dr. Das continued, "Even if Mughal history is excluded from school-syllabus or minimized, it will not be erased from the stream of history. Mughal culture is a synthesis of Indian cultures, it is an integral part of our existence. Can we deny its influence in our daily lives including our costumes, music, dance, art and architecture, etc? History is not made in a day, nor can it be annihilated in a day."