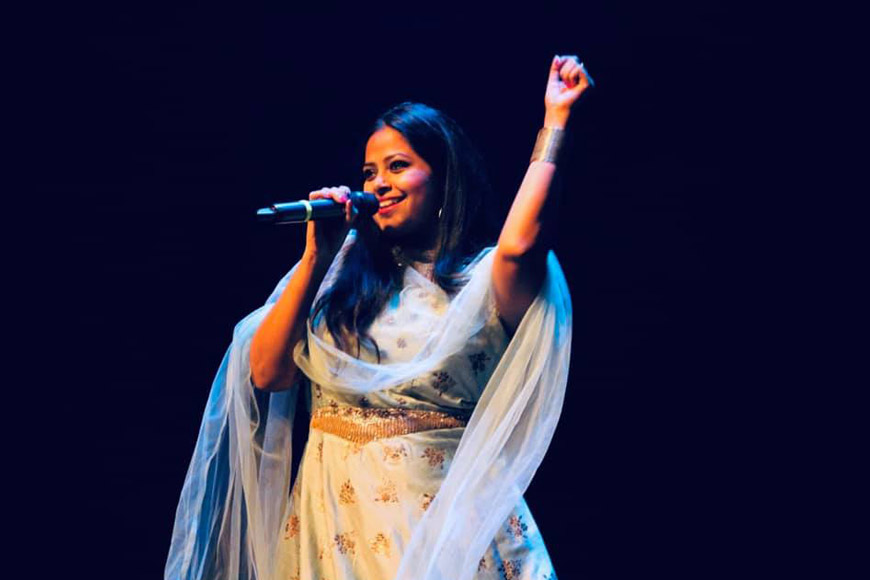 Music is a language that transcends all boundaries. Uttarpara girl Nabanita Ghosh, an alumnus of Serampore College and Rabindra Bharati University who is now a resident of Copenhagen, Denmark, has touched upon that universal language of music. She is the first Indian to reach the semi-finals of Danmark Har Talent, a Danish talent hunt along the lines of America's Got Talent and India's Got Talent. The entire Indian community in Denmark and everyone in India are proud. GB had an exclusive interview with Nabanita.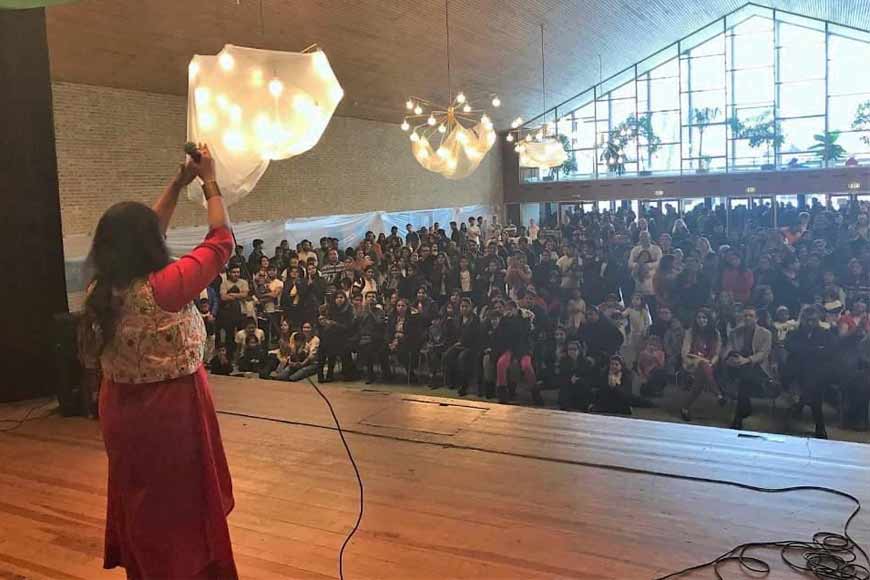 • You are from Bengal. How did you land up in Denmark?
I was born in India and my childhood was spent among the serenity and simplicity of villages in Bengal. My mom was a staff nurse employed with the state government and her job took us to interior health centers as well as to metro cities. As a child I was introduced to both sides of the world; the innocence of village life as well as the hustle-bustle and the buzz of an urban life. Since then, life taught me to balance well and cream out the best of everything.
But my soul belongs to the suburban town of Uttarpara near Kolkata along the Ganges which is home to my family, my friends and I had spent most of my childhood and adolescence pursuing my music and academics.
• Music seems to be the language of your soul. Tell us about your musical journey.
As a child, I wouldn't stop singing. I would sing the whole day and my friends and cousins would beg me to stop as I would hardly let them watch any musical show, as I sang on top of the participants' voices and it was all about me. So, my mom decided to put me into music classes and like many Bengali girls, my days started with Rabindrasangeet and school days were all about singing the 90s Bollywood songs during Antakshari. At the age of 10, I started performing with my teachers as well as lending my voices in choirs and typical 'para functions' singing Kolkata Youth Choir songs and much more.
When I first moved abroad more than a decade ago, I was exploring other things and music took a backseat as there wasn't much scope to explore. It was my husband who insisted I should pursue my hobby and get back to music again. I had to pretty much curve my way, and show this part of the world that Indian music is not confined only to the instruments of sitar and tabla. The richness of classical music also spreads to different sub-forms, also that Bollywood can make people groove and give a feel-good factor and Indian music has a lot to offer. I made the path to the National Television, winning hundreds and thousands of hearts and several big shows where people hardly understood the lyrics of the songs I sang but they loved me, my voice, and my singing style, and I caught attention to make it to the National TV and made it to various diplomatic gatherings. From National Bank of Denmark to Copenhagen Jazz Festival to various prestigious platforms singing in 11 Indian languages from classical to folk to semi-classical to Bollywood, I was there where music was there. Recently, I performed as the only singer for the Prime Minister of India's Denmark visit, where he addressed thousands from the Indian community and beyond along with Ms. Mette Frederiksen, the PM of Denmark.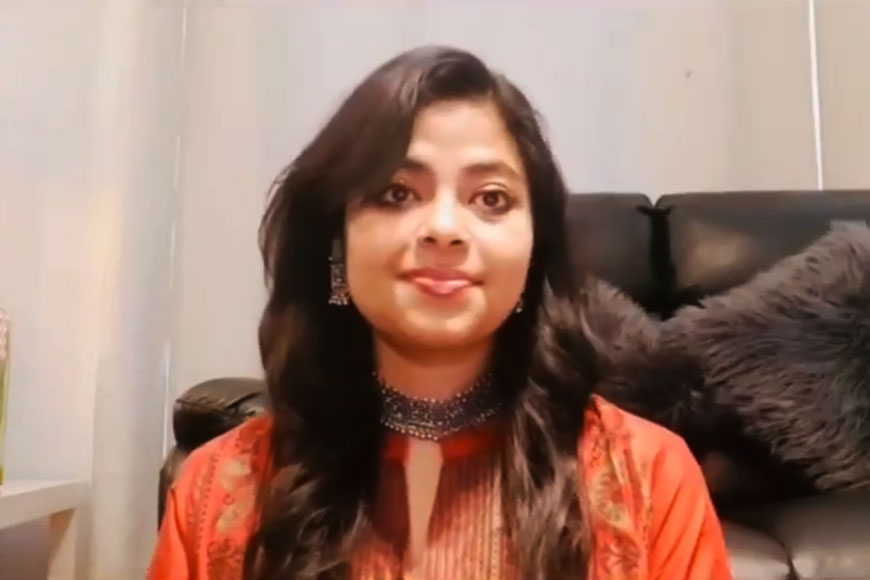 • Did you receive any professional training in music back in India?
Yes, I did, from Sarbabharatiya Sangeet Kala Kendra and Bangiya Sangeet Parishad under different music teachers and lately, I received a distinction in vocal training under Shankar Mahadevan Academy and have later trained under Banaras Gharana with Varun Mishra from Allahabad. I look forward to continuing my training as I believe learning music is evolving one's self to purity, divinity and dignity.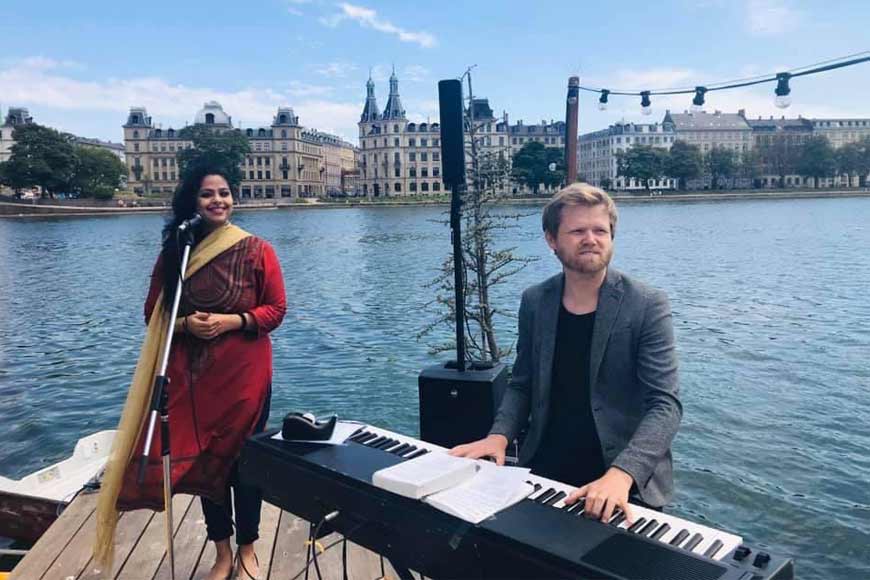 • How did you feel after being the semi-finalist at the talent hunt?
Honestly, I didn't feel anything, but waves of love and respect made me realize I have brought an immense amount of happiness & respect to my community here in Denmark. People approached from all corners of Scandinavia as no one had braved to do anything like this before. I stood as the first Indian who dared to stand among the eminent celebrities and legends of Denmark and Scandinavia clad in a sari and singing Bollywood numbers. I received a standing ovation from the judges and the entire audience. The day I was in the semi-finals, people left everything and gathered in front of the TV to just watch me sing and vote for me. The whole of India was united here. I have received love and respect from people who belong to different parts of the Indian subcontinent.

I made it to the news in India and on various social media, my audition video went viral hitting 25 million views. Sometimes when I think of it, I feel music has given me recognition and some precious memories and more to come. When people tell me I inspire others I feel blessed and privileged.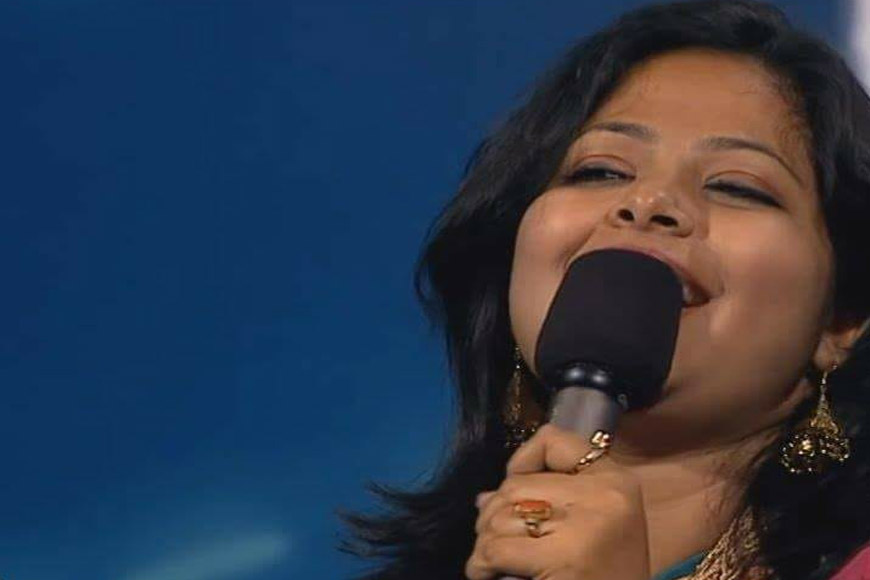 • We have heard you are doing a music album. How did that happen?
This again is very interesting. Pranjal Das happens to be my friend since my school days. He is a popular name now where every other Bengali serial has him directing music. He has made Arijit Singh sing to his famous lyrics and has worked with Jeet Ganguly. The A list of Tollywood, Iman to Lagnajita to Timir Biswas, everyone has sung for him. But for me, he is that friend who I talk to like I did years ago. One day he asked if I would sing his song. Honestly, I never dared to ask him this question though I secretly always wished for it. I didn't wait for a second to say yes and hence came my music album 'Toke Pabo Bole.' We are now working on our second one and something big and special is on its way.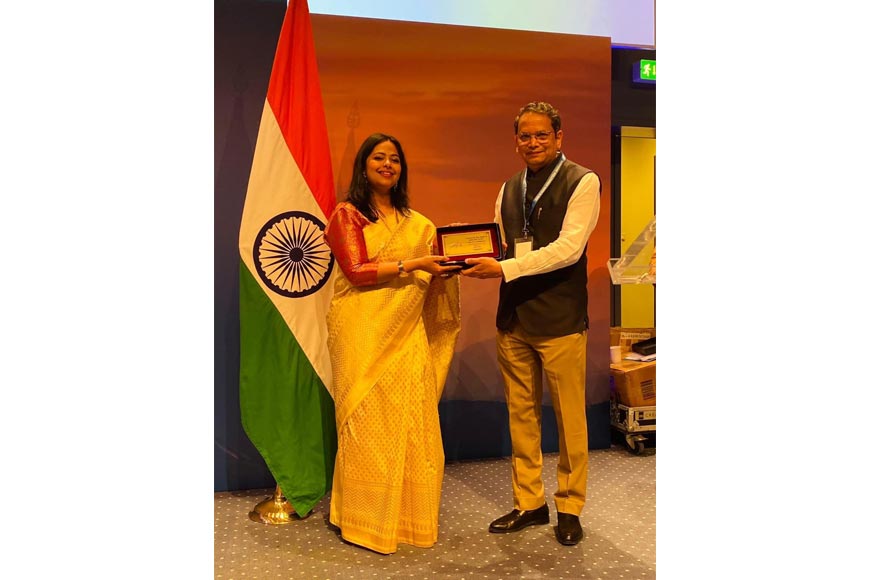 • Do you have plans to sing for Kolkata or Mumbai Music Industry?
Why not! Let's see where destiny takes me. I will keep working hard.
• Bengali associations are very popular in Denmark. How close do you feel or associate with these organizations?
My husband and I are one of the founder members of Scandinavia's biggest Bengali organization 'Bengalis In Denmark' and our Durga puja steps into the big 10th this year. It's like our child who we saw grow from a 15-member family to a hundred. Thousands from different backgrounds come to witness our Durga puja and we boast to break barriers and make it to the news for all positive reasons. We set examples and this year being the 10th the entire Bengali community here is overwhelmed. We have had Indian idol stars and popular Bollywood singers gracing our stage. Let's see what we can do special this year!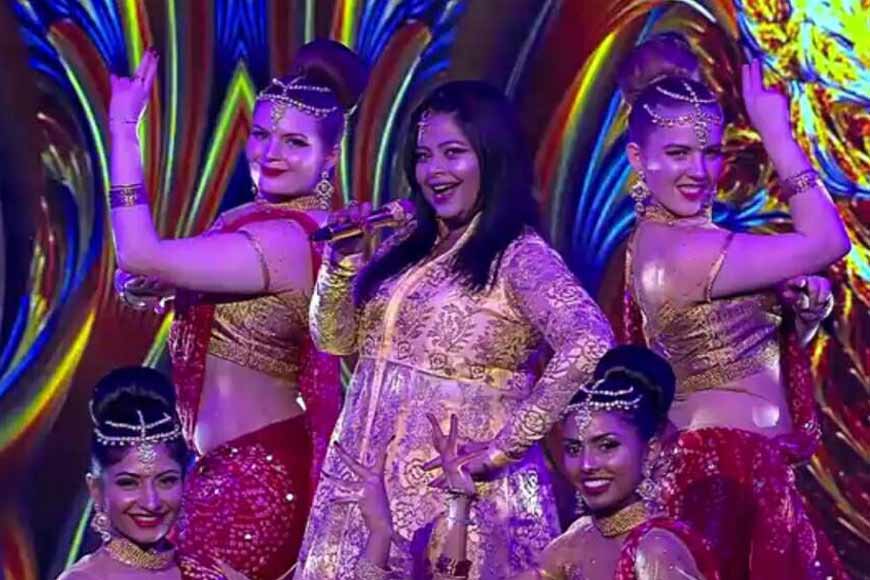 • How far are Europeans or other communities in Denmark interested in Indian culture specially Bengali music, culture, art, etc.?
Interestingly, Denmark has a past connect with Bengal. Serampore was a Danish colony and the Denmark Tavern project is a recent example of its shine. Though Indian music is still a niche genre in this part of the world, it's getting popular with people like us trying our best to represent and spread our culture and music at every opportunity. Yoga is very popular, 'kirtan,' is practiced by some Danes and it's fascinating to see them perform.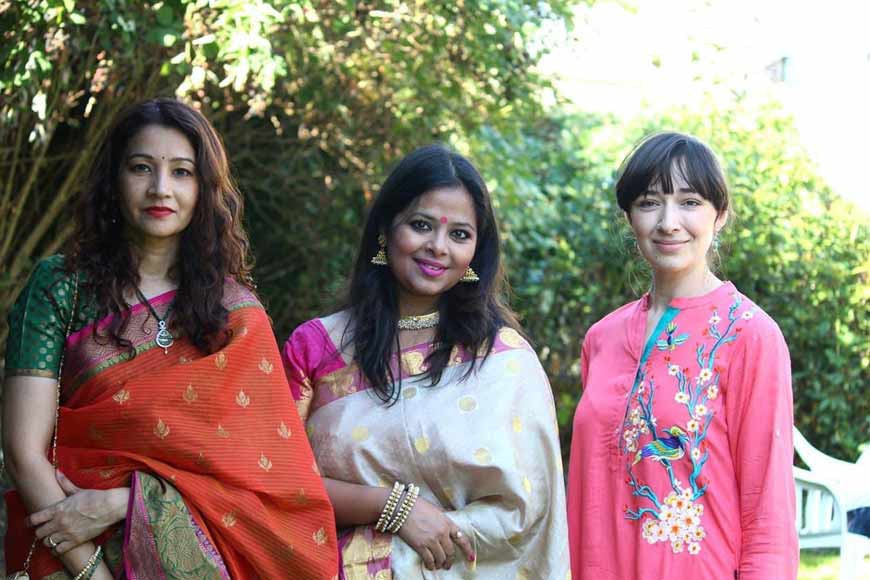 • Is the Danish government promoting the work of Bengal artists through exchange programs?
The opening of the Danish cultural house in Delhi was a promising breakthrough but COVID did hit it hard and hence the exchanges took a backseat. But lately many classical genre artistes are coming for small-scale events. Many write to me from India for shows here and I feel so humbled to receive messages from the likes of pandits from India but sad on the same hand that I can't do much for them as the budget and market aren't very ideal here for regular shows. But there had been some shows through the ICCR and the Indian Embassy before. Hope this could be more regular from every end.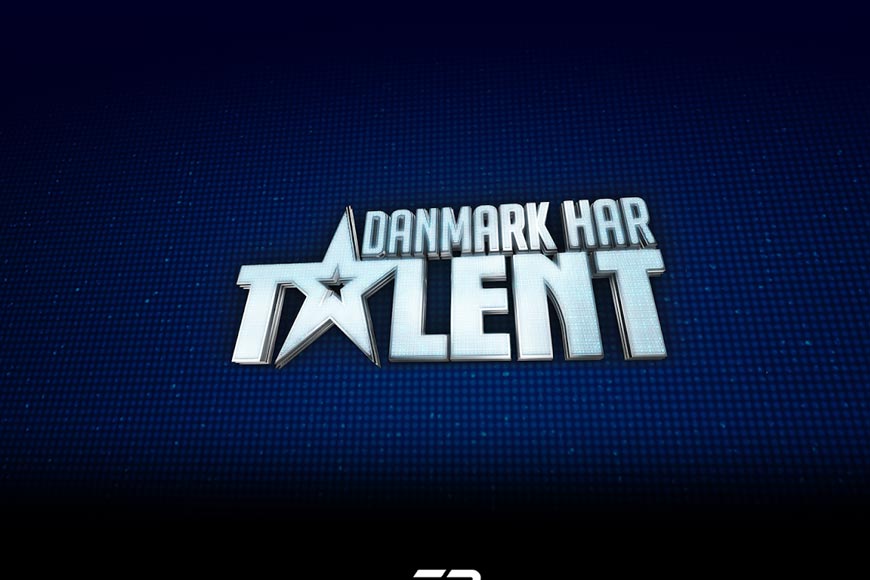 • Any future plans to take Bengal to Denmark and other European countries?
I really wish to promote my music, my country's music, and art through different events and cultural shows on Scandinavian soil. To introduce the next generation to our music. I have collaborated with artistes across Europe and have lent my voice to fusion albums and major tracks gaining popularity on major musical platforms and will continue to do so. I have set quality a priority over quantity hence I am not out there every day singing just for the sake of it but I would want to produce and present quality stuff that people remember for a long and comes back to listen to me and takes my music as one of a professional kind. I take time to introspect to write lyrics to collaborate so I can create quality. Besides music and family, God has given me a joyous responsibility, my daughter. I try to make every moment of my time of music and rest worth the time I take away from her.
As I mentioned earlier it's about striking the right balance and finding the right chord of music to life. You may always not end up being pitch-perfect, but you know you tried your best and eventually hit that perfect note.
Image Courtesy : Facebook of Nabanita Ghosh