Organic dairy farming and vegetable production: Purnima Mandal of Sundarbans shows the way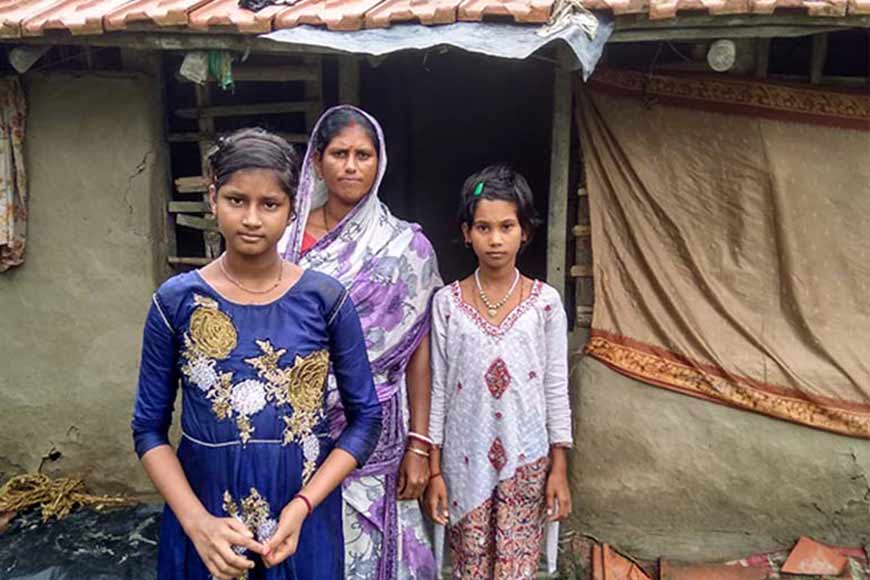 Purnima Mondal with her two daughters
The rural economy is the backbone of Bengal's financial resources. It holds significant potential for creating decent and productive jobs, eradicating poverty, ensuring food security, and achieving social justice. Marginalized people are forming self-help groups in various sectors like handicrafts, agriculture, food production, and animal husbandry and working together to uplift their financial status and bring about a transformation in society. These groups are familiarizing the urban market, hence bridging the gap between urban consumers and rural producers.
For the people of Sundarbans, life is nothing short of constant strife, a war against the vagaries of nature like frequent cyclones or floods and wild animals, lurking in the dark, waiting for an opportunity to pounce on human encroachers. Amid a grim situation like this, the womenfolk have bravely joined the war to fight against all odds on their path to self-reliance. Sundarban Co-operative Milk and Livestock Producers Union Limited have extended a hand to support these gritty women.
This cooperative society is under the Department of Animal Resources Development, Government of West Bengal. Under the initiative of the state government, West Bengal Milk Federation Ltd, and with the support of the National Dairy Development Board, the marginalized women of Sunderbans have created this cooperative society, through which they are selling their products. They are finally reaping the fruits of their hard labour and are enjoying their newfound financial independence.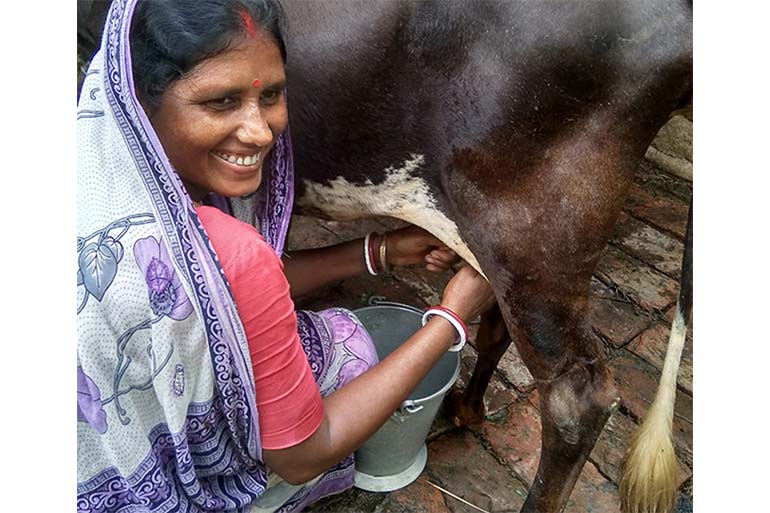 Purnima Mandal, an organic farmer from Sunderban
The society's brand, Sundarini, was launched at the initiative of the West Bengal Chief Minister, Mamata Banerjee in 2015. Over the years, members of this society have increased and now at present about 5000 women are associated with this society. Sundarini has been the harbinger of hope and change in the lives of rural women of Sunderbans.
One such person is Purnima Mandal, a resident of Ramnagar Abad, a remote village in Patharpratima Block of South 24 Parganas. It takes roughly a four-and-a-half hours drive from Kolkata to reach Patharpratima Block. Ramnagar Abad is located in the middle of two brackish water rivers called Mridangabhanga and Gobodhia. Purnima Mandal is a member of the Ramnagar Abad Women Primary Cooperative Society. The cooperative society functions under the Sundarban Cooperative Milk and Livestock Producers Union Limited.
Purnima has been able to overcome scores of obstacles and improved her family's living conditions by working with the self-help group. She cultivates seasonal vegetables and dairy products organically and sells them to the cooperative society. Her business capital comprises two cows and a few other livestock, a small pond, an Azolla pit, a cowshed, and about an acre of farmland. Her husband works in Kolkata so she has to manage animal rearing and farming all by herself. Besides, she also takes care of her small children. Yet, all this hard work has not been able to dampen her enthusiasm.
Purnima only uses organic fertilizers for cultivation on her plot. Besides, she uses only organic manure even for the cow fodder that she grows on her land. She prepares the fertilizer herself using flour, mustard, jaggery, cow dung, and five types of leaves. She is not an exception. In fact, all the farmers of the society cultivate organically. The society involved skilled personnel to train all the members of the society.

In 2009 during the onslaught of Aila, Purnima's farmland was inundated with saline water affecting the land's fertility. Her house was torn apart as were many others in her village, and her farm was filled with brackish water making the land unsuitable for farming. But, undeterred by these impediments, Purnima turned around and fought back, relying solely on her skills and perseverance. She has been associated with the cooperative society since 2017 and now she is finally reaping the benefits of all the hard work. She cultivates and sells rice, pulses, vegetables, and milk to the cooperative society. All transactions in the organization are transparent and computerized and many others including Purnima, sell milk through the state-of-the-art quality check and weighing system installed here.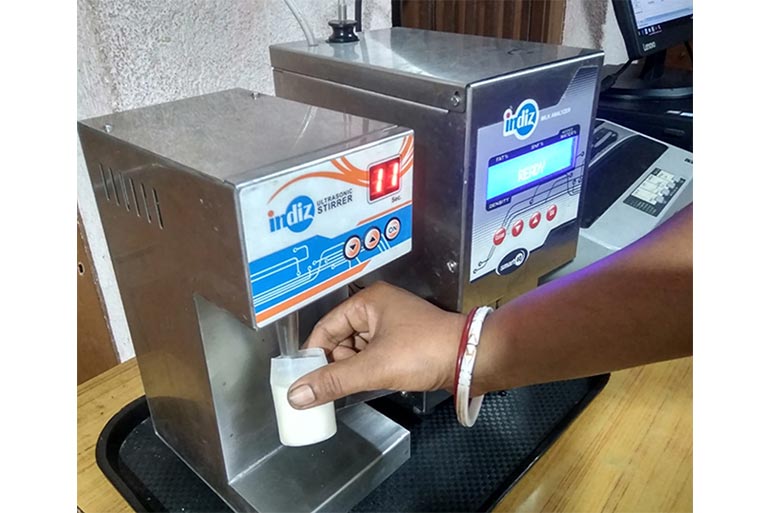 Sundarini , brand name of the cooperative society under the Department of Animal Resources Development of West Bengal Government
The quality of milk is checked daily after the society members deposit the day's produce at the center. Payment is made online and the amount is deposited directly to the sellers' bank accounts. Purnima is happy because she is now self-reliant and can spend her earning to fulfill her household needs. The system has ensured a regular income for marginalized people like Purnima.
Purnima Mandal is an inspiration for the rest of the women in the village. Observing her progress and financial stability, many women in her village have come forward to join the cooperative and earn their living. Purnima is optimistic and confident. She and many like her believe that these self-help groups can ensure financial stability in the lives of the marginalized people and once that goal is achieved, their loved ones will no longer be compelled to migrate to other states in search of work.