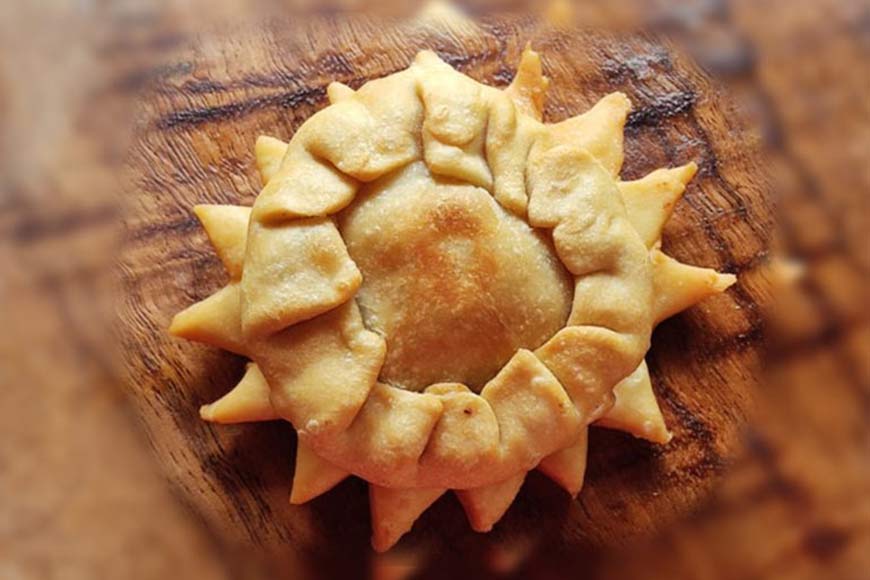 Most people who know even a little about Kolkata, are aware of the legacy and history of the Bonedi baris or the traditional Bengali households. For generations, these traditional houses have kept our culture and traditions alive and the tales of these traditional households are often documented in movies and books. There are many traditional Bengali households around Kolkata with much more colour and depth. In the pages of history, they will remain as alive as ever, similarly, their kitchens will also be a huge part of that history. Some of these authentic recipes enter the history books holding the hands of these traditional families and gradually end up in the kitchens of ordinary people. From national (desi) to continental, non-vegetarian to vegetarian, from salty to sweet, various dishes are cooked in the kitchens of the descendants of the families. Every 'bonedi' Bengali house had one or more such recipes which were their signature dish once upon a time. Even after a hundred years, most families did not part with their traditions. Though many festivities have been reduced nowadays, traditions are still prominent. When talking about the various exclusive recipes and the names of these dishes, not only are our salivary glands triggered, but it also creates a curiosity about the recipes.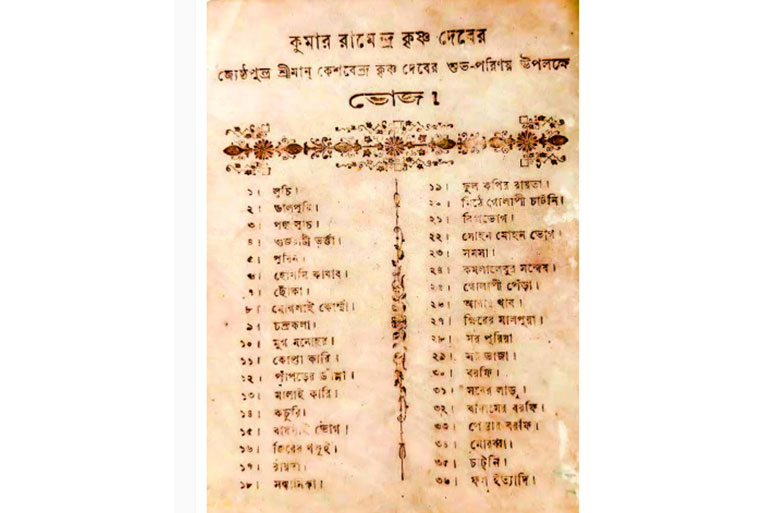 While wondering where to start, we came across the Sovabazar Rajbari. The Rajbari's kitchen is famous for its various authentic Bengali dishes, so there was a dilemma while deciding which dish should be focused on. Krishna Sarbari Dasgupta, a descendant of the Sovabazar Rajbari, uploaded on her Facebook profile the photo of the menu card which is 117 years old. The menu card was made for the boubhat (a ritual that takes place right after marriage) of Kumar Ramendra Krishna Deb's oldest son, Sreeman Keshavchandra Deb, on 16th July 1906. This menu card went viral on social media.

Thakurbari's Pragyasundari Devi was the first person who started the practice of handwritten "kramani" or menu cards. She was inspired by the foreign menu cards. Debendranath Tagore's son, Hemendranath's middle child was Pragyasundari and she was the first person who wrote the first Bengali cookbook. The 117-year-old menu card of Keshavchandra's wedding had 36 items on the list. There were names of different exotic dishes, such as "Hosni Kebab", "Sandhynika" and many more. However, the first item to catch our attention was luchi (or puri). And it is not just any ordinary "luchi," but "Padmaluchi" - one of its kind. The recipe for Padmaluchi is as follows: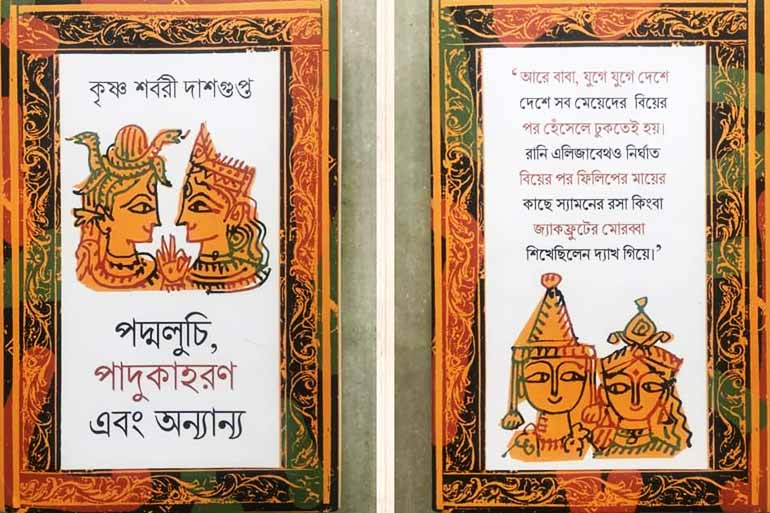 Ingredients required:
1. Flour- 1 Kg
2. Ghee- half cup
3. Salt- half teaspoon
4. Baking soda- half teaspoon (optional)
5. White oil for frying
The stuffing inside the padma luchi can be both vegetarian or non-vegetarian. For vegetarian padma luchis, the stuffing is made of chhena, while mutton keema can be used as the stuffing for non-vegetarian padma luchis. So accordingly, these ingredients are to be added:
2 cups grated chhena/mutton keema
1 cup of cashew raisin paste
2 tablespoons of ghee
1 teaspoon of ginger paste
2 tablespoons of dry roasted cumin powder
Salt and sugar according to taste
Method:
Mix salt, ghee, and baking soda in the flour, add some water, and mix them to make a tight dough. Cover the dough with a cloth and keep aside for an hour.
To make the stuffing, heat ghee in a pan and add the ginger paste, and sauté for some time. Then add the cashew raisin paste, reduce the heat, and cover it to fry well. After it is fried, add the chhena/mutton keema, salt, and sugar and fry them well. Now mix the fried cumin powder in it, keep it covered for a while, and let it cool.
While the stuffing is cooling down, make some luchis (or puris) from the dough which was prepared earlier.
Now put some stuffing in the middle of a luchi and moisten it's sides with water. Cover it with another luchi. After that, cut the edges into the shape of flower petals by hand or with the help of a knife. Deep fry it in oil and your piping hot padma luchi is ready to serve.