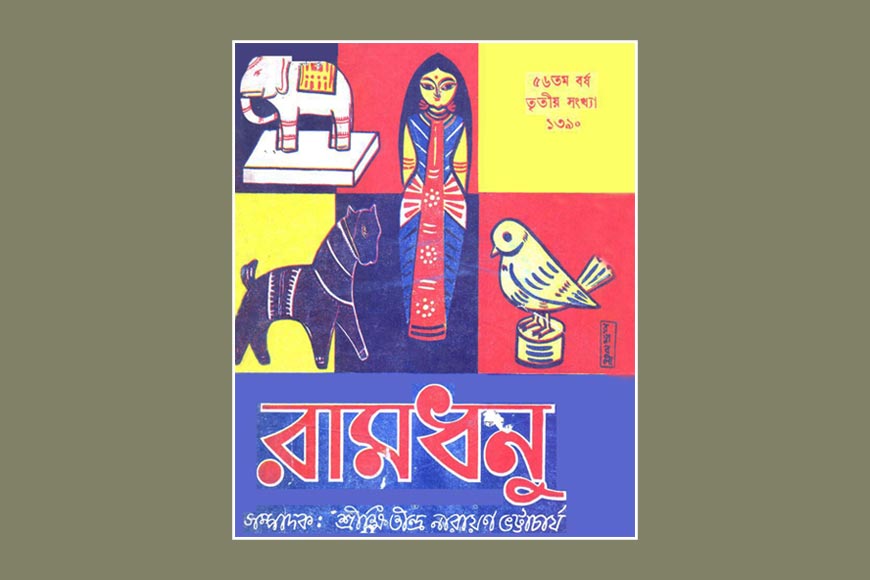 As India and Bengal mourned the recent demise of Narayan Debnath and his numerous comic characters that literally ruled our childhood, one name came to the forefront – Ramdhanu. The seven colors of a rainbow gave the name to one of Bengal's earliest illustrated monthly for children. And that too way back in 1927, when Bishweswar Bhattacharya decided to bring out a journal for children that would become so famous that even people like Satyajit Ray often referred to it as his inspiration.
Ramdhanu published poems, short stories, plays, and novellas along with essays, reminiscences, travelogues, puzzles, news items, letters, and book information. Illustrious contributors included Kumudranjan Mallick, Sibram Chakraborty, Shanta Debi, Bibhutibhushan Chakraborty, Bande Ali, Benu Gangopadhyay, Sudhirranjan Ghosh, Khagendranath Mitra, Sunirmal Basu, and Fatik Bandyopadhyay. Published articles included Khitindra Narayan Bhattacharyya's 'Mahasunyer Rahasya Sandhane' (In Search of the Mystery of Great Space); Amal Kumar Mitra's 'Hockey-Jadukar Dhanchand' (Hockey-magician Dhyan Chand); Kunjabihari Pal's 'Hydrogen Boma' (Hydrogen Bomb); Arun Mohan Chakraborty's 'Kritrim Bristipat' (Artificial Rain); and 'Abar Jadi Juddha Bandhe' (If War Breaks Out Again). Biographical essays were published on Dwijendralal Roy, Nirmalendu Lahiri, Bipin Chandra Pal, Chittaranjan Das, Brajendranath Seal, Rabindranath Tagore, and many others.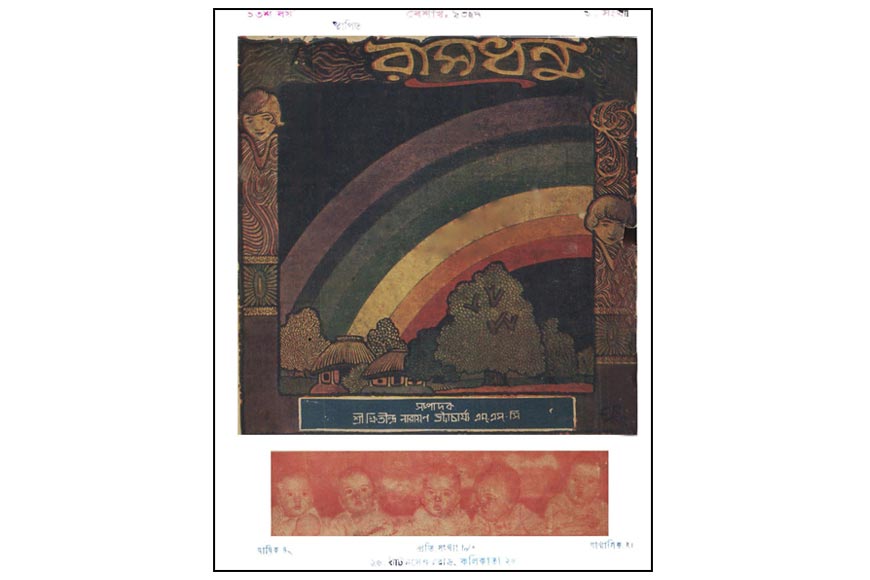 Sections included 'Desh Bidehser Kotha' with travelogues of destinations in and around India. 'Bhabi Sahityiker Boithak' (Forum for Future Writers) published articles written by children. 'Notun Boi' (New Books) gave brief information about newly published books and magazines for children. 'Amader Sambadpatra Bibhag' (Our Newspaper Section) carried contemporary news. The journal even ran writing competitions for its readers and published the names of winners.
Founder Bishweswar Bhattacharya was a District Magistrate, but it was his son Manoranjan who took Ramdhanu to its heights. His teen detective fiction, starring the Japanese sleuth Hukakasi, deviated from the prevalent sensational, melodramatic style, and was admired by the likes of Premendra Mitra and Satyajit Ray. It came out as a series in Ramdhanu. As a student, Manoranjan contributed poems to various magazines. He switched to literature for youngsters after Ramdhanu was born. Manoranjan filled the pages of Ramdhanu with school stories, humorous tales, poems, and informative articles. He penned a series of humorous pseudo-mythological sketches, later labeled Nutan Puraan.

Story anthologies included Chaayer Dhnowaa, Haashyo O Rahashyo, Apriloshyo Prothom Dibawshey (co-authored with Shibram Chakraborty). His major works, including three Hukakashi novels and five short stories, a translation of The Channings were anthologized in Manoranjan Bhattacharya's Chhotoder Omnibus.
Manoranjan studied in Hindu School and Presidency College, Calcutta. He earned a first-class first in Economics and Political Science followed by an M.A. & B.L. Degree. He served as a professor at Ripon College, Calcutta. He was a very special student from his early childhood. He mastered Sanskrit Panini Grammar at an early age at his village School at Faridpur (now in Bangladesh) learning on his own. The Sanskrit College, Calcutta, in those days, used to hold Debate Competitions on different subjects. The main condition of the competition was that the students will have to speak strictly in Sanskrit only. The lowest category was "All Bengal Class-X". While studying in Class VIII, Manoranjan had a strong desire to join this debate competition at All Bengal Class-X level. He approached the Headmaster of his School (Krishnanagar Collegiate School) to nominate his name as a competitor. The Headmaster was very much doubtful, but after long persuasion, Manoranjan managed to get approval and an invitation from the Sanskrit College to take part in the competition, finally winning it.
Author and younger brother Kshitindranarayan followed him as editor of Ramdhanu and tried to hold on to its rich legacy.