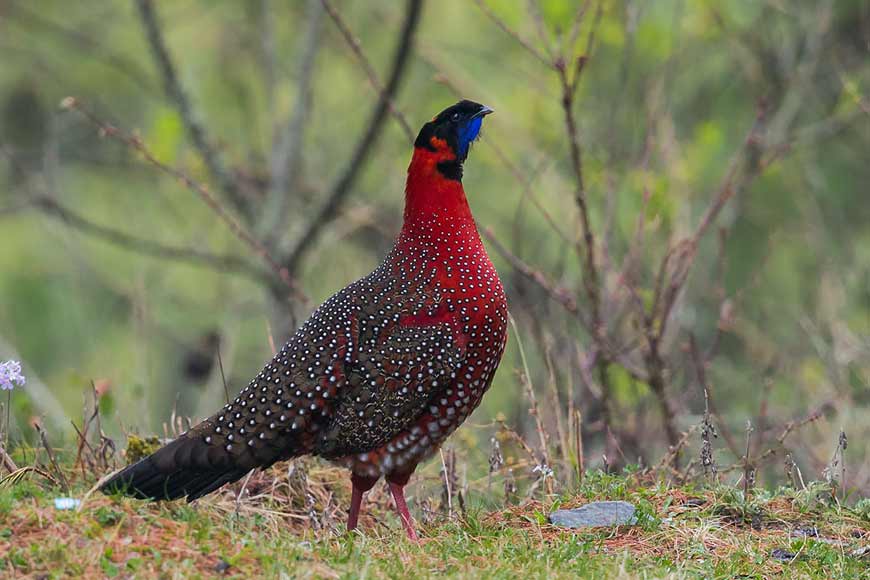 Elusive for more than 170 years, the Darjeeling Wildlife Division finally rediscovered the Satyr Tragopan Bird at the Senchel Wildlife Sanctuary. The first ever sighting of this very colourful bird was reported by Hickell in 1842 under British India, between the present Kurseong and Sonada regions. In 1863 another naturalist Jerdon and in 1933 Inglis reported the presence of this bird, locally called 'Munal' near Darjeeling at 7,000-8,000 feet. This region is present-day Singalila National Park.
The Darjeeling Wildlife Division officials sighted and captured the birds in the Sonada second block in August this year. The announcement was made this Saturday to coincide with World Wildlife Conservation Day. "It is a success for our years of conservation effort. We can now tell the world that the bird is also there in our very own Senchel Wildlife Sanctuary," said the Darjeeling Wildlife Division, DFO, Suratna Sherpa, on the sidelines of a workshop on bird conservation.

"Till date, we did not have any form of official photographic proof. This is the first time after 178 years that we managed to sight and rediscover the birds," Sherpa added. A female satyr tragopan was sighted this April. So, camera traps were set up which in July captured a male tragopan. And in August this year, three males were seen.
When a species becomes extinct it shows that a forest status is degrading. But now with the bird species sighted we know that the forest and environment has improved in the Darjeeling region.
Satyr Tragopan comes under schedule 1 of the Wildlife Protection Act and is found in the Himalayan range of Sikkim and Bhutan as well. Sighting and photographing of this rare bird is a good indication that the conservation efforts in this region has been done well and rewarded. This area of North Bengal has already taken steps to remain plastic and pollution free.